What kind of tattoo would best represent your family? What would be the best way to keep them all close to your heart and on your skin? How about a minimalist tattoo version of your favorite family photo?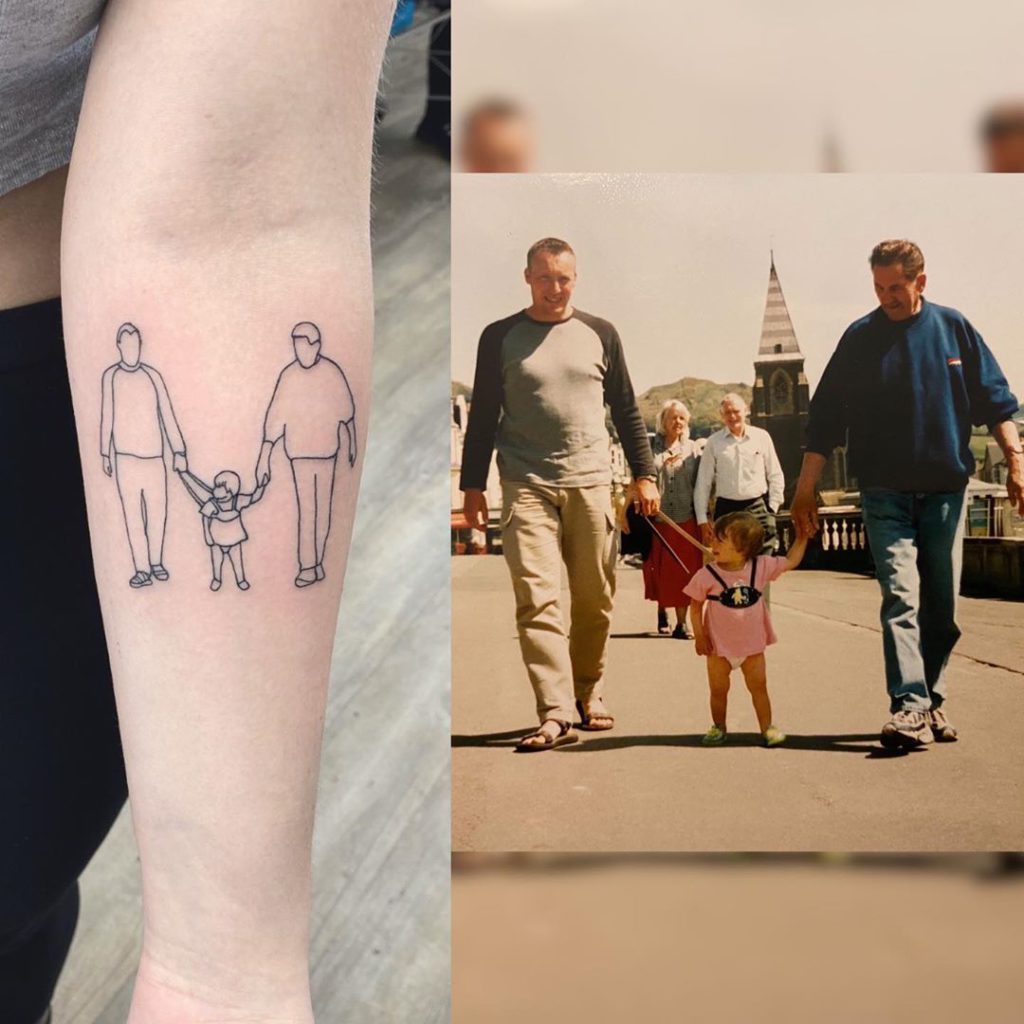 There are numerous ways to celebrate your family and what it means to you in tattoo form. We wrote recently about mother and child tattoo ideas, there's the usual "Family" written in cursive, mom & dad in a heart, elephant families… If you are like us and you feel these family tattoos have been already overdone and you're looking for something new, something that will fit your austere design aesthetics, minimalist family portraits are just the right thing. It's a relatively new trend, started by Korean tattoo artists that still remain the main source of inspiration for minimalist family photo tattoos.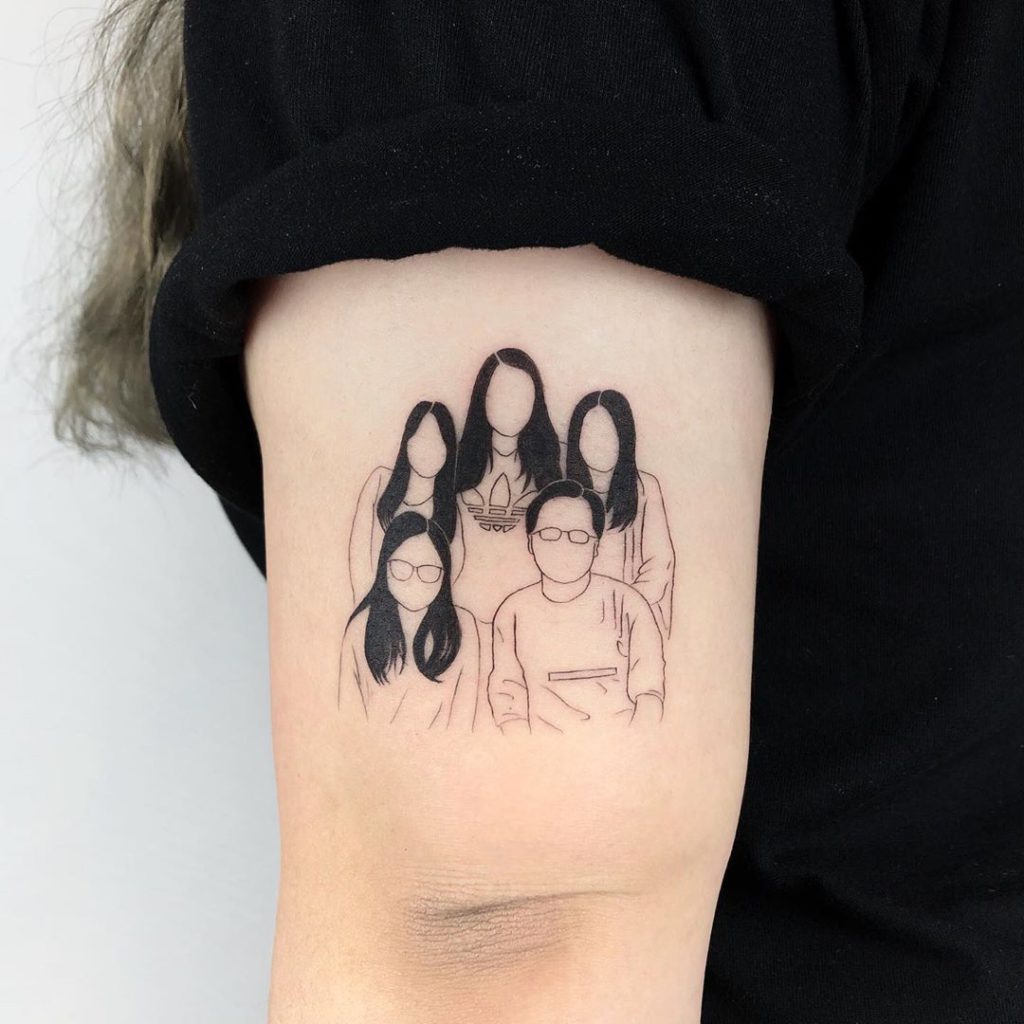 How to get a minimalist family photo tattoo?
Asked absolutely nobody, because it's so obvious, but here's a quick rundown:
Step 1: Find the right family photo
In every photo album, on every cloud drive, there are photos that always take you back to the time they were taken. A family trip, a very special day, that time you were all together and happy – those are the moments you want to remember forever. That's exactly the type of picture your're looking for!
Step 2: Find the right tattoo artist
Portraits, even the most basic ones, are very difficult to do right. With minimalist portraits based of of pictures, things are a bit simpler. Usually, there are no faces involved, details are very simplified, but a lot of things can go wrong.
The right artist for the job needs to be someone who has mastered the linework. With these type of tattoos it's all about the linework, and mistakes are impossible to hide. The lines need to be clean and done with confidence. Look for an artist that is versatile in linework, preferably in single needle, fine line tattooing. Check their portfolio for similar work, you don't want to be their first try at this style.
Step 3: Choose the right placement
We feel family tattoos should be placed so you can see them often, otherwise what's the point of getting one? They are not very decorative, and they only hold meaning for you, so make sure you place them somewhere like your arms, the inside of the forearm or the upper arm. Wrists will work for smaller designs.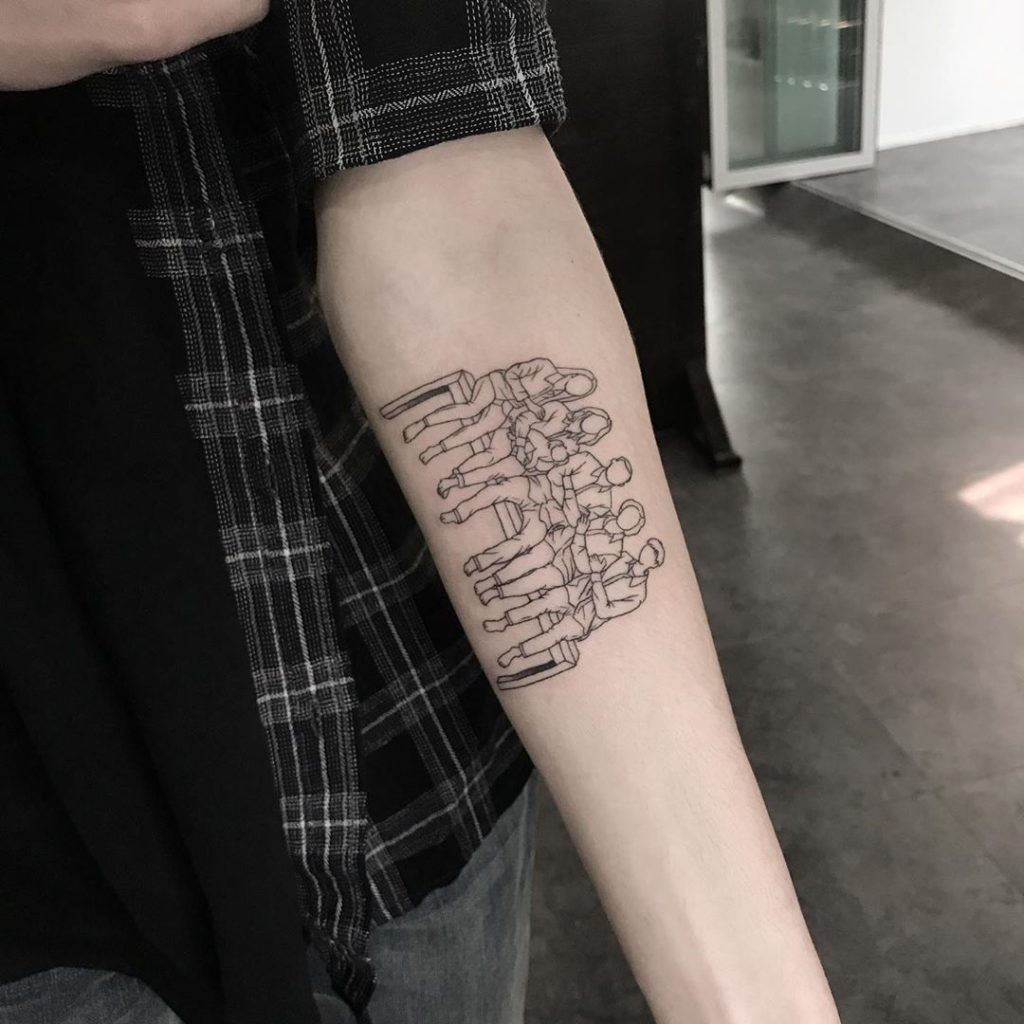 Minimalist Family Portrait Tattoo Ideas & Designs
So, you found the right photo, you located the perfect artist, you know where you want to get the tattoo done, so you are good to go! But before you do, we've prepared some design inspiration for you, check out some successful examples below, and don't settle for anything less.
Smiley Face Family
This tattoo by Ziv makes us smile every time we see it. This style of portraits usually has blank faces, but Ziv and the client decided the tattoo just wouldn't represent just how happy this family is.
Brotherly Love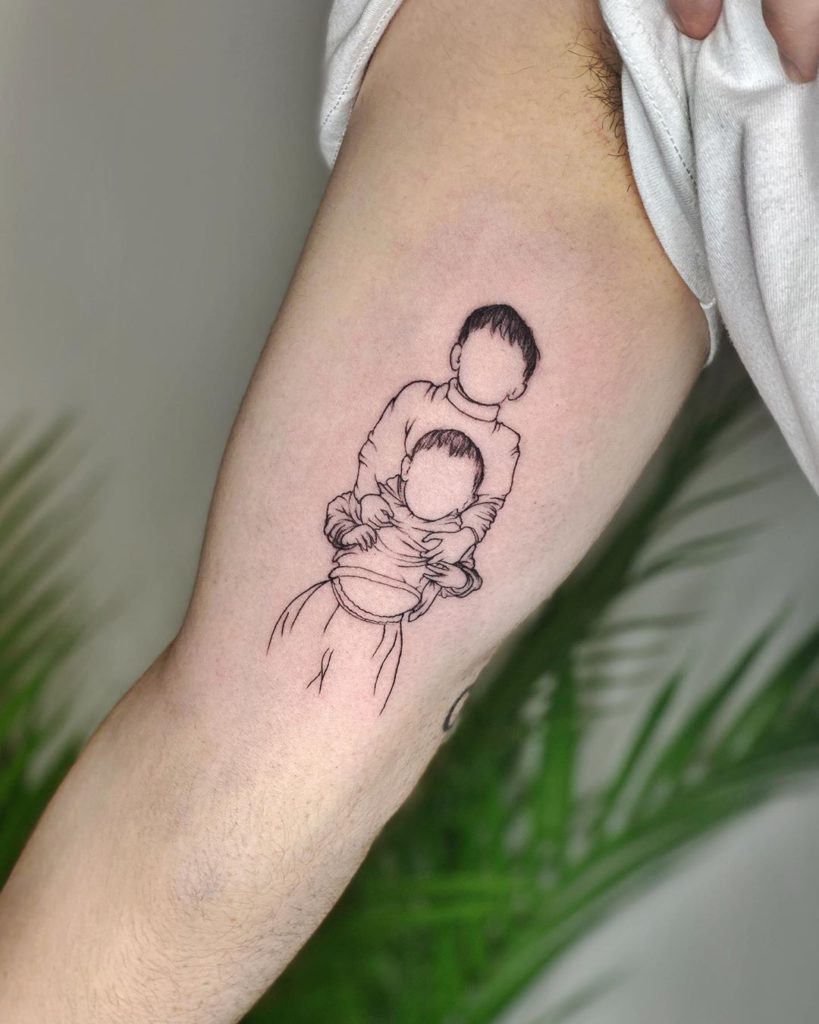 London based Ashley Tyson made this tattoo based on the photo of two brothers when they were kids. Although done in very minimal style, Ashley puts in extra effort to make the kids clothing soft looking.
Happy times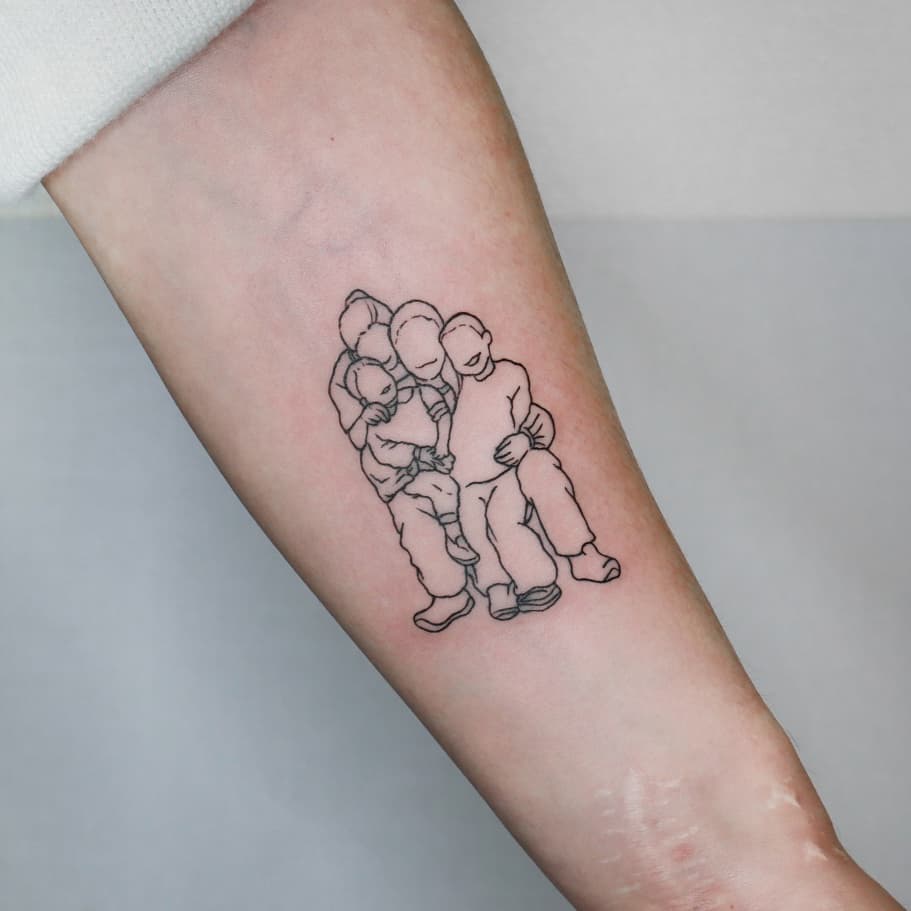 South Korea based Yujin did this family tattoo. No details on the face apart from the smiles, and that's exactly what you want to remember the most.
Big family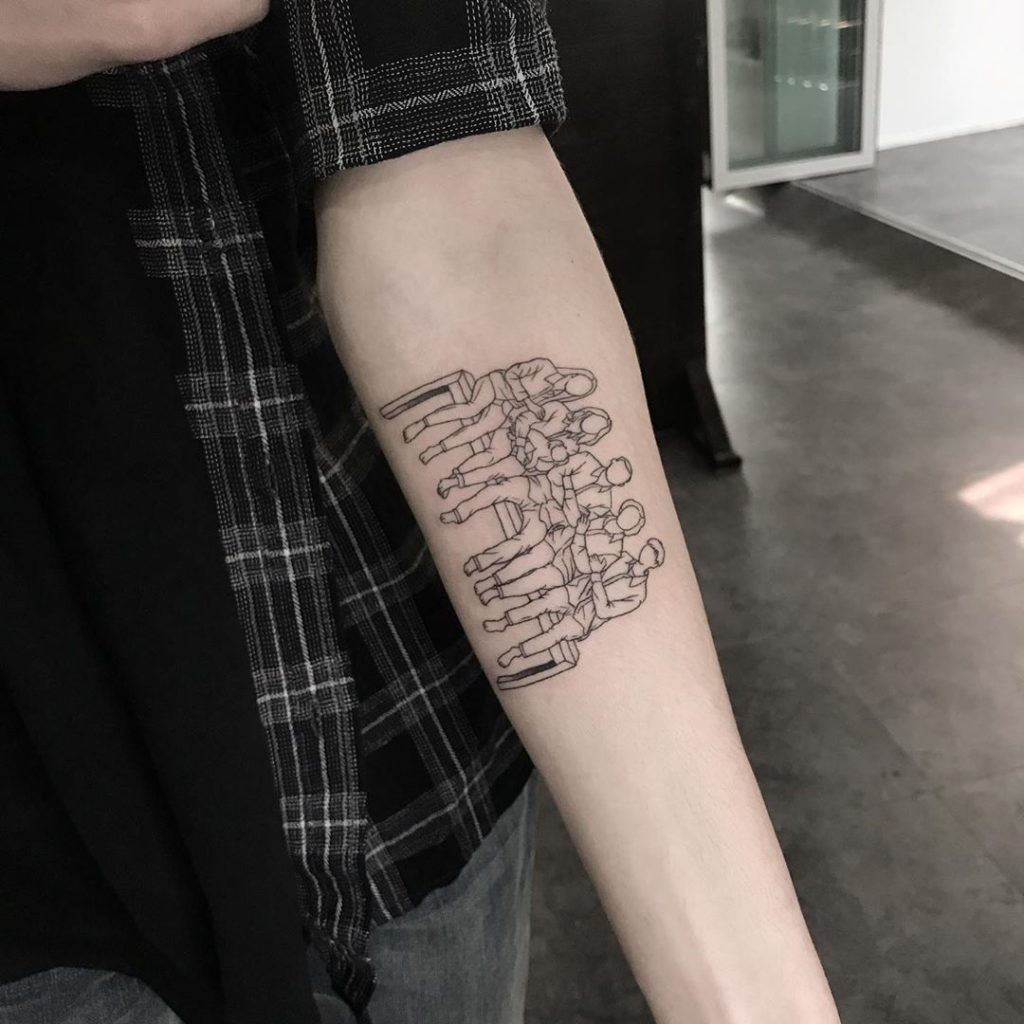 We said already that Koreans are masters of this theme. Stilo, a Korean tattoo artist, made this tattoo of a big family. Look carefully, there's a dog in the picture.
Family picture, sketch style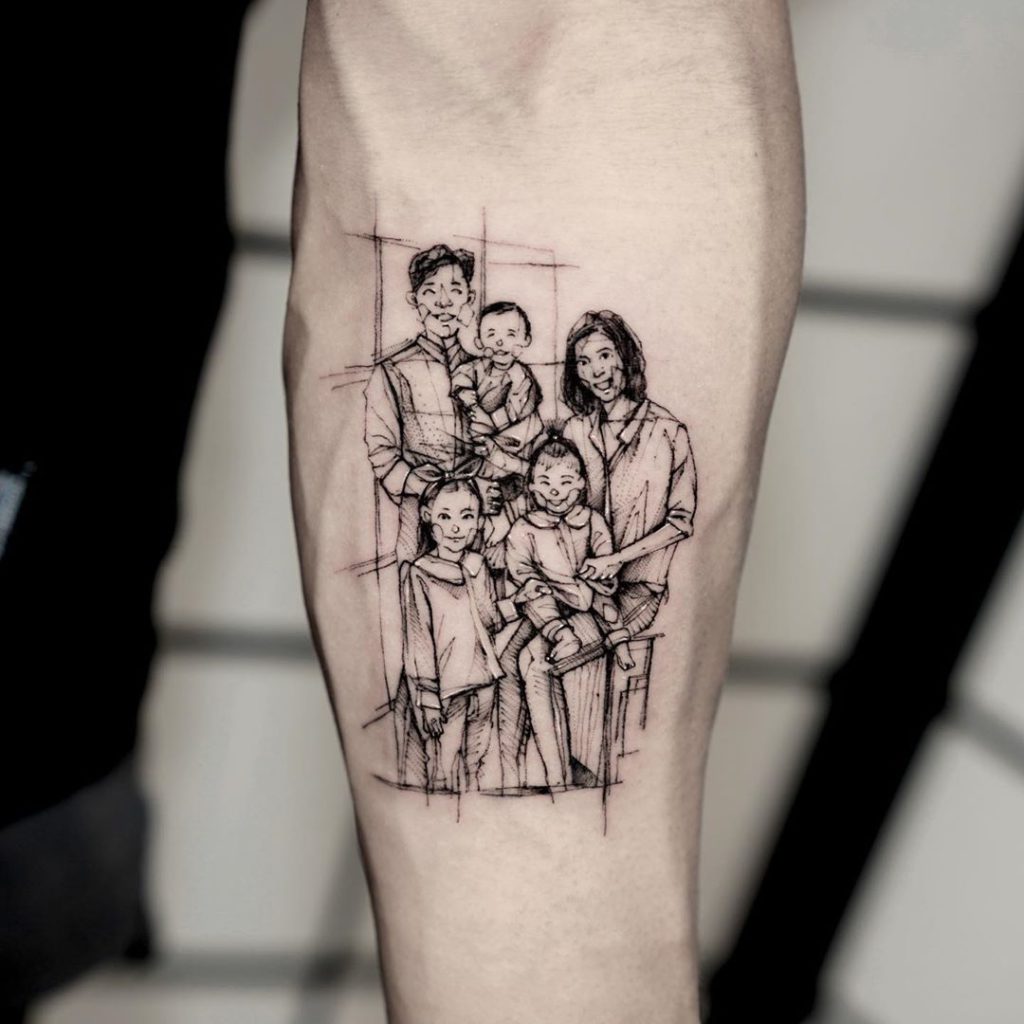 Not exactly minimal, but still far from realistic, this tattoo by BK is done in sketch style, where details are sketched out, leaving a very artistic impression.
Small family, big heart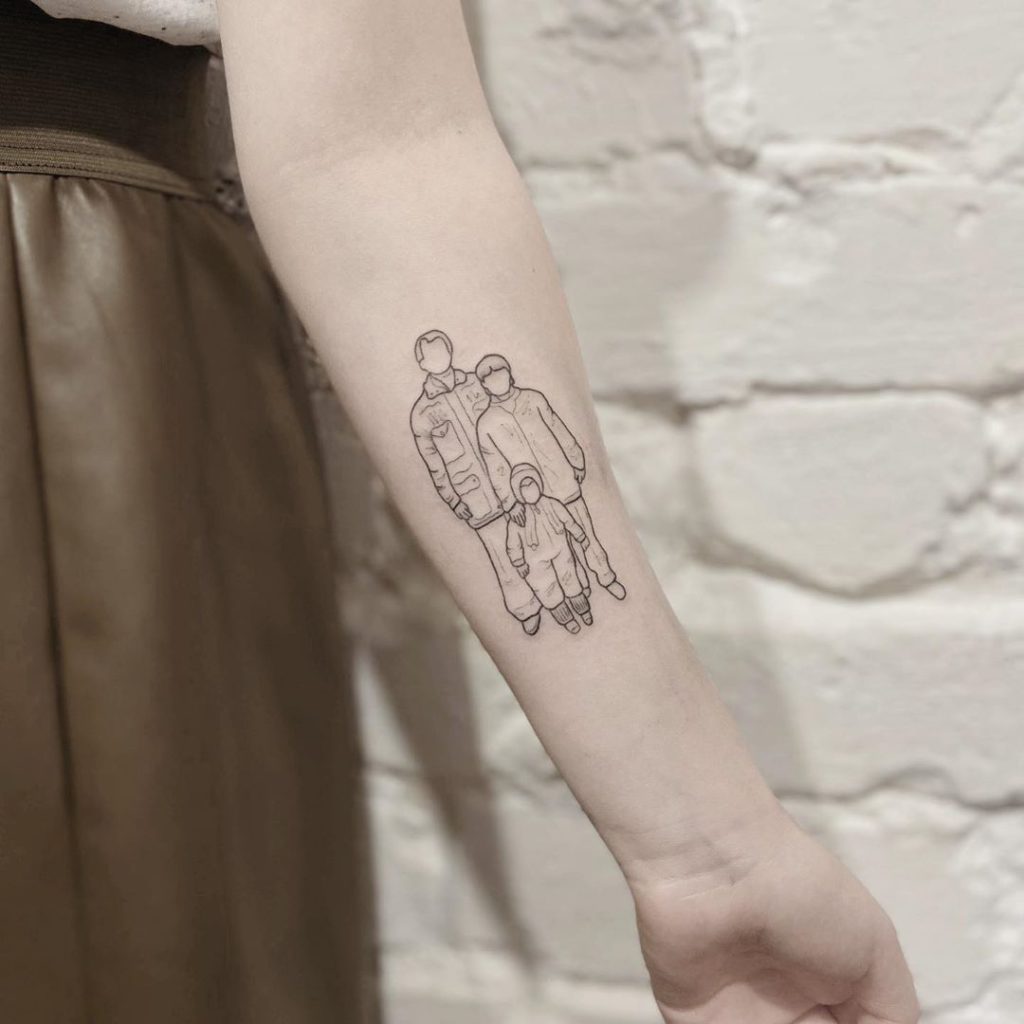 Russia based Kyro, whose portfolio is full of amazing fine line tattoos, did this tattoo representing the client's family of three, mom, dad and herself.
Mom, Dad and baby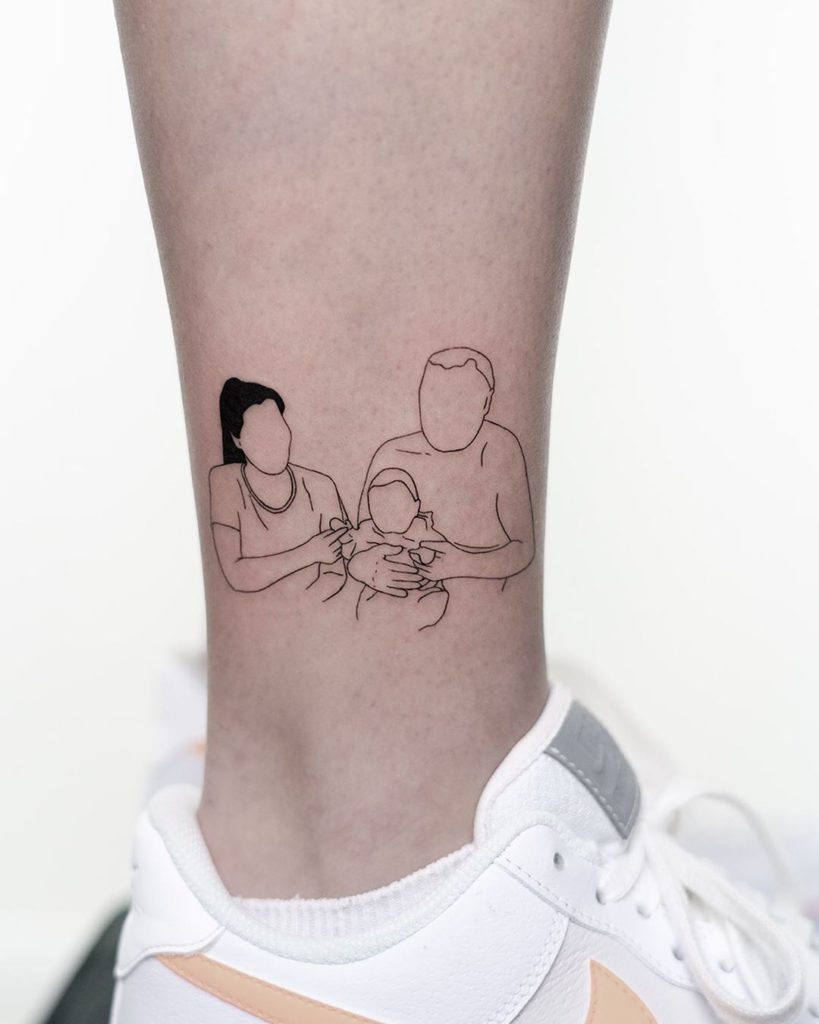 Nico did this lovely tiny family tattoo on the client's ankle. Nico is based in Germany, and does some amazing lettering tattoos.
On her father's shoulders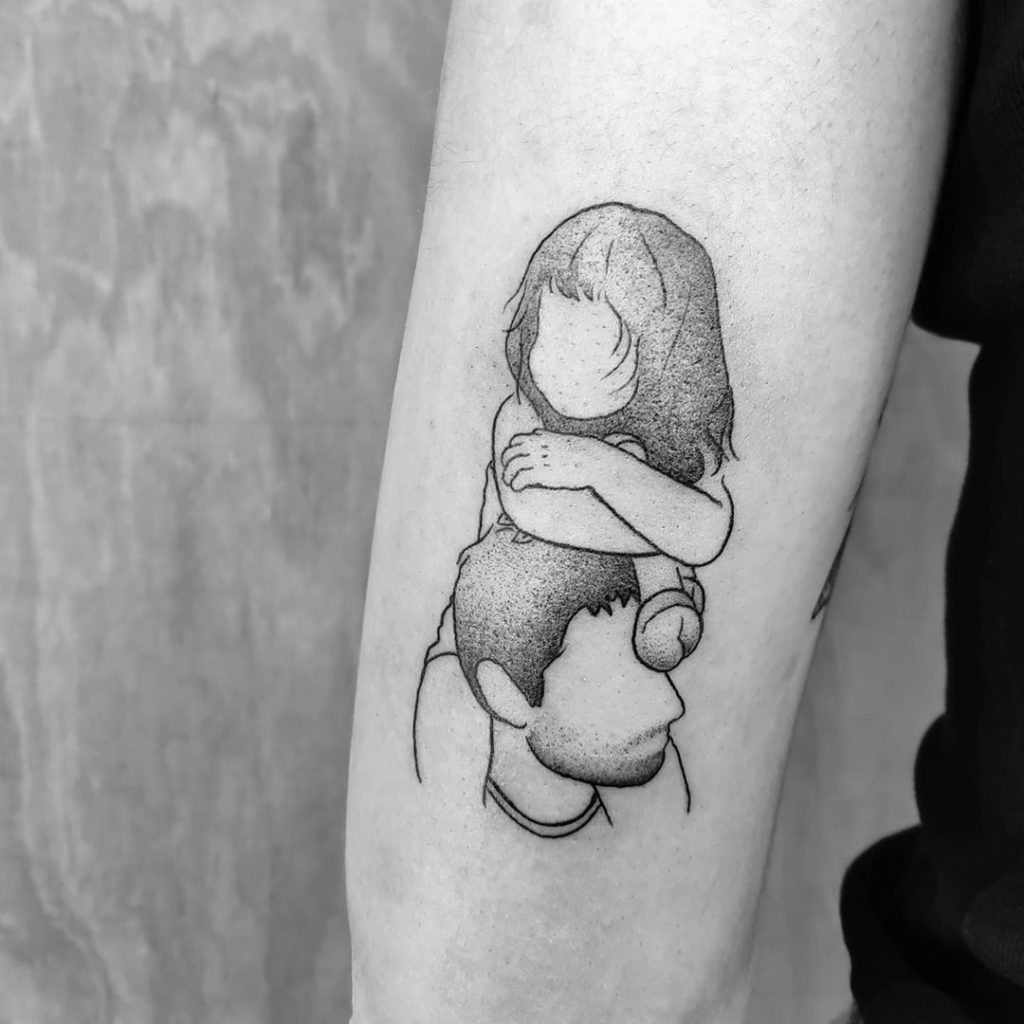 Sasha Eliot combined the minimalist linework with some dotwork, her preferred style. This gives the tattoo some more texture.
Forever by your side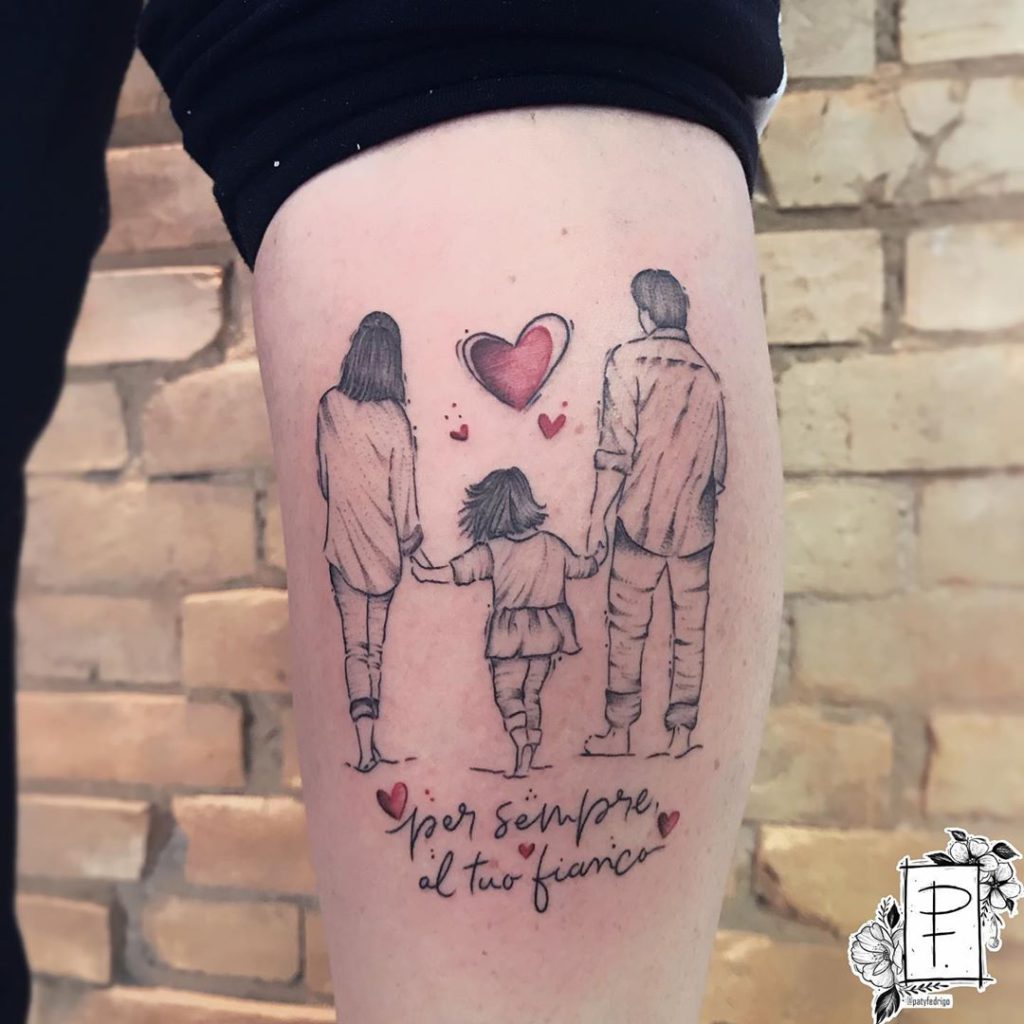 'Per sempre al tuo fianco', translates as 'Forever by your side', perfectly illustrating what parenthood is all about, unconditional love and support. Done by Paty Ferdigo in Brazil.
Sisters forever
Mila Delacroix gave these sisters a tattoo that will forever show their bond.
Mother & Daughter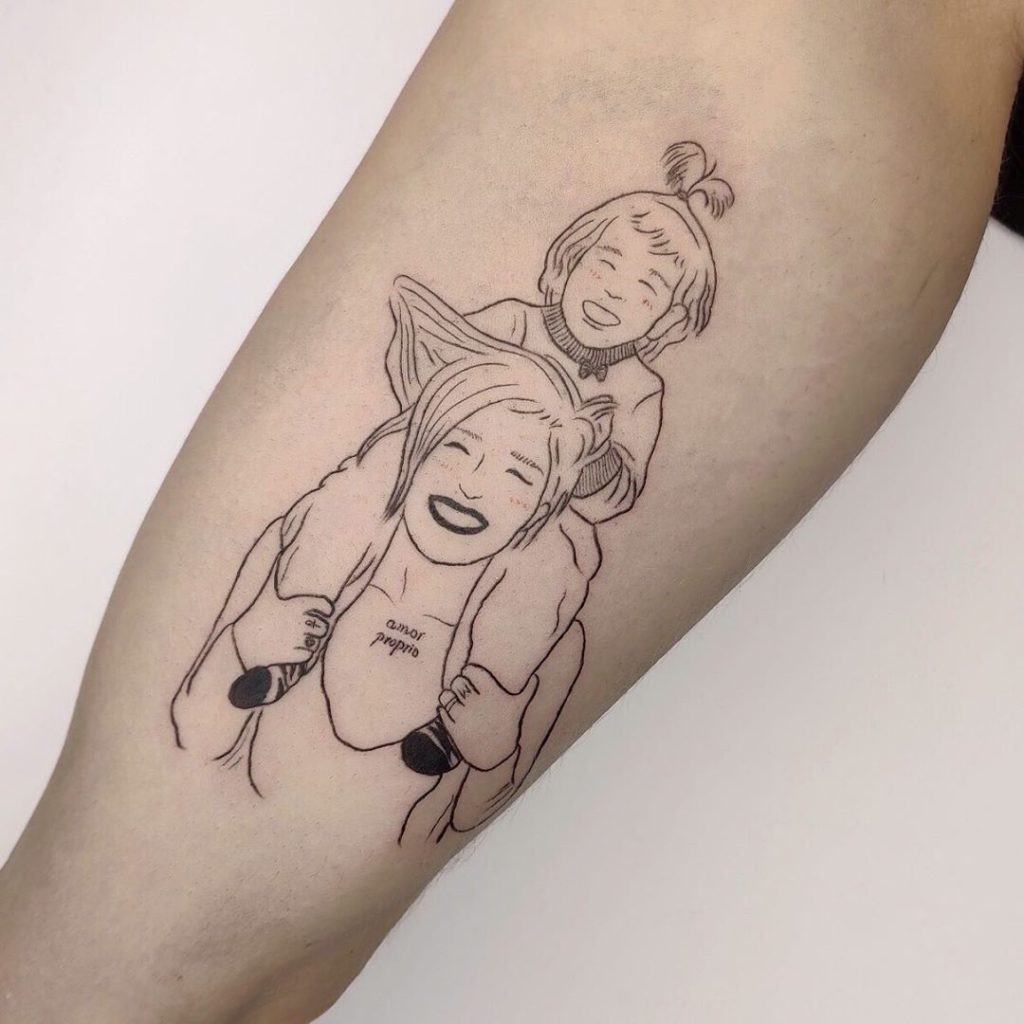 Xingalmond immortalized this very special moment between a mother and daughter. Lovely smiles, great tattoo!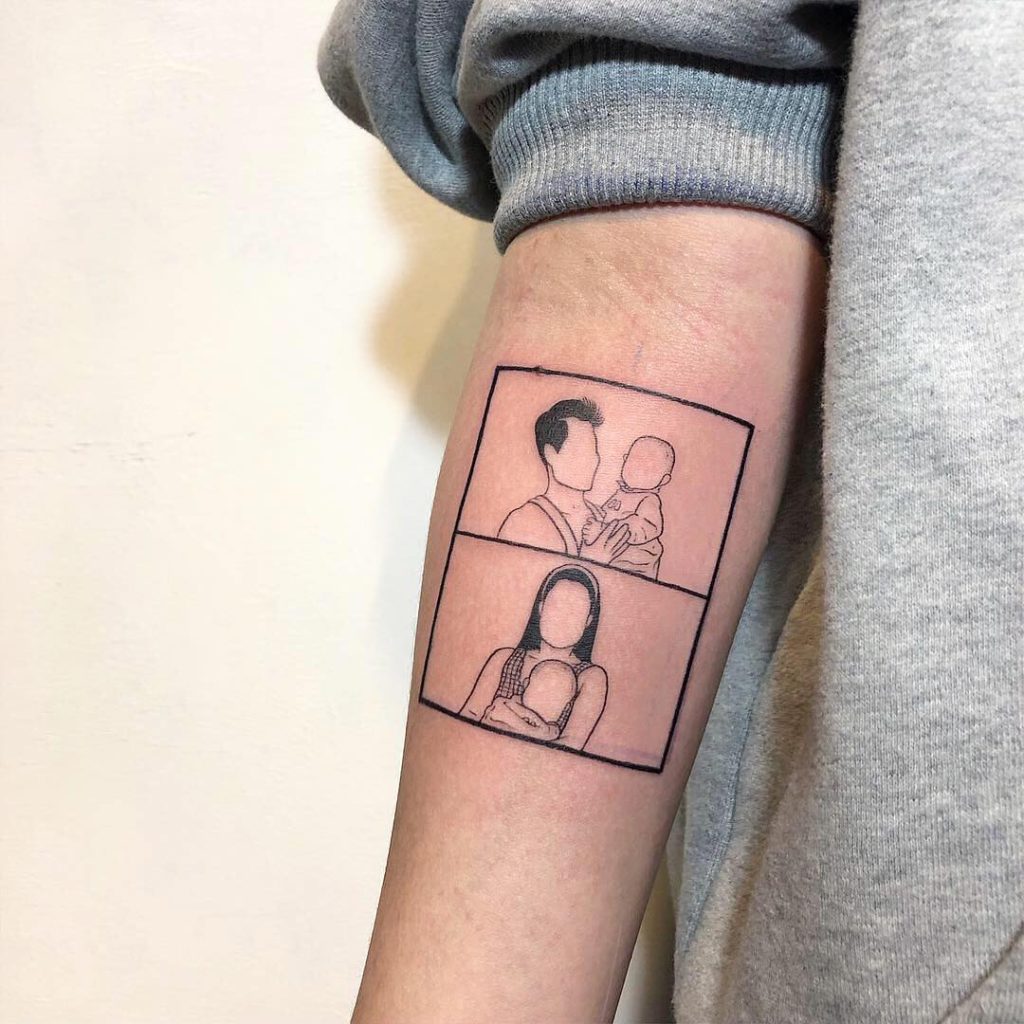 Shinji took a slightly different route, by using two photos for reference, one of the baby with the father, and the other with the mother, and framing them.
The happiest days
Polaroid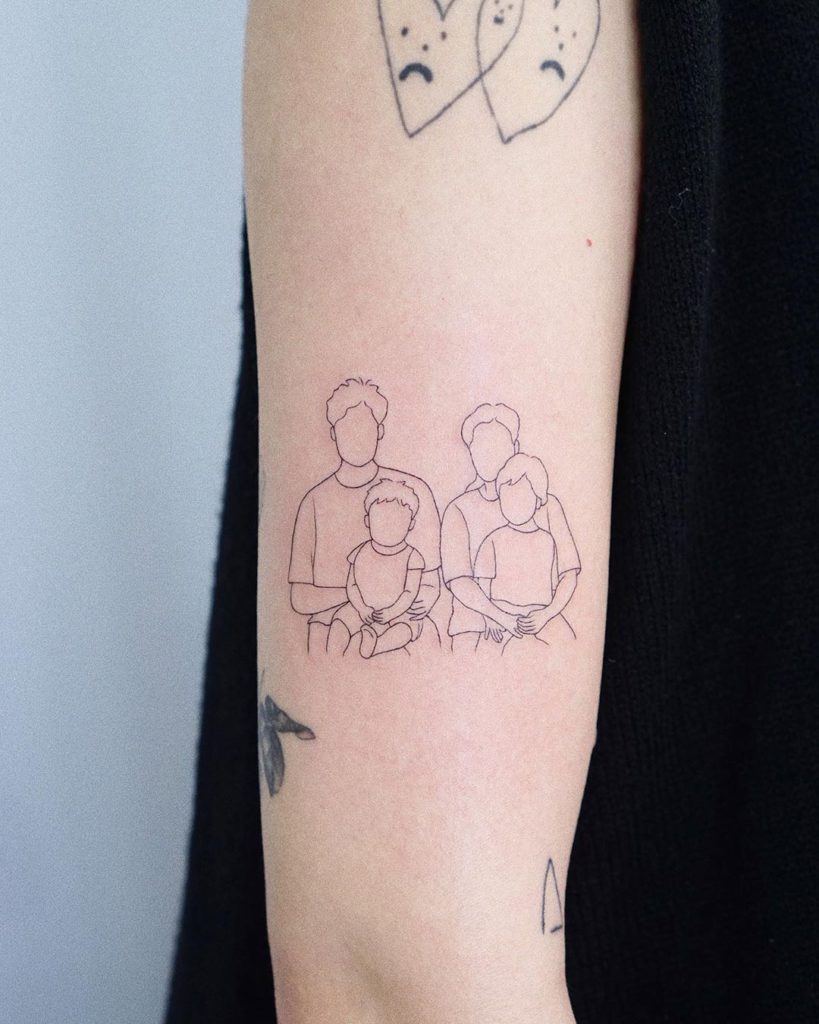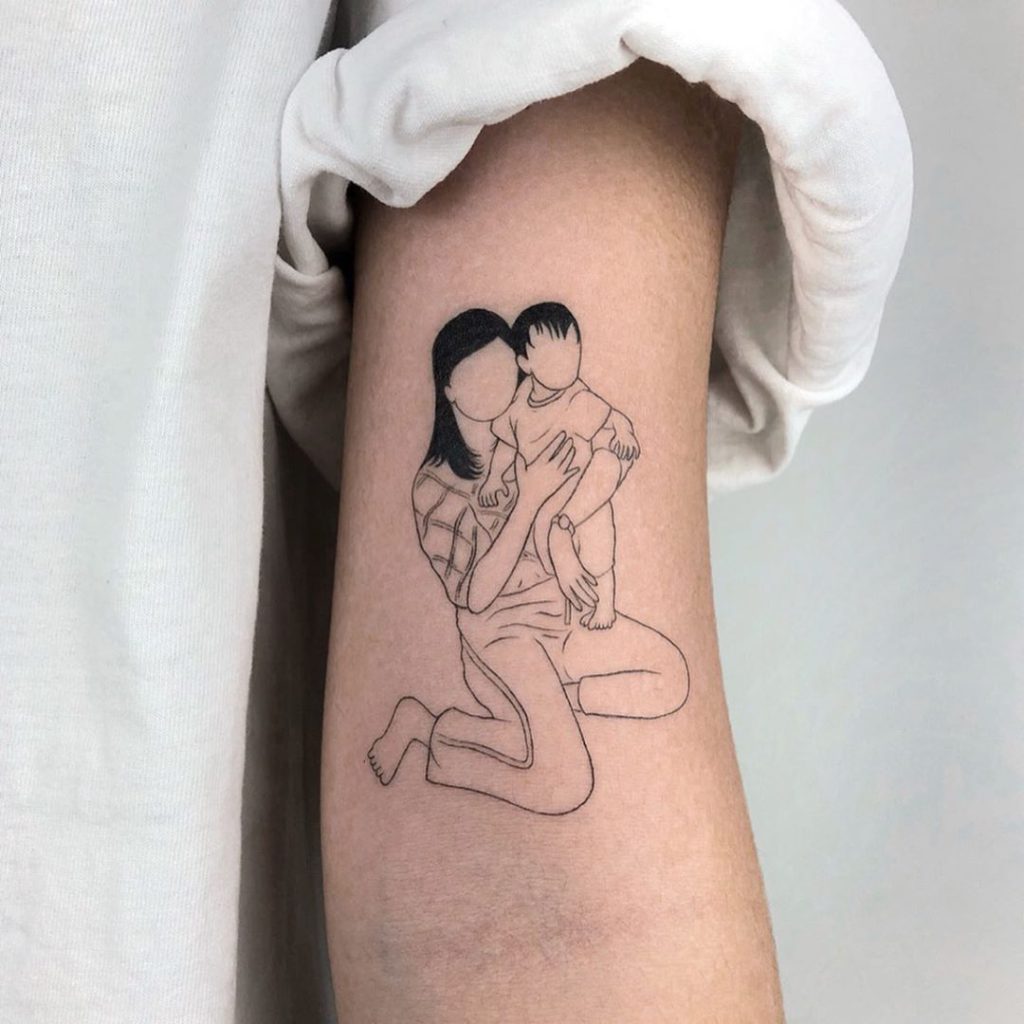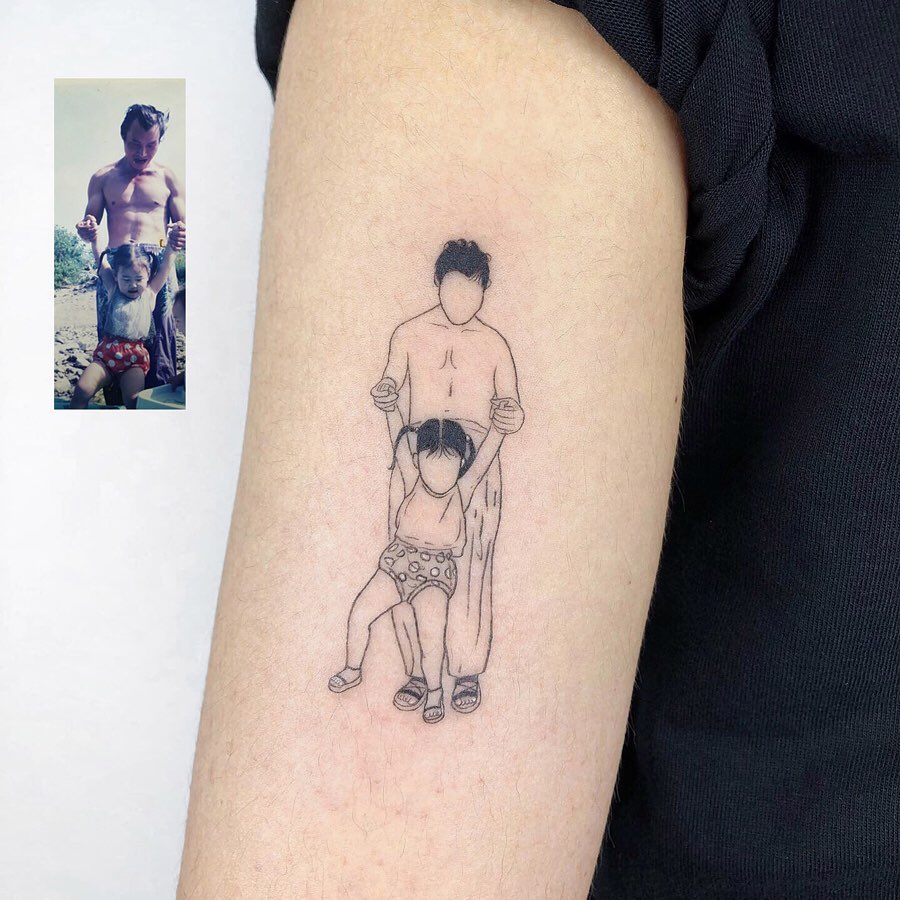 Thumbs up!