Flower tattoos look good on just about every area of your body. A tiny daisy tattoo on wrist or ankle, a bursting bouquet tattoo on shoulder or upper arm, or maybe just a rose over your heart. Wear them where you want, as nothing beats a beautiful flower tattoo.
Beautiful Blooms: Choosing Your Flower Tattoo
Tattoos can be one of the most personal forms of artistic expression. When you choose a piece of art that you want to keep with you for the rest of your life, it can be a very meaningful decision. Many people choose tattoos that represent important life events, pay homage to loved ones, or express very personal feelings. Although you can get a tattoo of just about anything, some of the most common images you find in tattoos are flowers.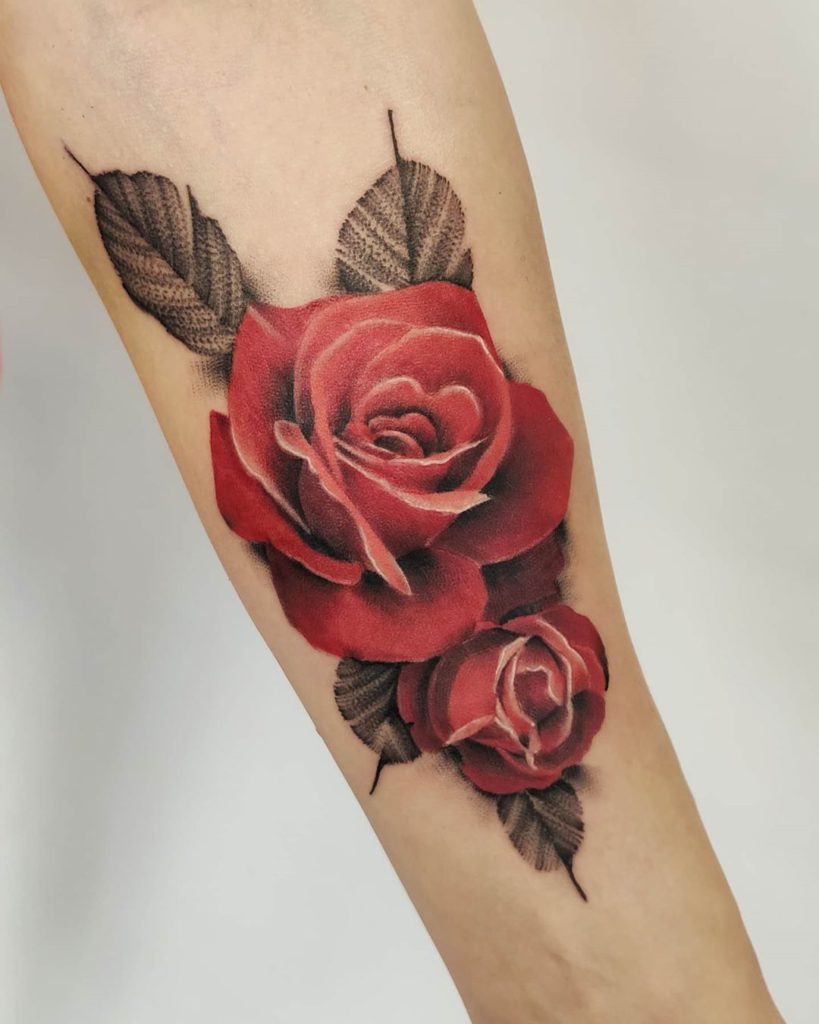 Flowers are great tattoo design elements because not only are flowers elegant and beautiful, they can also be used to convey thoughts and feelings without using words. In this article, we are going to give you a little insight on flowery tattoos, hopefully give you some inspiration for what you should include in your floral tattoo, and where you should put it. So pull up your tattoo parlor's number because you're going to need an appointment.
Floriography: The Language of Flowers
You may have heard of floriography, the language of flowers, but just in case you haven't, here is a quick rundown. Assigning meaning to flowers dates back as far as written history, even the Hebrew Bible makes mention of flowers being symbolic. There are records of floriography in Asia, the Middleeast, Europe, and more. It comes up again and again throughout history.
Each flower represents an idea or feeling. When you choose flowers based on the language of flowers, you are adding thousands of years of history to your tattoo idea.
Personal History
Even if you're not into deep historical meanings, a flower tattoo can still hold a lot of personal relevance. They can represent beauty, peace, happiness, and much more. You could choose a flower that represents an important moment for you, such as the first flower your spouse ever gave you.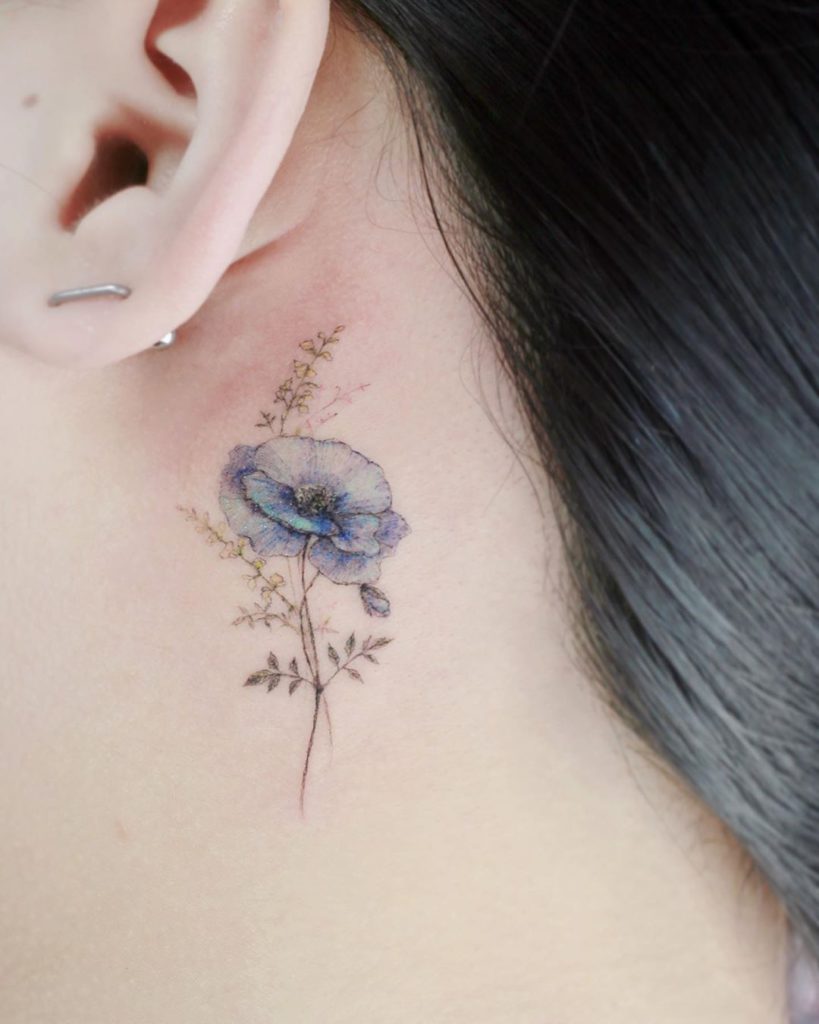 Maybe the flowers could represent a person, such as choosing your mother's favorite flower. Of course, you can always choose beautiful flowers just because you like them, but sometimes a little extra personal history can enhance your design.
Feminine Flower Tattoos
The Benefit of Blooms
Flowers are also a very versatile design element. Obviously, they can be very feminine, with fine line and delicate colors, but they can also be masculine and powerful. The bold outline and rich vibrancy of traditional Japanese flower designs can make quite a statement. And no one can argue with the power and beauty of the classic rose. The benefit of flowers is that they look just as natural and interesting woven through a skull as they do in a bouquet. Floral tattoos can also incorporate fun accents like honey bees, butterflies, and dragonflies, details that add interest and whimsy.
Flowers and bees
Best Placement for a Flower Tattoo
Perfecting your flower tattoo can be challenging. Sometimes you start out knowing exactly where you want your tattoo and design it based on that. Sometimes you find a design that you love, but can't decide where you want it. Another wonderful thing about floral tattoos is that they can look good on just about every area of your body. A tiny daisy tattoo on wrist or ankle, a bursting bouquet tattoo on shoulder or upper arm, or maybe just a rose over your heart. Getting an elaborate floral tattoo on thigh or sternum, also stunning.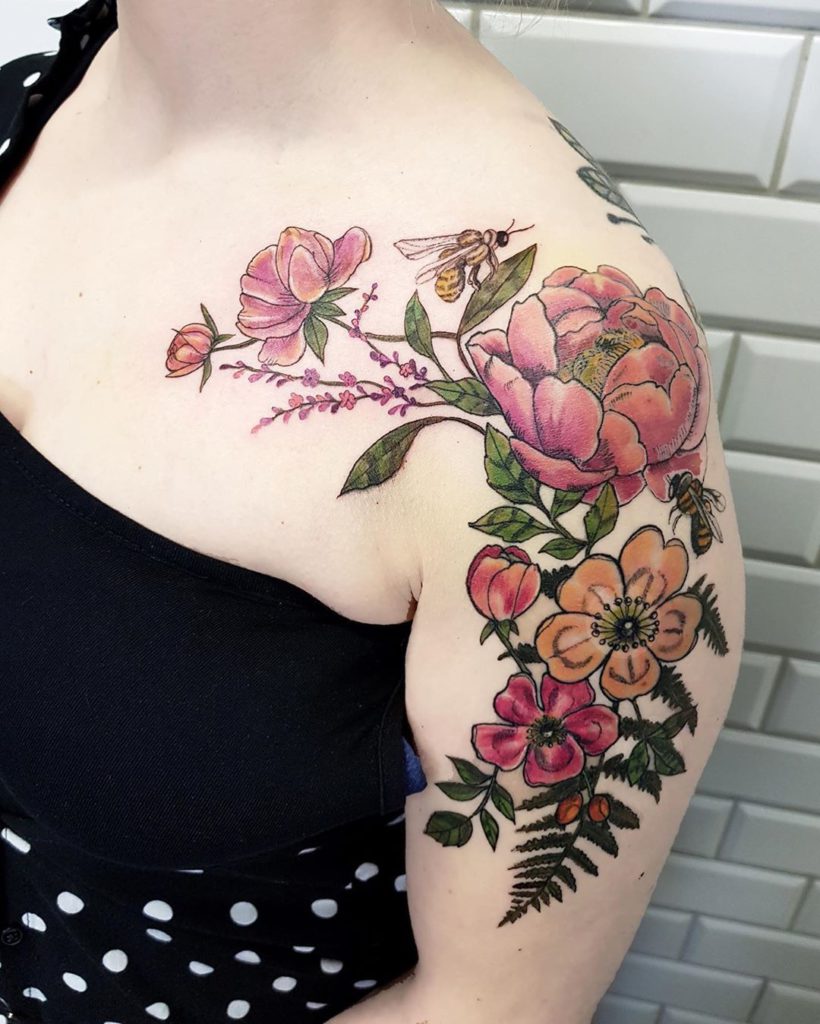 These are all beautiful options that can be modified to fit your style. If you really aren't sure, ask your tattoo artist. They can help you with your design and give you some tips about what works best.
Flower Tattoos on Men
Pretty Petals
Floral tattoos are popular for a reason; they are bold, beautiful, and look good on just about anyone, anywhere. They can also be designed to be completely unique, particularly expressing you and your feelings.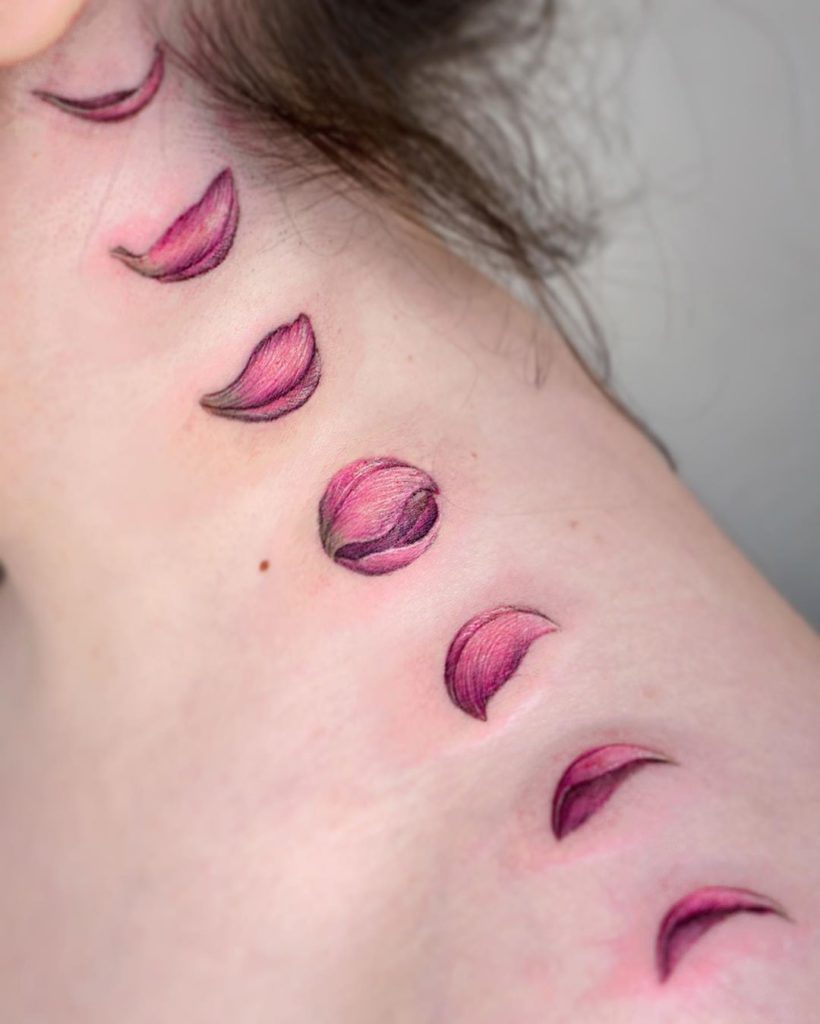 You can choose flowers based on ancient floriography or choose them based on your own history. You can have bright bold flowers or soft watercolor petals, color or black and white, whatever expresses you. Deciding where to put your tattoo is also important, it can affect the size and shape of your design.
Your tattoo artist knows what design styles work best in which areas and can offer tattoo ideas which will help you finalize your decision. So go ahead and make that call to the parlor because it is time for you to get your stunning floral tattoo.
Flowers, Tattoos and Meanings
Rose Tattoos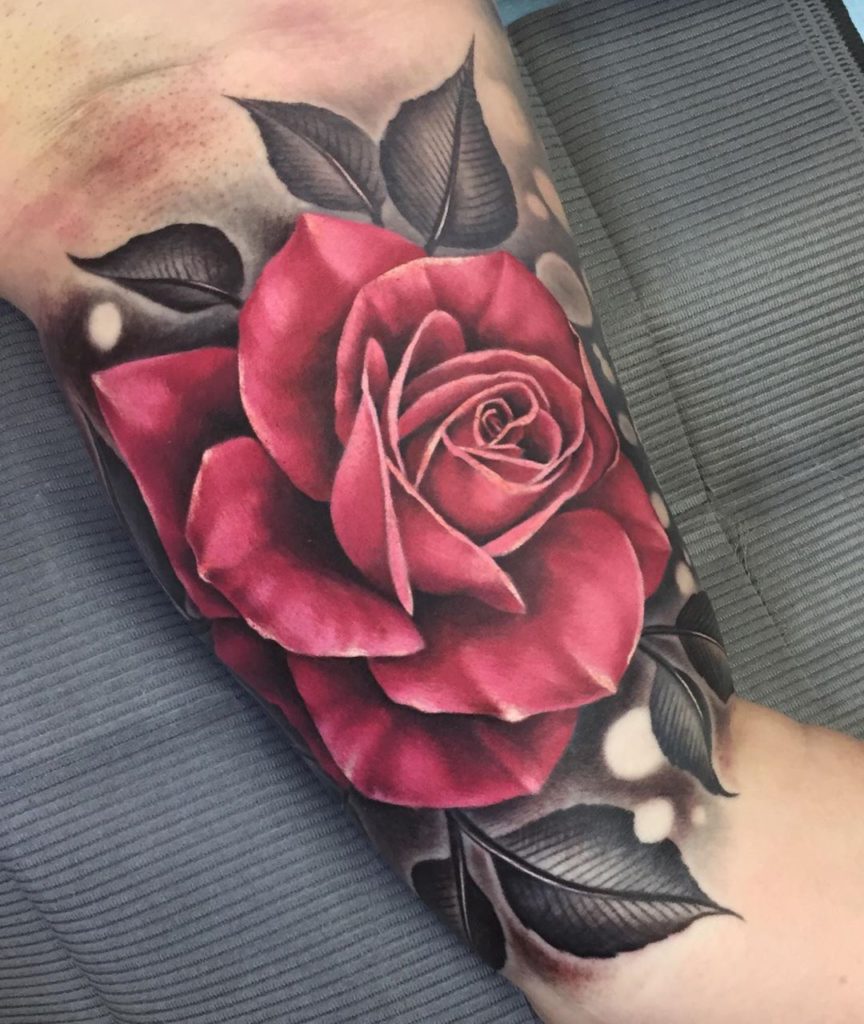 Meaning
Comprised of delicate and overlapping petals, roses are one of the most popular tattoo subjects in the world. Roses can symbolize everything ranging from love to hope, vitality, and promise. Unlike other flower tattoos, the color has a profound effect on meaning: while yellow roses represent protection, deep red roses often denote romantic passion.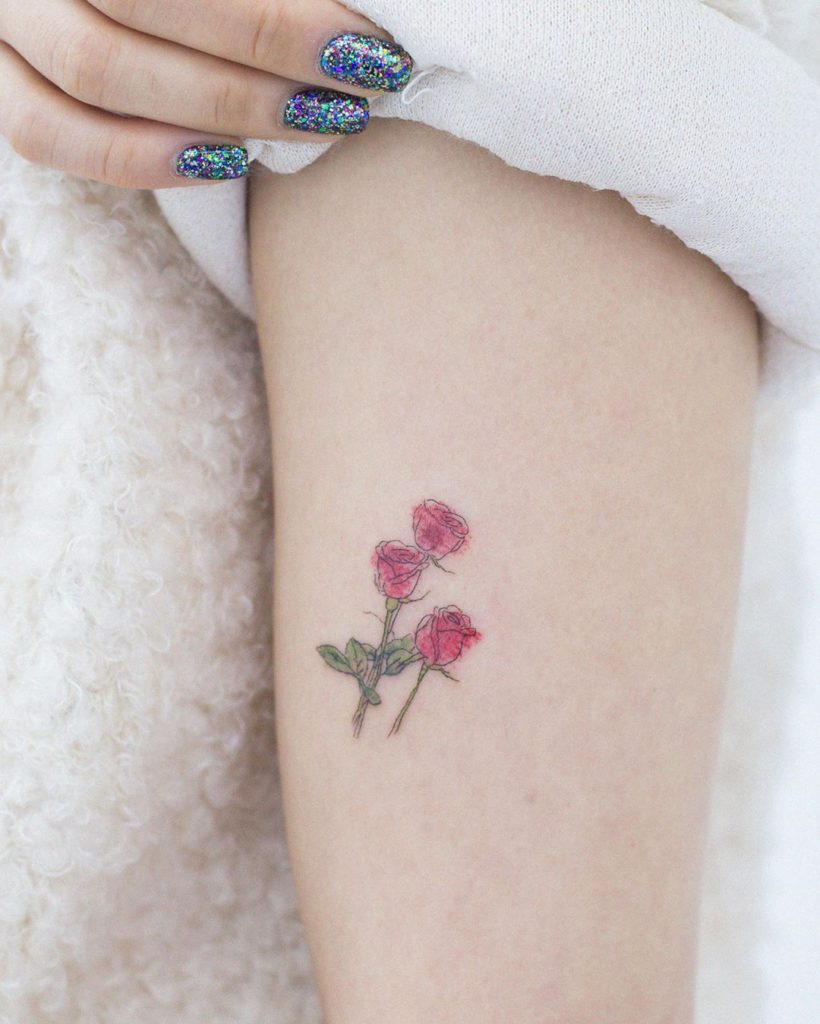 Placement & Design
Luckily, roses look good on nearly every part of the body. We recommend small, single roses for the ankle, inner wrist, or collarbone. Large rose bushes can work as either upper back pieces or even full sleeves.
Daisy Tattoos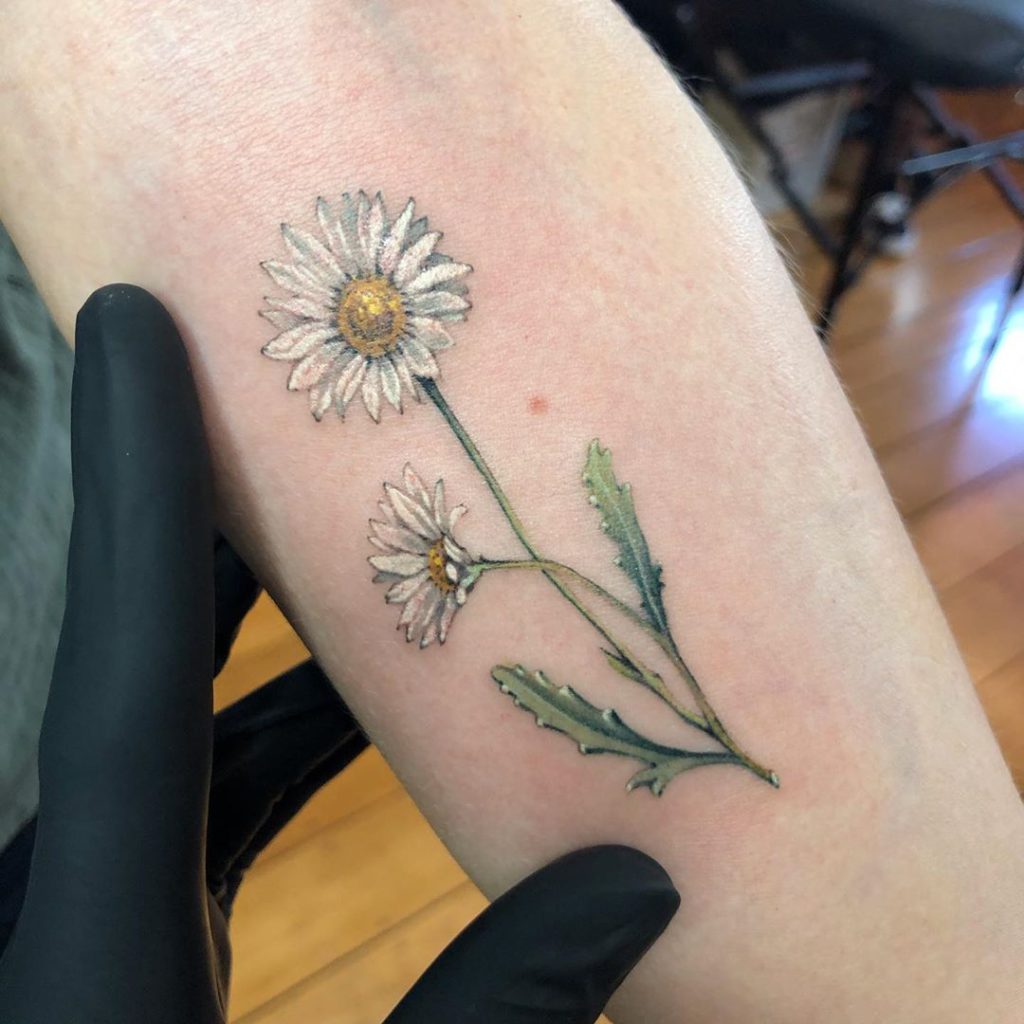 Meaning
Daises are a type of perennial whose small leaves form a small flower bud. It should be no surprise why these unassuming flowers are featured in wedding arrangements: daises represent innocence, loyalty, joy, and purity.
Placement & Design
Daisies work excellently as fine-lined blackwork or full color tattoos. These versatile flowers feature slim petals and leaves that help emphasize more feminine parts of the body, such as the forearms and ankles.
Sunflower Tattoos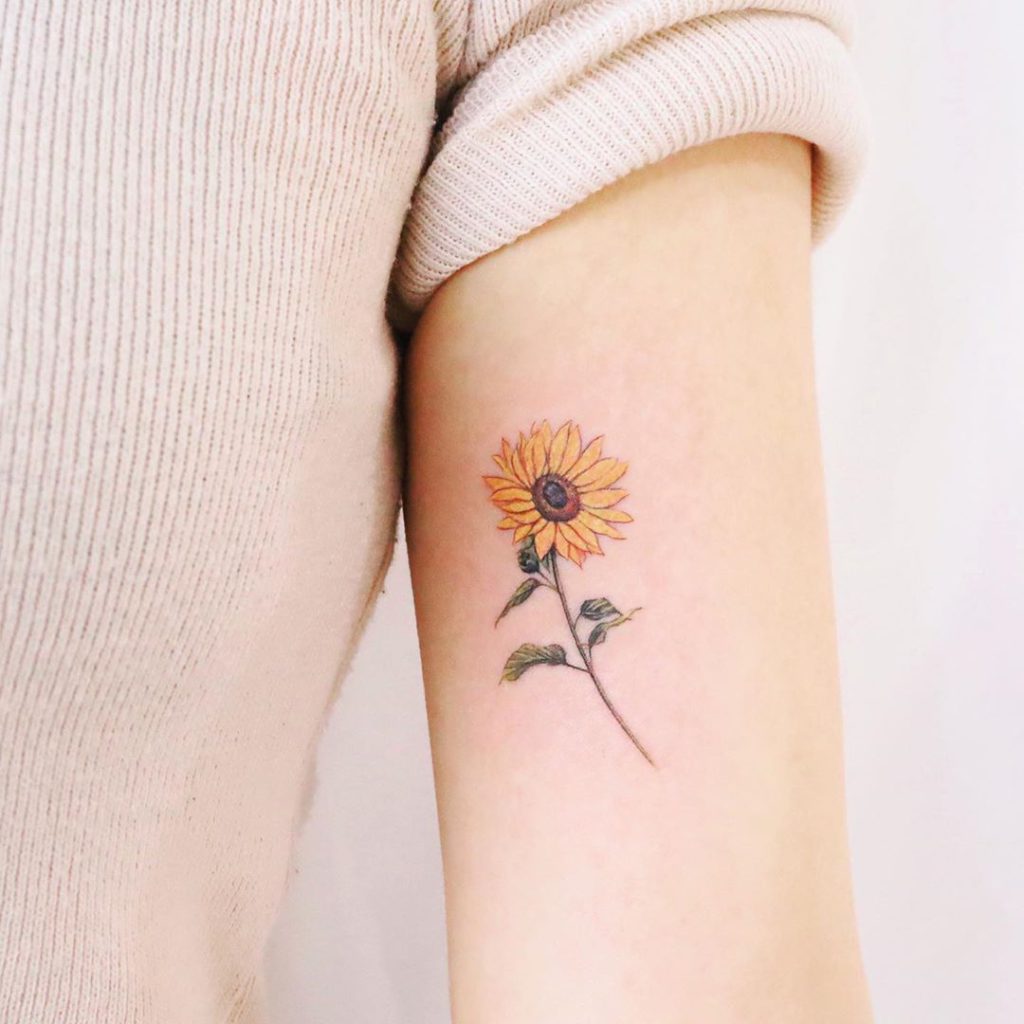 Meaning
Sunflowers are nature's portent of spring. Representing new beginnings, these bright yellow flowers are deeply connected to meanings of joy, happiness, and longevity. Though sunflowers are native to North America, they've since spread throughout the world and been adopted as an icon of spiritual connection.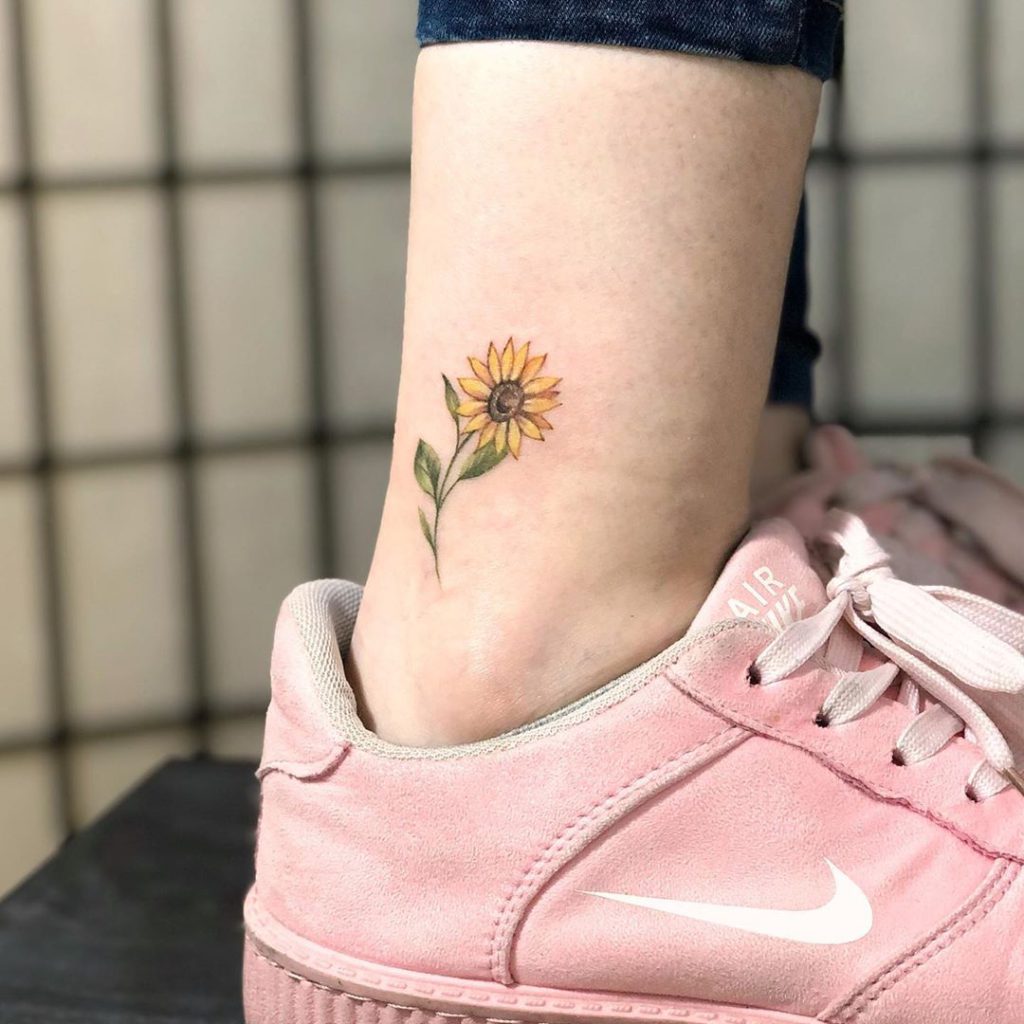 Placement & Design
Sunflowers can be depicted in so many stylistically unique ways. Some prefer large, thorny sunflowers with expertly rendered petals, while others prefer a more fragile and stylized depiction. They'd look excellent on the upper arm, back, or tops of the feet to show a deeper connection to nature.
Tulip Tattoos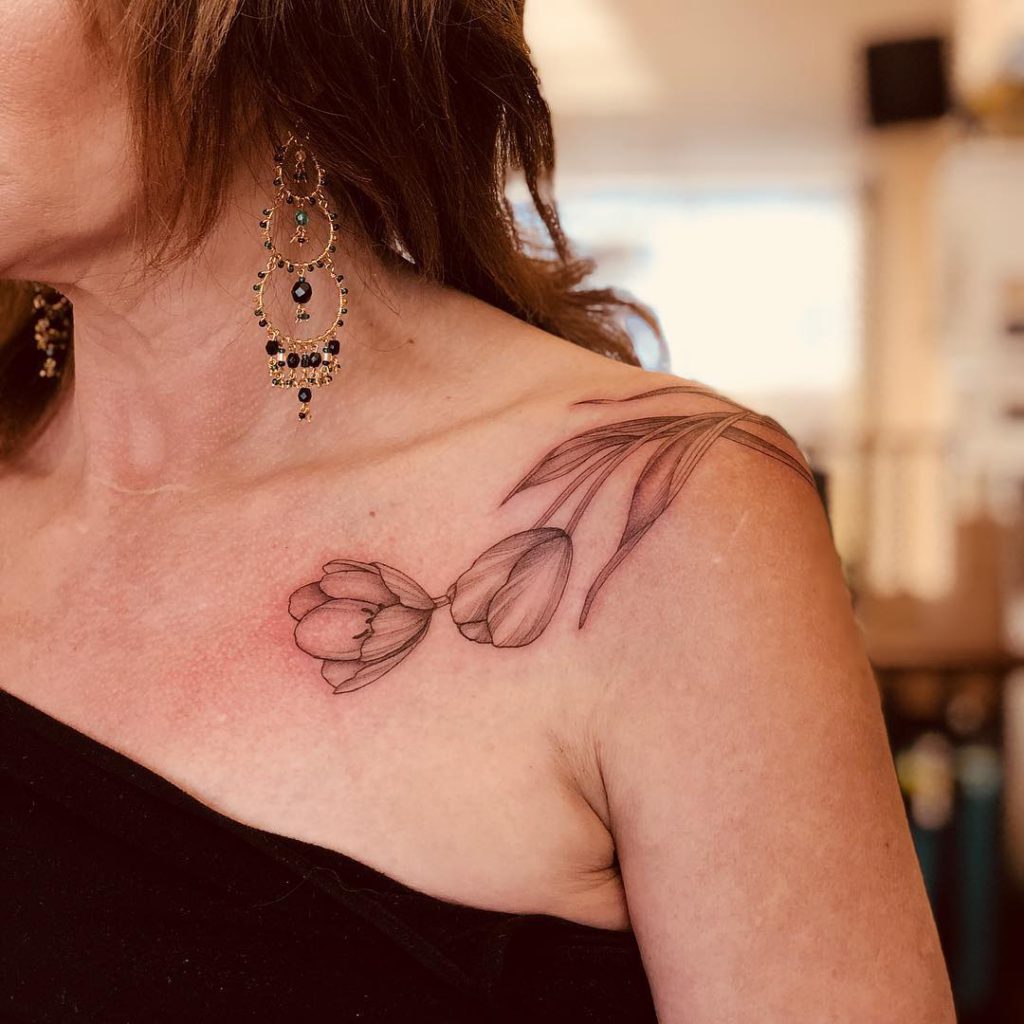 Meaning
Tulips are loved by tattoo artists and women worldwide. With no end to the vibrant varieties, it's hard to chock this bell-shaped flower up into one category. Often, tulips are used to represent beauty, humility, and opportunity. Deep blue tulips may demonstrate the wearer's naturally introspective nature, while red tulips are clear symbols of love.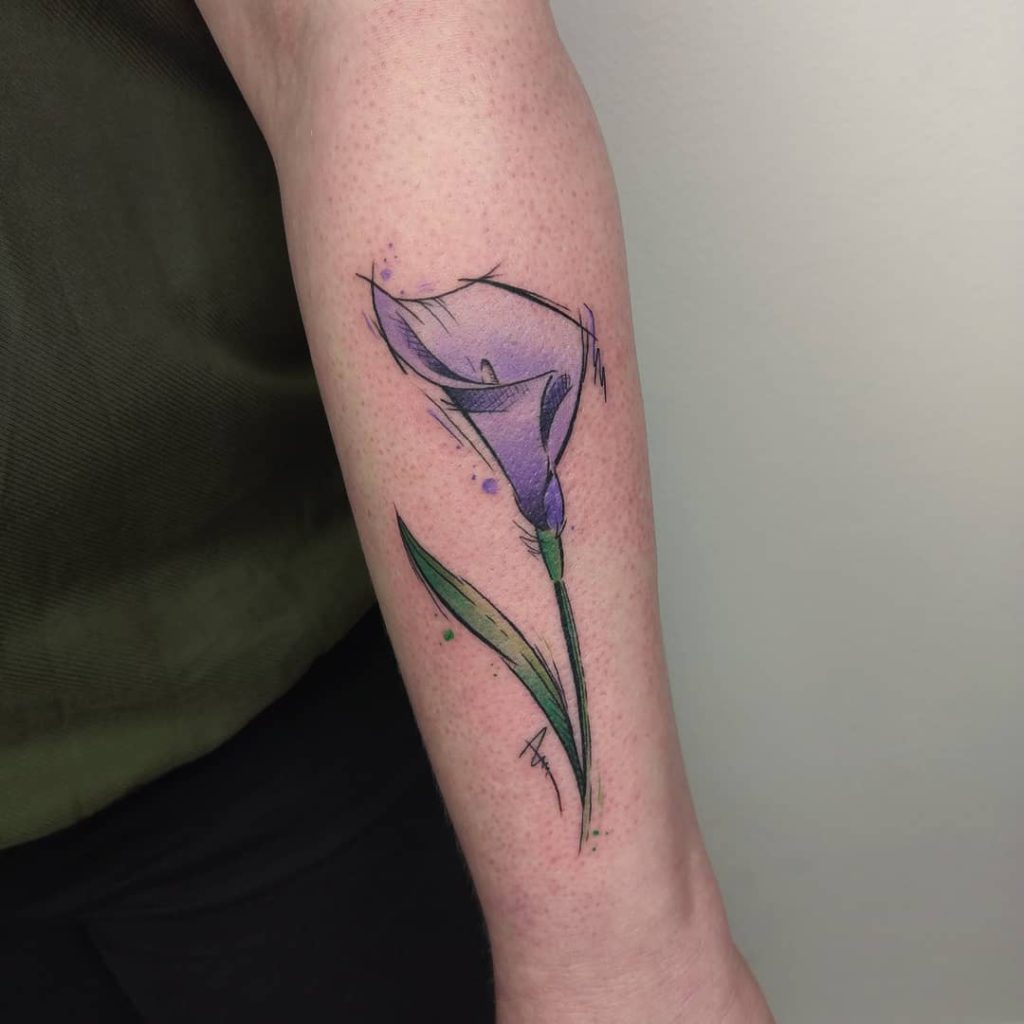 Placement & Design
We recommend small, gently rendered tulips above the elbow and the middle of the upper back. There's no limit to the shades you can select, though tulips often look most striking in an impressionistic style.
Lavender Flower Tattoos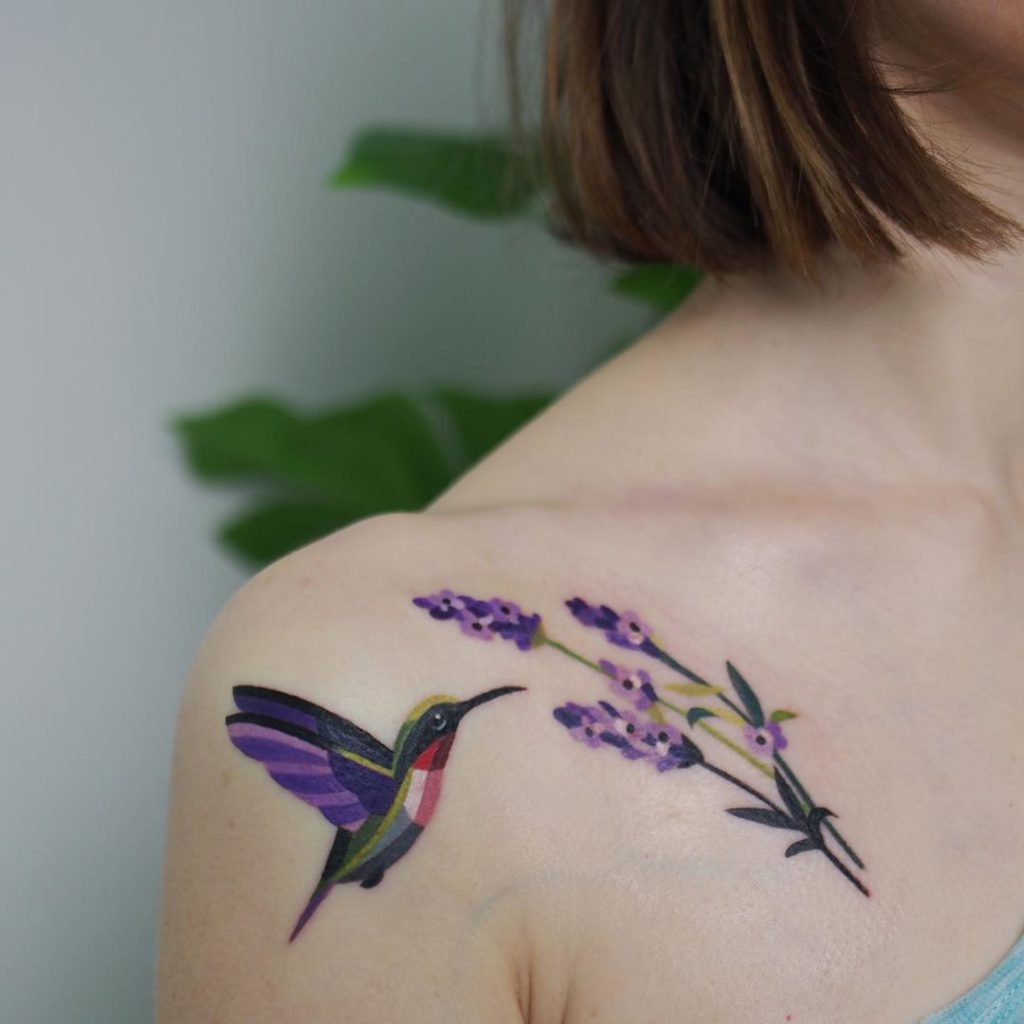 Meaning
Like roses, lavender flowers are almost immediately recognizable due to their unique structure and striking purple shade. Lavender flowers are loved for their calming scent and ability to heal ecologically devastated areas. Over the ages, lavender has been known to symbolize silence, devotion, grace, and stillness.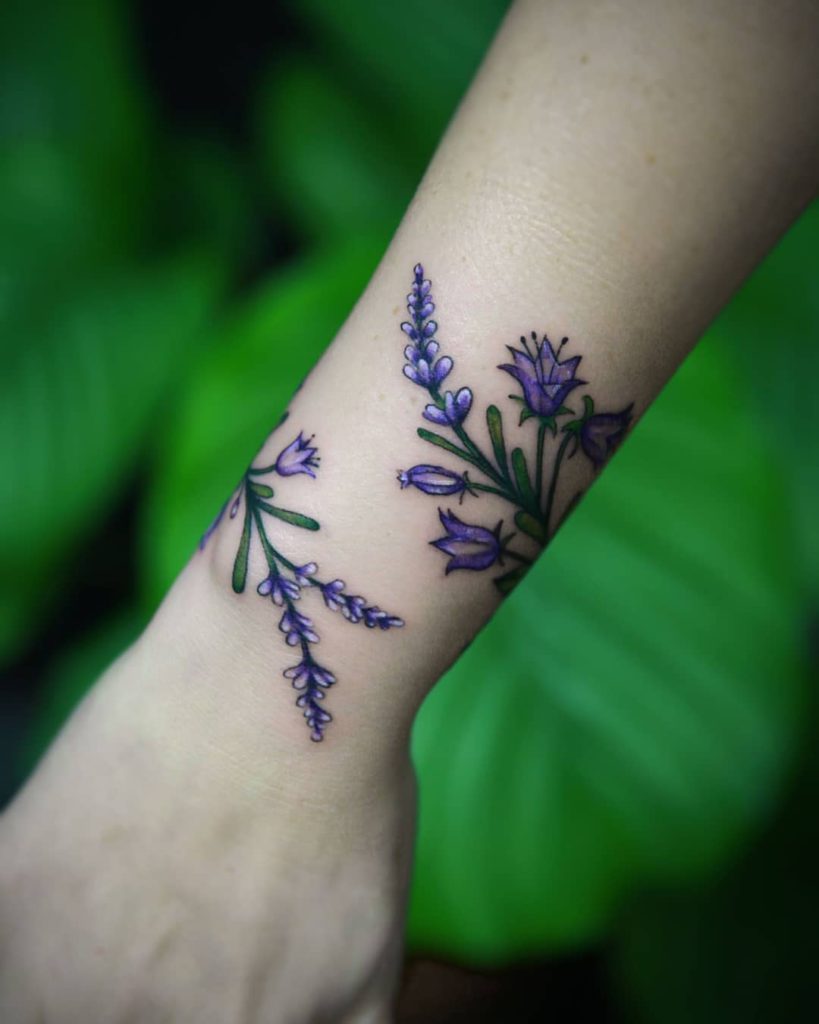 Placement & Design
Whether you're naturally calm or just want to channel more stillness in your life, lavender flowers are adaptable enough to look good on any part of the body. We recommended the long, vine-like shape for longer areas of the body: the forearm, legs, and parallel to the ribs.
Pansy Tattoos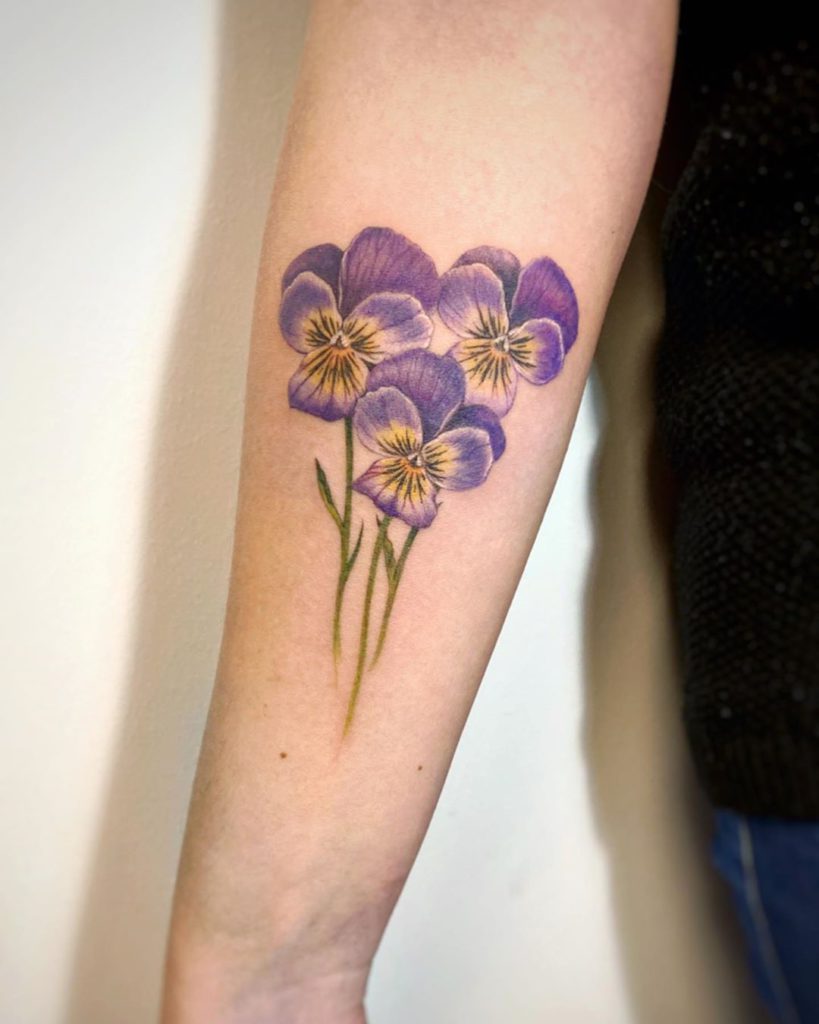 Meaning
The word pansy derives from the French term 'pensie', meaning thoughtfulness and remembrance. Just like their etymology suggests, the distinctive looking purple pansy is thought to symbolize unconditional love, thoughtfulness, and wisdom through trial.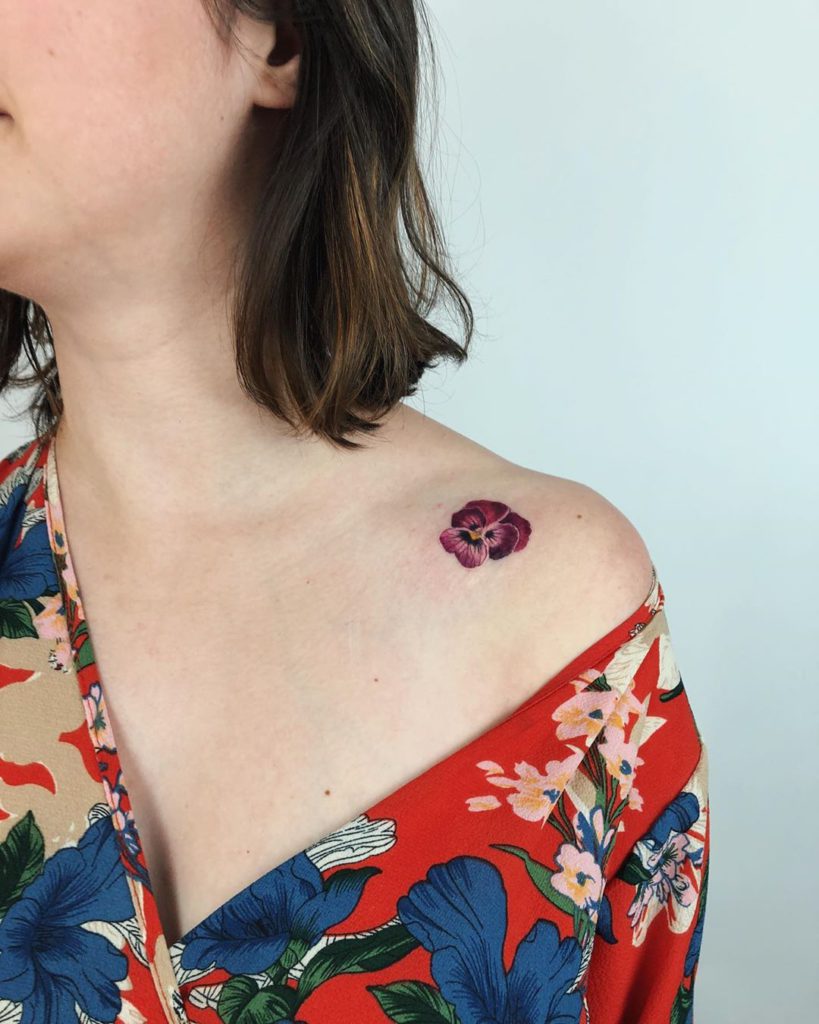 Placement & Design
Pansies have large, blooming petals that are best rendered on larger parts of the body. The upper back or high point of the calf make great canvases for groups of pansies.
Poppy Flower Tattoos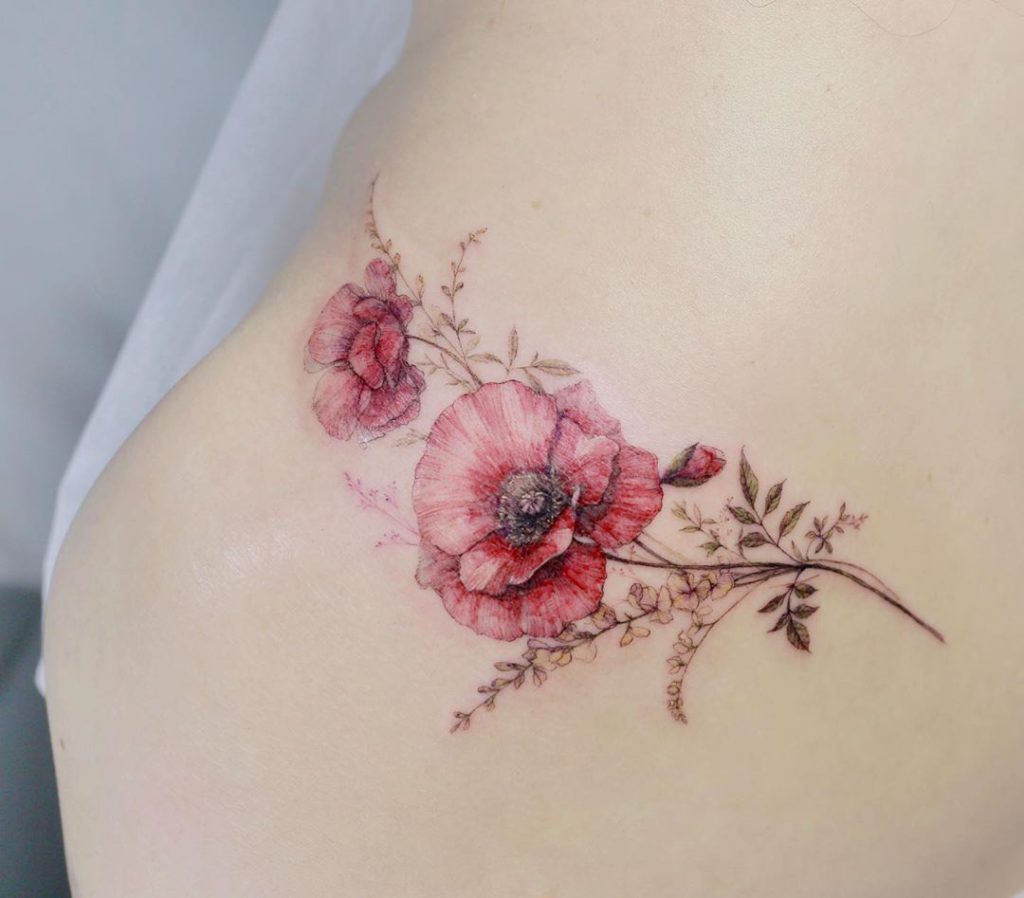 Meaning
Poppies are offbeat and eye-catching little flowers with deep red petals. During World War I, poppies became the international symbol of remembrance for fallen soldiers. Now, these flowers are used to represent to prosperity, beauty, and honor.
Placement & Design
We think poppies tattoos look best with multiple flowering buds, looping vines, and paired with small leaves. Deep red, full color poppies are suitable for the upper back, while fine-lined poppies look great on just about any area of the body.
Dandelion Tattoos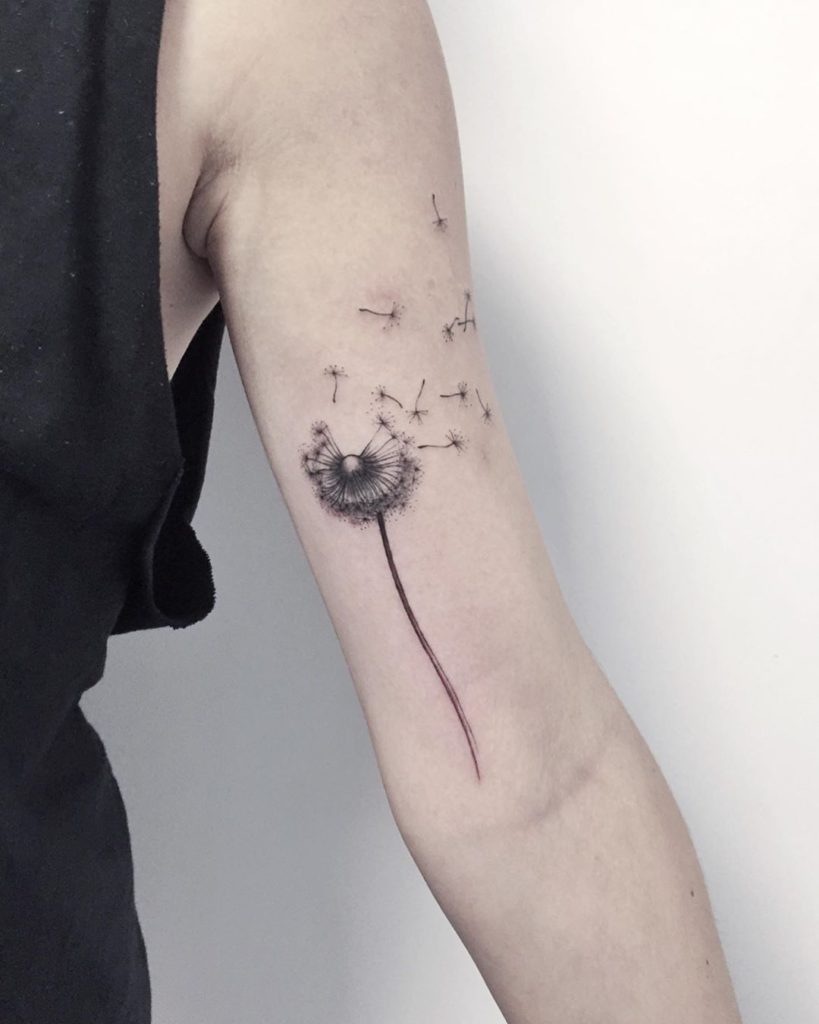 Meaning
We all remember blowing on dandelions as a kid. Though adults usually see them as a pesky weed, these flowering plants blow in the wind as a wish for good luck. Dandelions feature delicate, wispy seeds that quickly dominate entire neighborhoods.
Placement & Design
Dandelion tattoos that depict spreading seeds may represent freedom, wishes, or even the brevity of life. Large dandelions look best on larger expanses of the back, while small ones work well on the forearm.
Jasmine Tattoos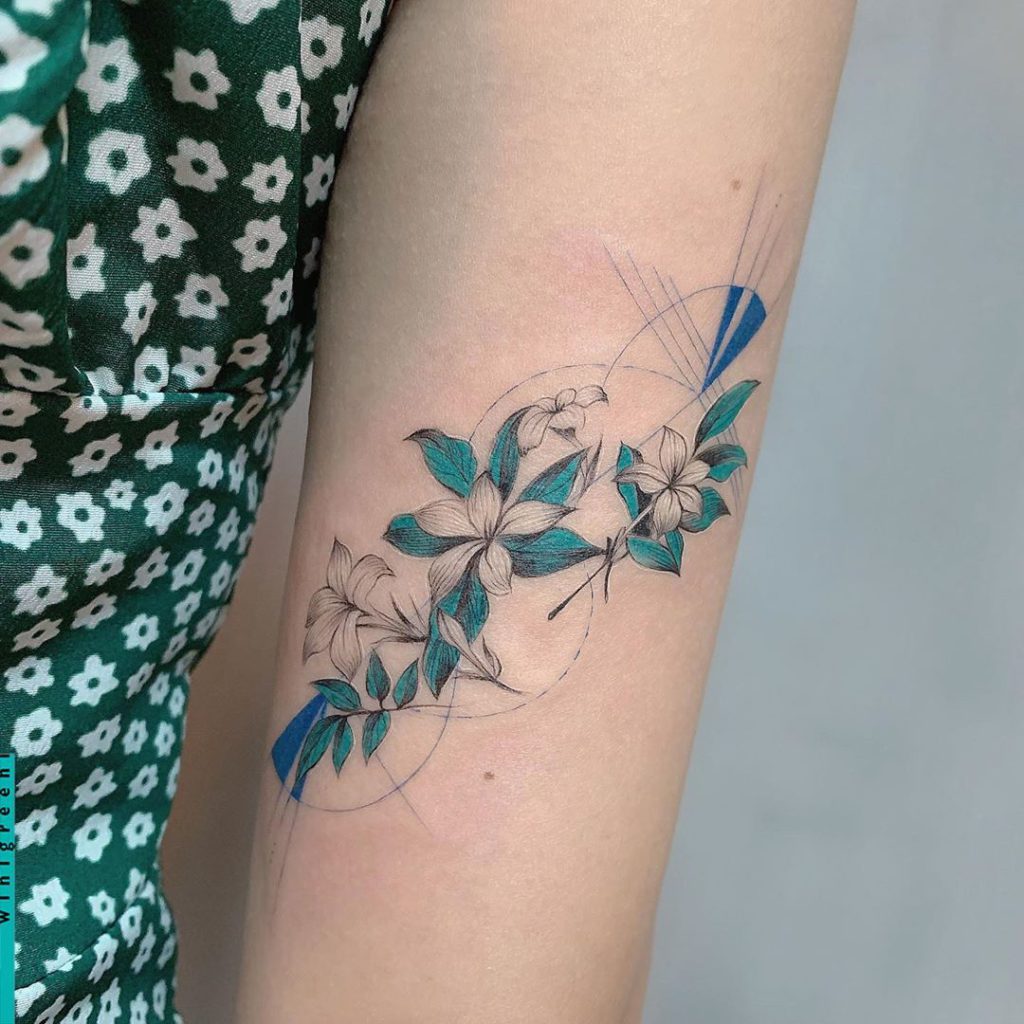 Meaning
Featuring soft, purple petals, the Jasmine flower symbolizes everything related to femininity: beauty, grace, purity, and an element of mystery. These delicate flowers boast a powerful fragrance that can travel for miles.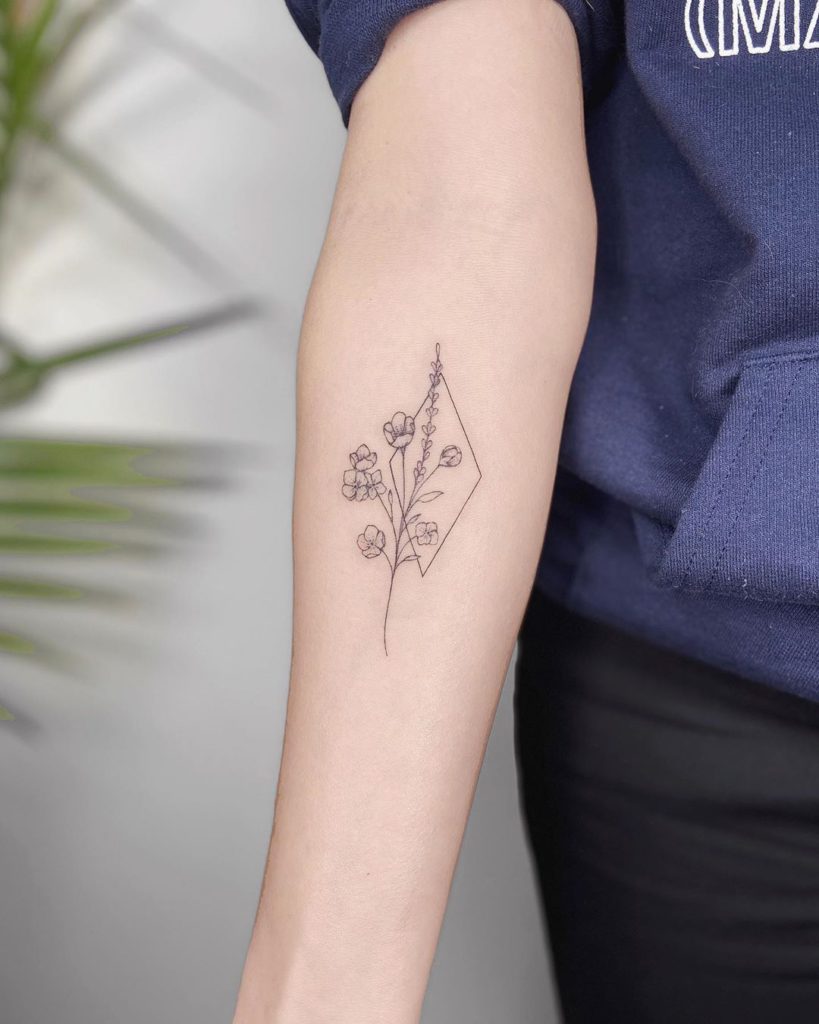 Placement & Design
Just as the flowers' meaning suggest, jasmine looks best in an elegant and fragile style. We suggest a fine-lined and limited color palette approach to rendering the flower, which is best suited for the inner forearm or ankle.
Magnolia Flower Tattoos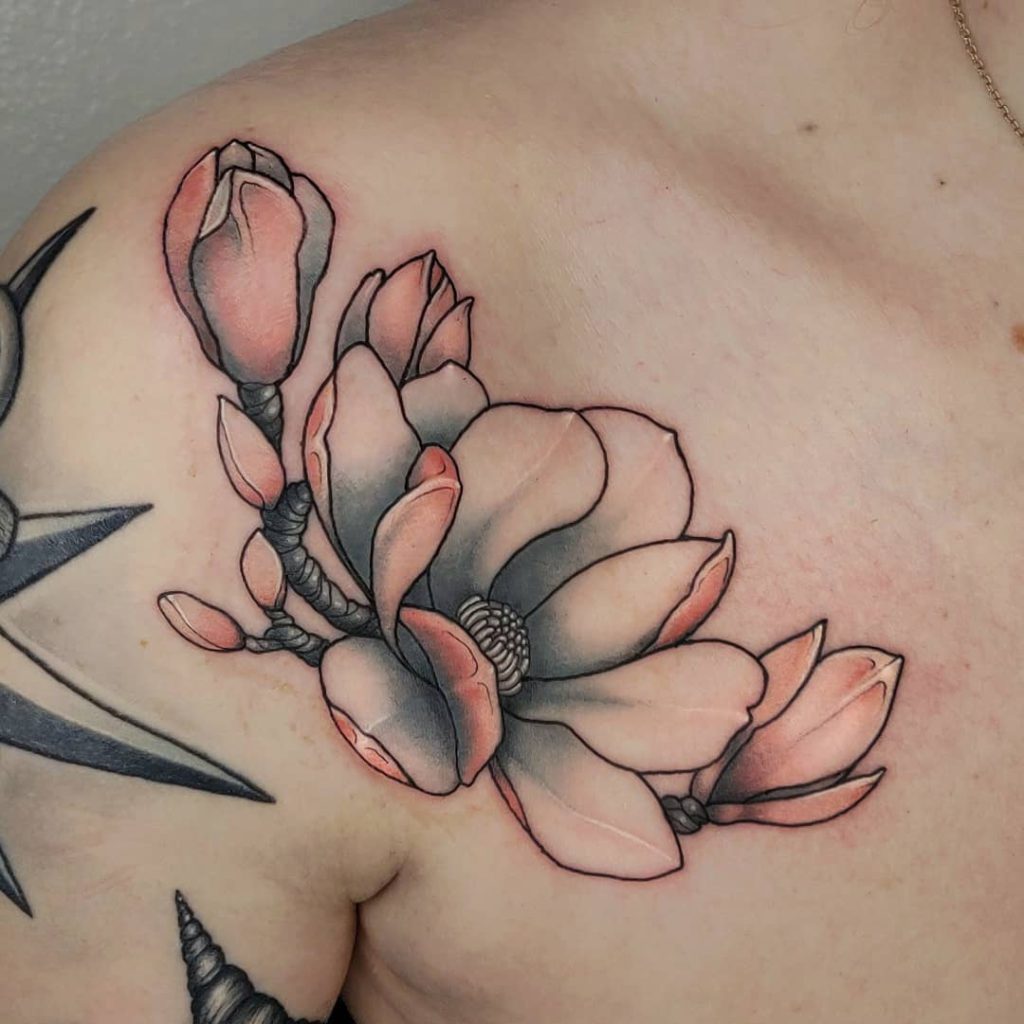 Meaning
Magnolias are associated with endurance, nobility, and a deep love of nature. With a subtle color yet distinctive petal characteristics, magnolias are hardy enough to survive the coldest points of an early spring.
Placement & Design
We suggest depicting the magnolia flower itself in conjunction with the thick, durable stem. The light flower is a great fit for the middle of the back or collarbone.
Sweet Pea Tattoos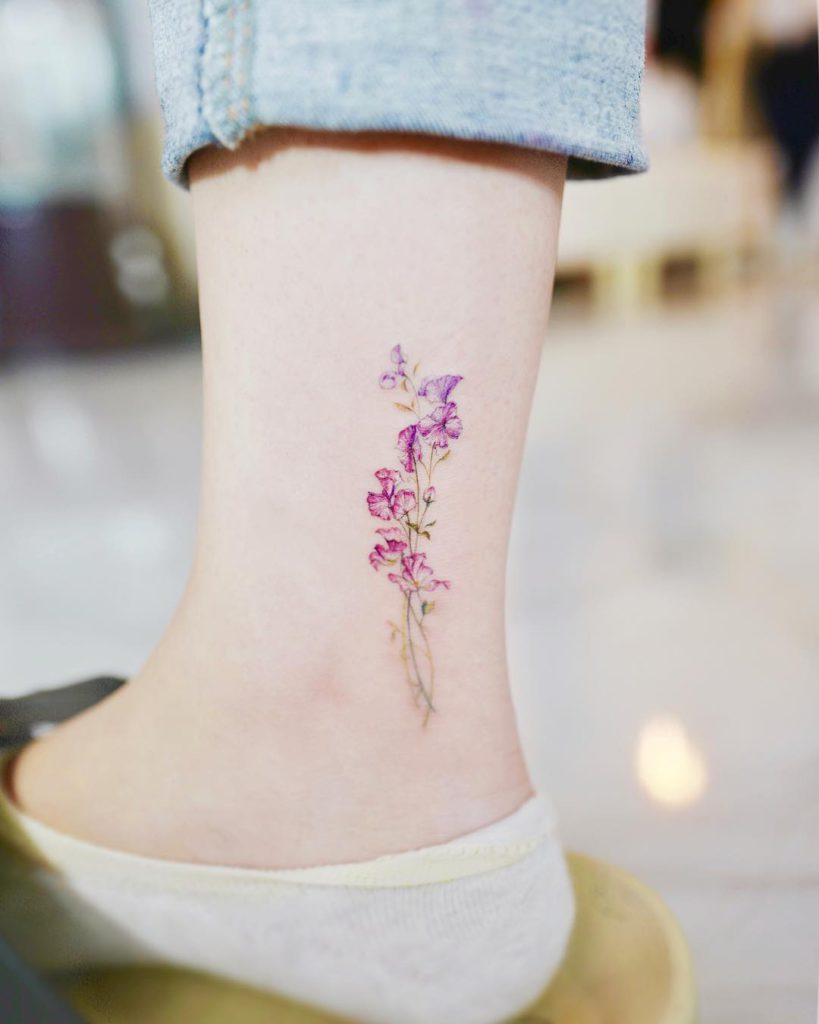 Meaning
Though its name may not suggest it, sweet peas are one the most enduring flowers that survive deep into the recesses of Autumn. Known as the birth flower for April, they're commonly used to represent sensual pleasure, farewells, and departure.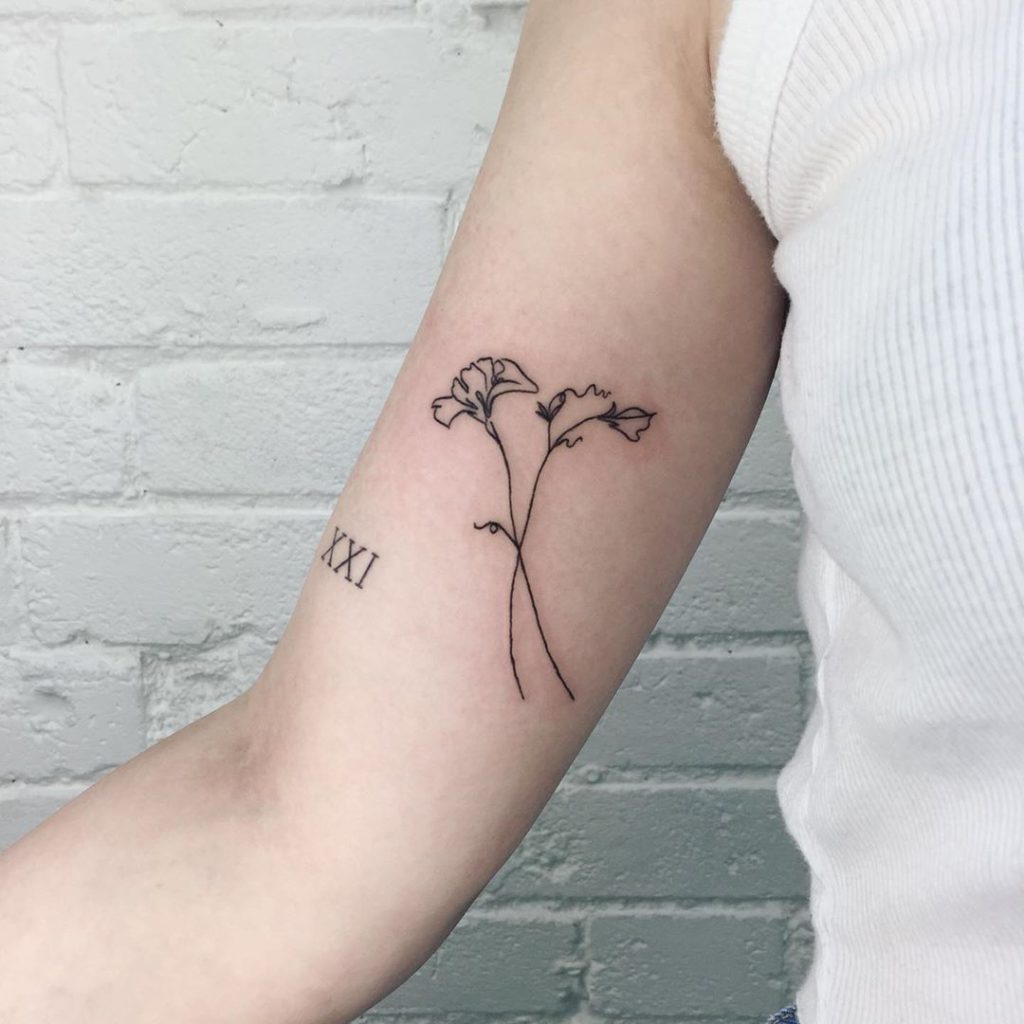 Placement & Design
Sweet peas can come in a huge variety of shades. The curled, small petals look best on more feminine curves of the body, like the slimmest part of the ankle or the lower forearm.
Lily Tattoos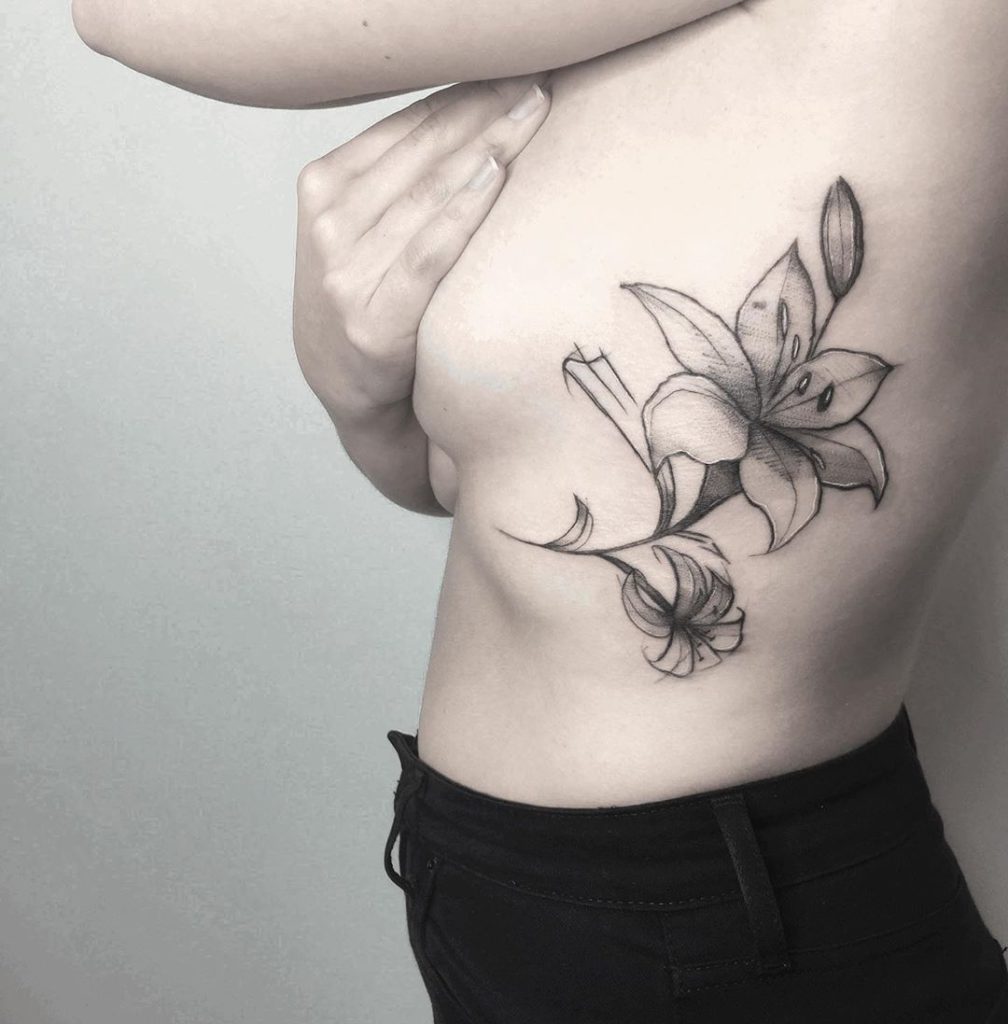 Meaning
Lilies are chock full of so many positive meanings that it's difficult for us to limit to just a few. Among the most common symbolic meaning are hope, faith, purity, chastity, and transitioning.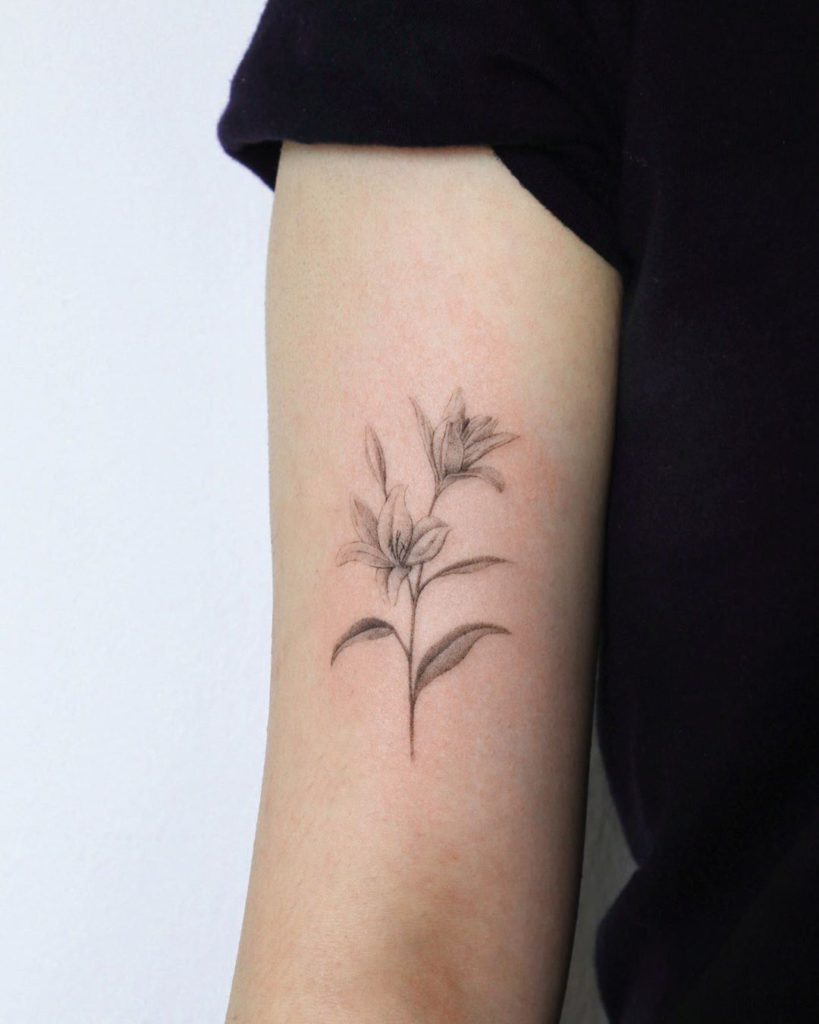 Placement & Design
With curled, waxy petals, lilies are great paired with other flowers to create dual meaning. Lilies tattoos look excellent rendered with full bouquets or on their own.
Petunia Tattoos
Meaning
Comprised of a single, billowy petal, petunias are seasonal flowers used to symbolize bitterness. Though anger and resentment are the predominant meanings, these flowers also show a desire to spend time in those whose company is soothing. White petunias are often used to show religious, spiritual, or compassionate advancements.
Placement & Design
Petunias feature a large flower bud that looks best on larger expanses of the body, such as the upper back or high point of the calf. Make sure to choose a specific shade to demonstrate more specific meaning.
Buttercup Flower Tattoos
Meaning
Buttercups are often used to represent tidiness, childishness, and a sweet disposition. The deep yellow flower appears like a tight ball, flowering for only a brief period of time during the middle of spring. The buttercup looks best depicted in its full, brilliant yellow hue.
Lotus Tattoos
Meaning
The lotus is one of the most spiritually codified and well-known flowers in the world. Comprised of overlapping petals, some religious stories speak of the Buddha walking on lotus petals the moment he was born in the beautiful Lumbini grove. Lotuses are symbols of enlightenment, rebirth, and spiritual purification.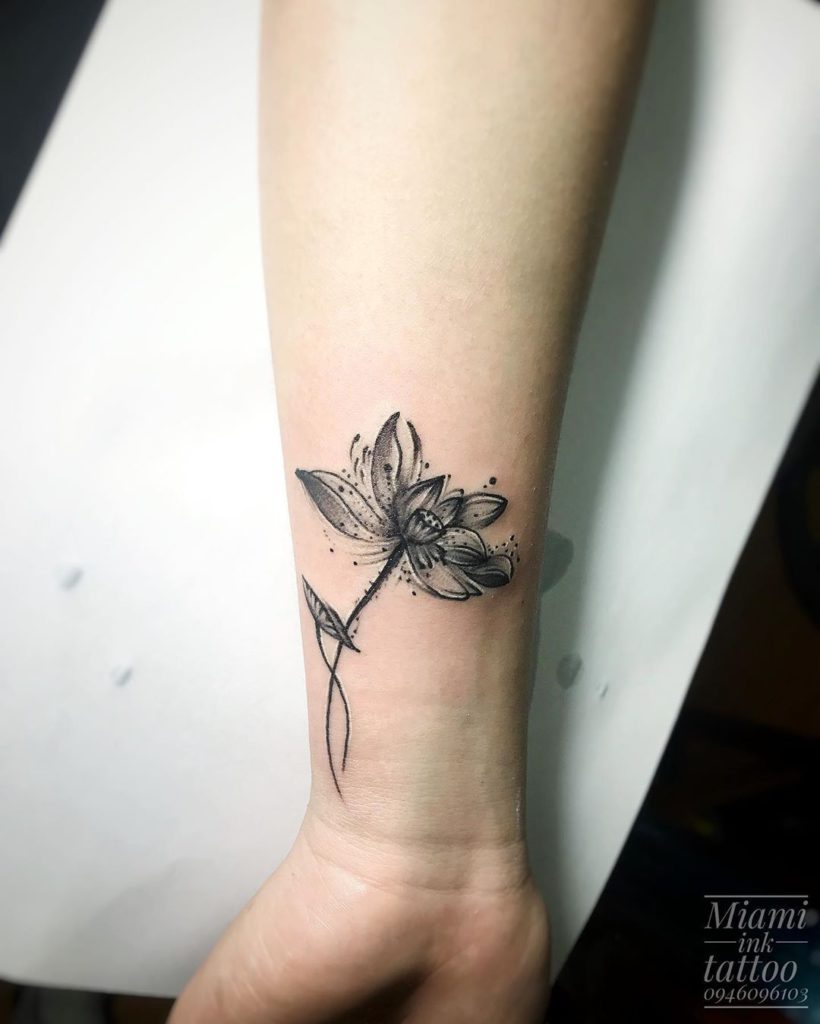 Placement & Design
The lotus looks excellent in a full-color, richly detailed style. We recommend placing a full lotus on the upper arm or middle of the back to represent tranquility.
Cherry Blossom Tattoos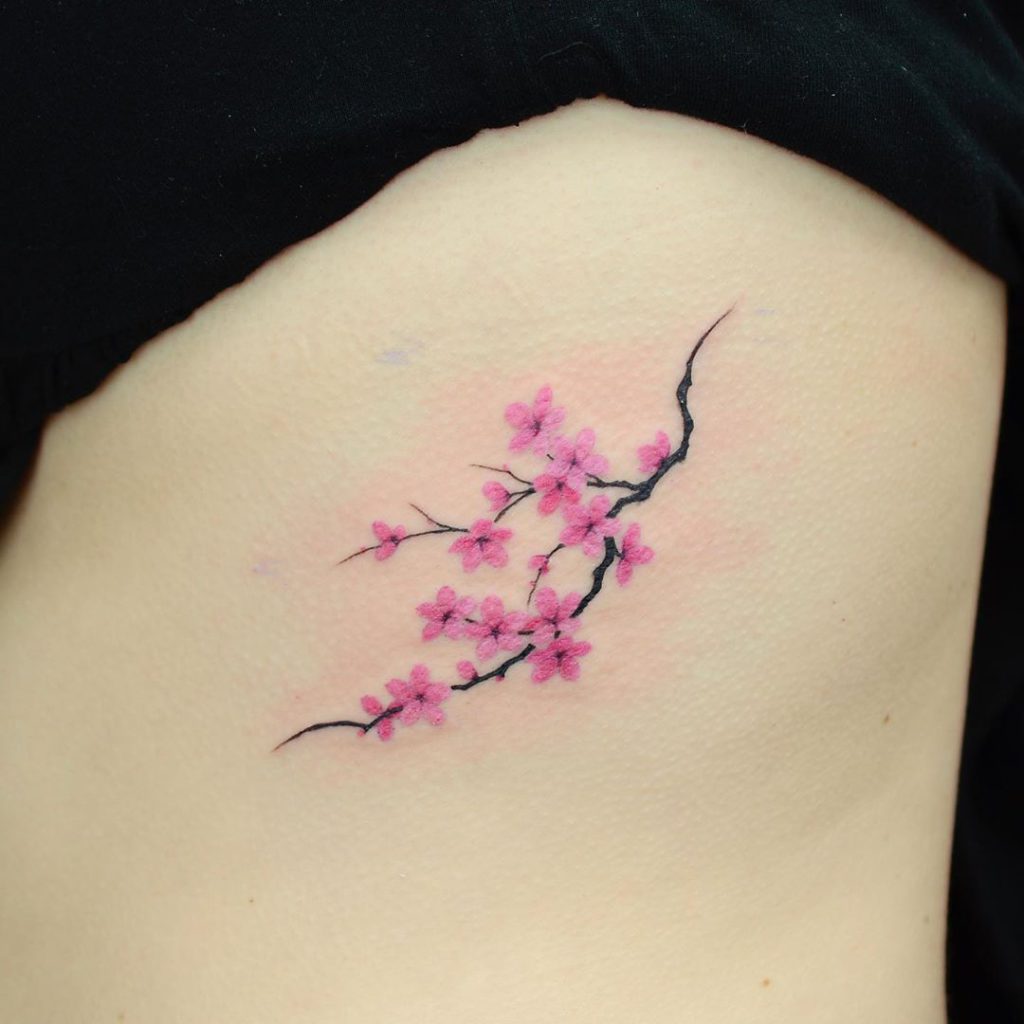 Meaning
Cherry blossoms are the gentle pink, soft flowers that form on a tree. In Japanese culture, cherry blossoms are thought to symbolize beauty and the brevity of life: after all, these flowers only appear for a short time before decaying.
Placement & Design
The pink petals look great perched on a deep black branch, which makes it excellent for a large back tattoo or on the upper arm.
Water Lily Tattoos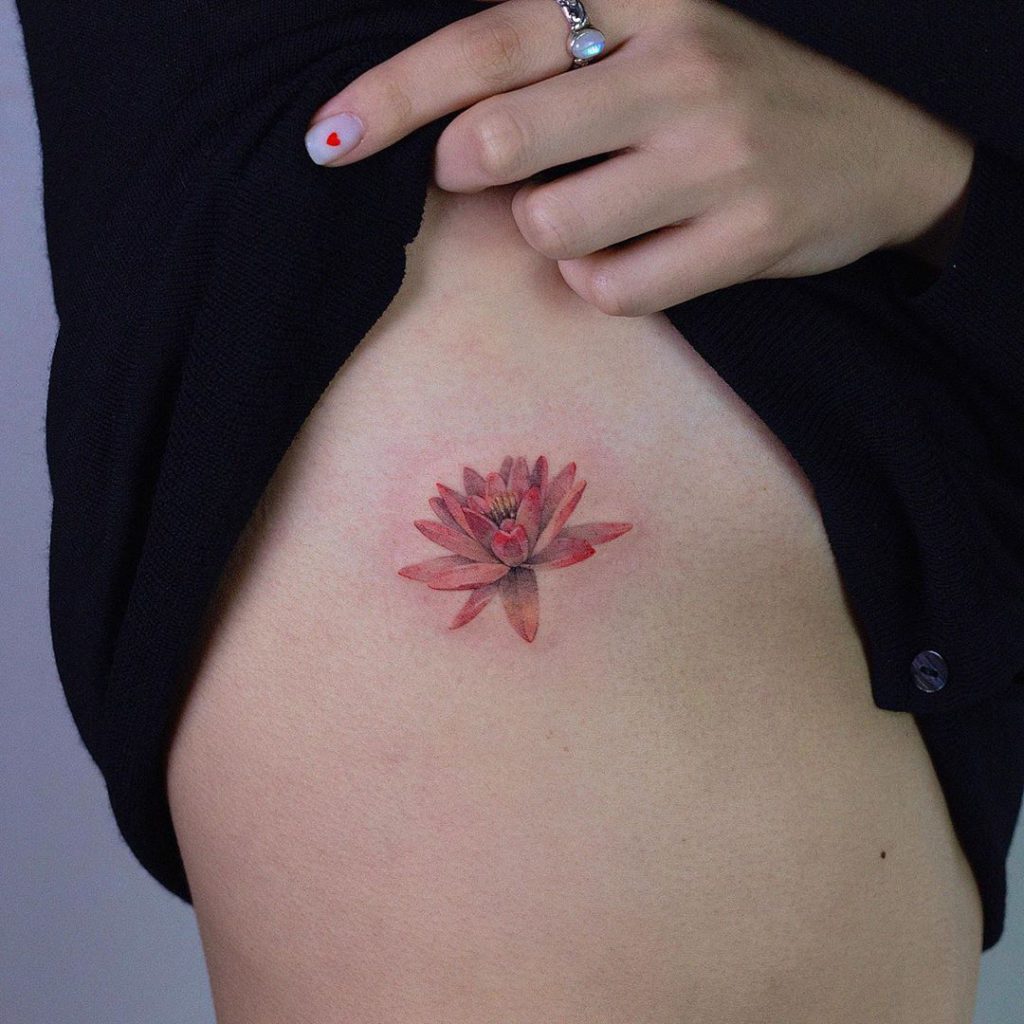 Meaning
Water lilies are thought to represent purity, divine inspiration, beauty, and eternal joy. Similarly to the lotus, water lilies emerge from muddy depths in lakes: they are the ultimate representation of growth through trial.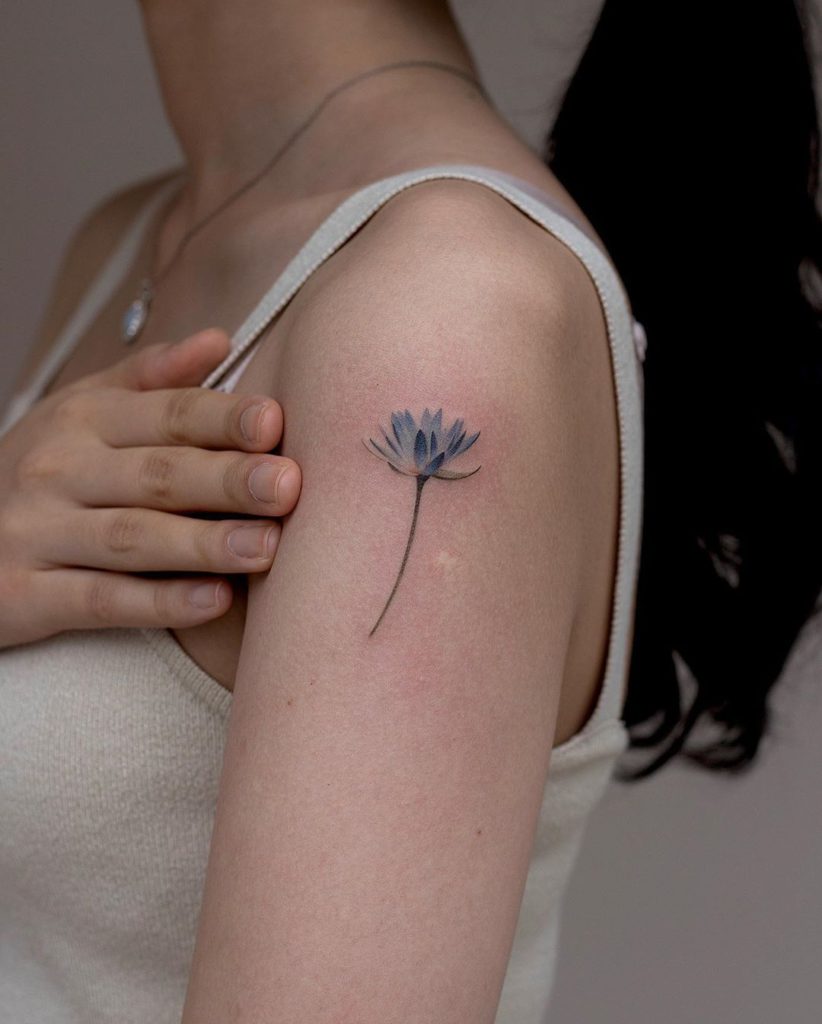 Placement & Design
We love the look of water lilies paired with other wetland creatures, such as dragon flies, insects, or frogs.
Carnation Tattoos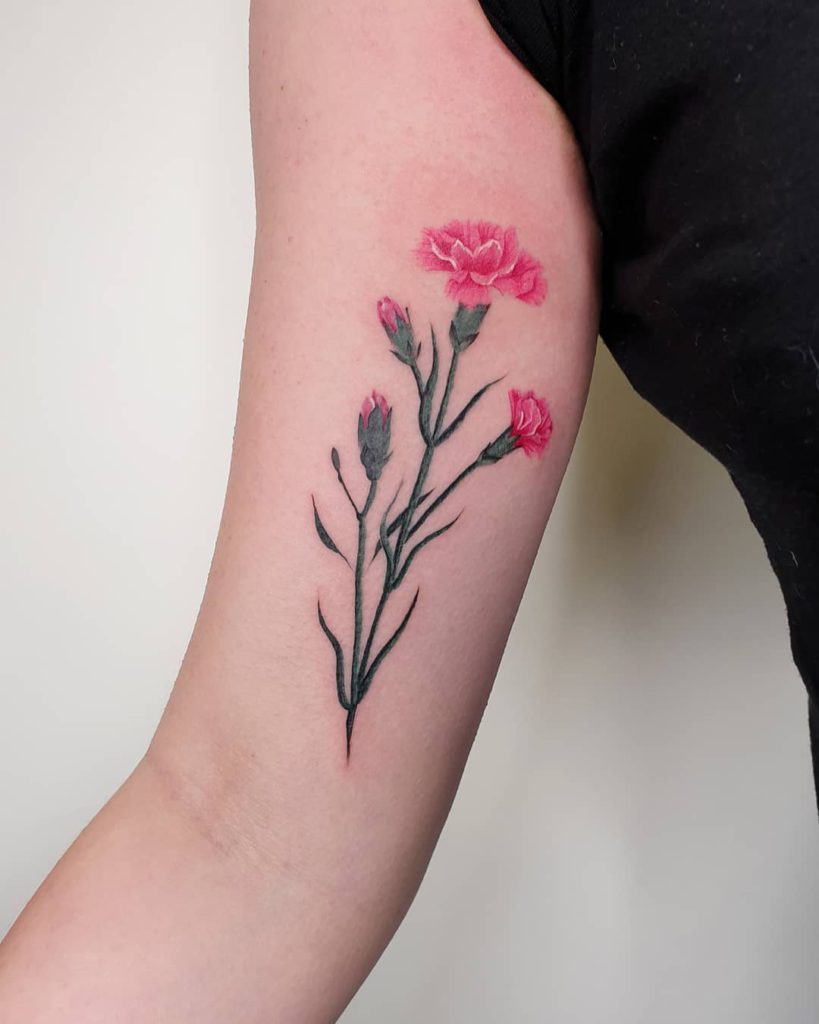 Meaning
Carnations refer to a huge variety of colorful, ball-like flowers that bloom best during the late spring. Generally, carnations are associated with deep love, affection, and strong feelings.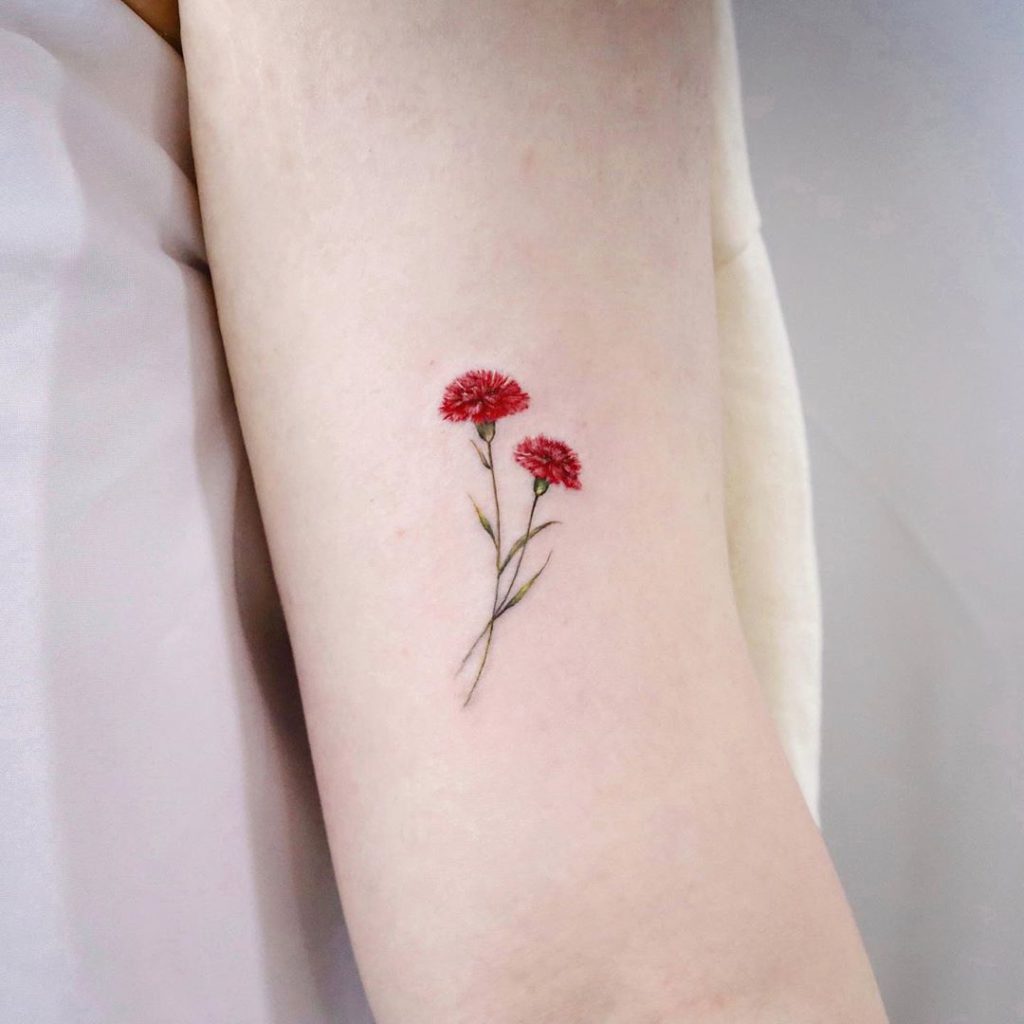 Placement & Design
These small flowers with thin stems are often inked along the collarbone, forearm, or ribs.
Daffodil Tattoos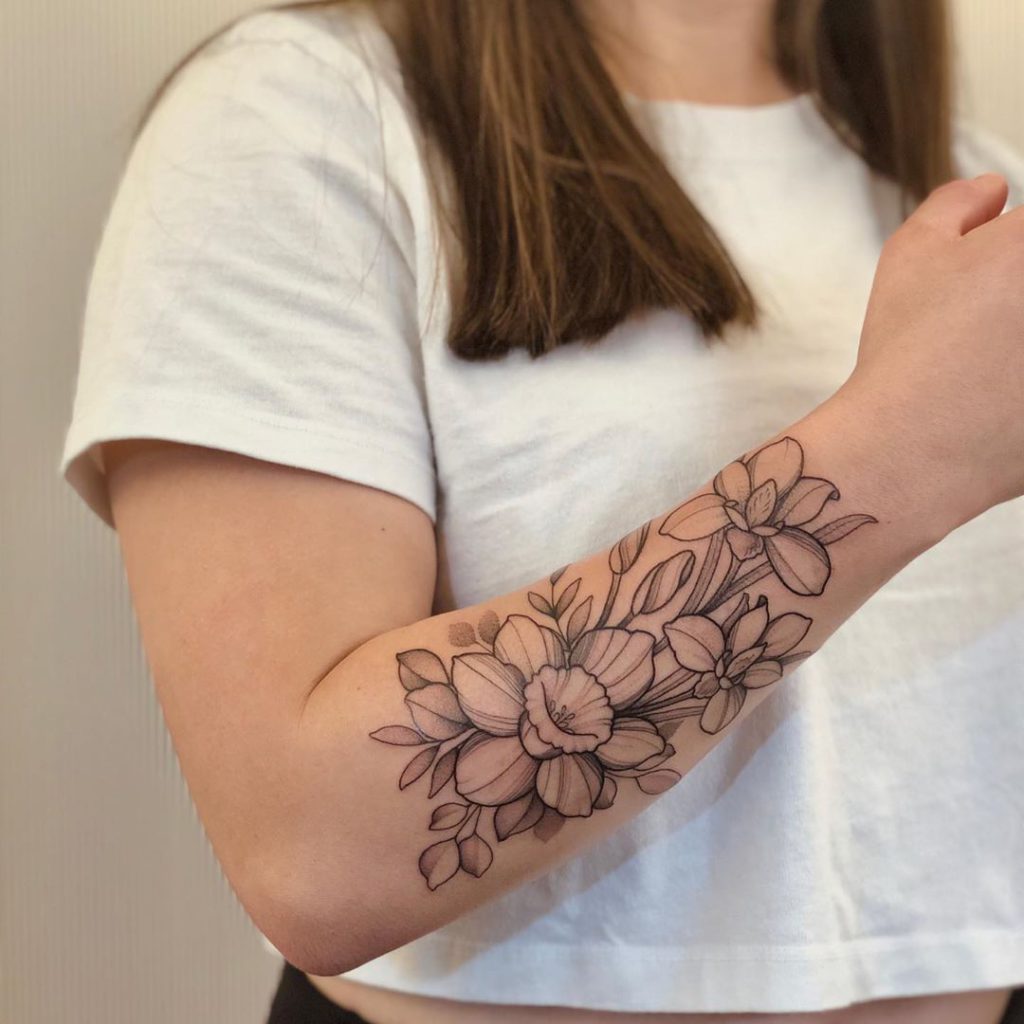 Meaning
Daffodils feature a bell-like shape supported by bright, curled petals. Depending on the culture of origin, daffodils are associated with diverse meanings. The ancient Greeks thought they symbolized death, while Western cultures use them to show friendship, vitality, and honesty.
Hibiscus Flower Tattoos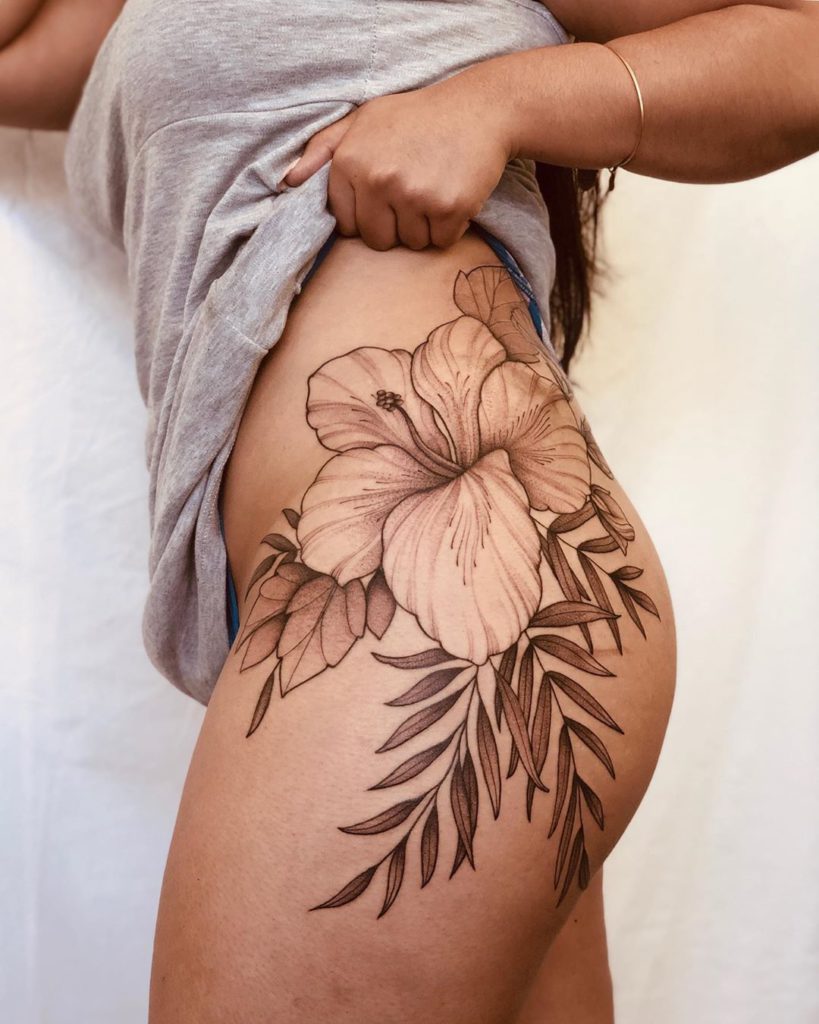 Meaning
Hibiscus plants are known for their distinctive appearance and strong, wafting fragrance. While red hibiscus is used for desire and passion, yellow hibiscus is most often used for friendship.
Placement & Design
Blooming hibiscus plants look great on the upper back, shoulder, or upper arm, due to their large and oblong shape.
Hyacinth Tattoos
Meaning
Over the years, the hyacinth flower has been spoken about in many legends. The Greek dedicated this flower to the god Apollo, naming it after the blood that sprouted from Hyakinthos' body.
Placement & Design
Hyacinth flowers are excellent candidates for either full color or fine line tattoos, especially since the petals feature very delicate central veins.
Lilac Tattoos
Meaning
Lilacs are one of the most meaningful plants in the Western world. In the Victorian age, lilacs were associated with old loves, death, and graceful departure. Now, they're often thought to symbolize purity, spiritual love, and tranquility.
Placement & Design
Since the lilac flower is so delicate, we recommend the tattoo for small areas of the body, like the ankle, forearm, or wrist.
Peony Tattoos
Meaning
Peony flowers are powerful symbols of fragility, beauty, grace, and the ability to adapt to change. These waxy and wavy-petaled flowers have long been the subject of Renaissance oil paintings, owing to their extremely distinctive appearance.
Placement & Design
Peony tattoos are recommended for the upper back, especially since the flower head is so bulbous.
Calla Lily Tattoos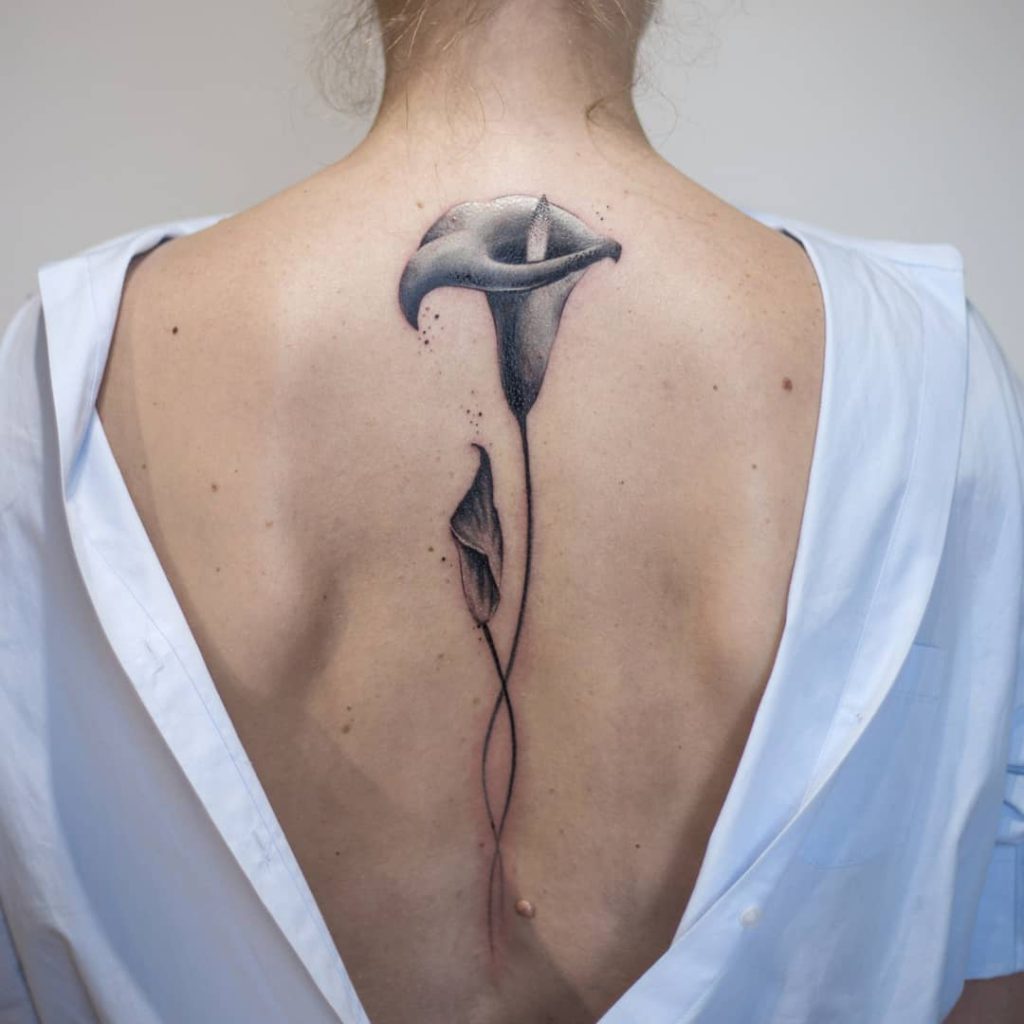 Meaning
Calla, also known as Calla Lily, flowers are often used to express love, gentleness, and faithful affection. With a broad, yellow stamen and long white petal, the calla lily is perfect for longer and thinner portions of the body, like the ribs, arms, or ankles.
Violet Flower Tattoos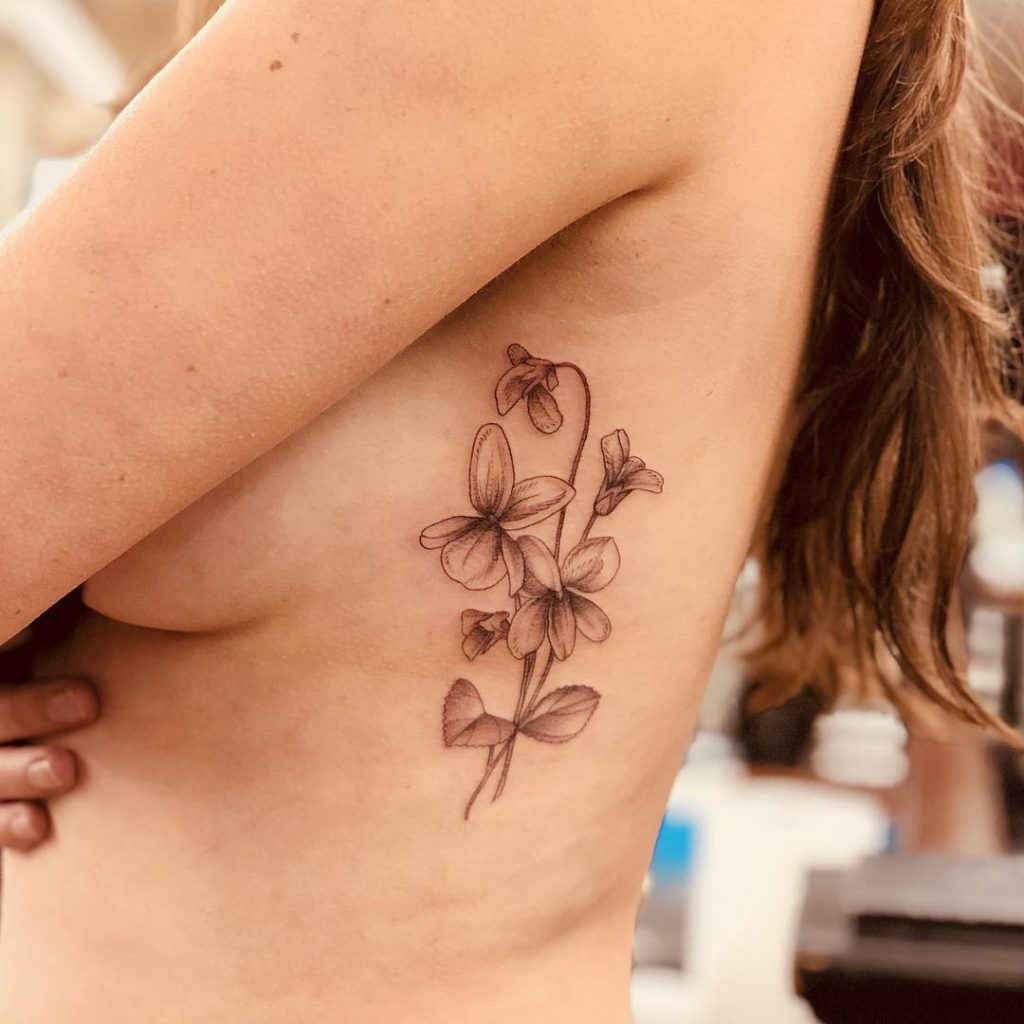 Meaning
Ranging in shades from deep purple to ruby red, violets symbolize truthfulness, trust, and sincerity in relationships. However, it's also used in funerary processes to symbolize death. Whether you've lost a loved one or just love the flower itself, we love how small violets look on the back of the leg or behind the ear.
Foxglove Flower Tattoos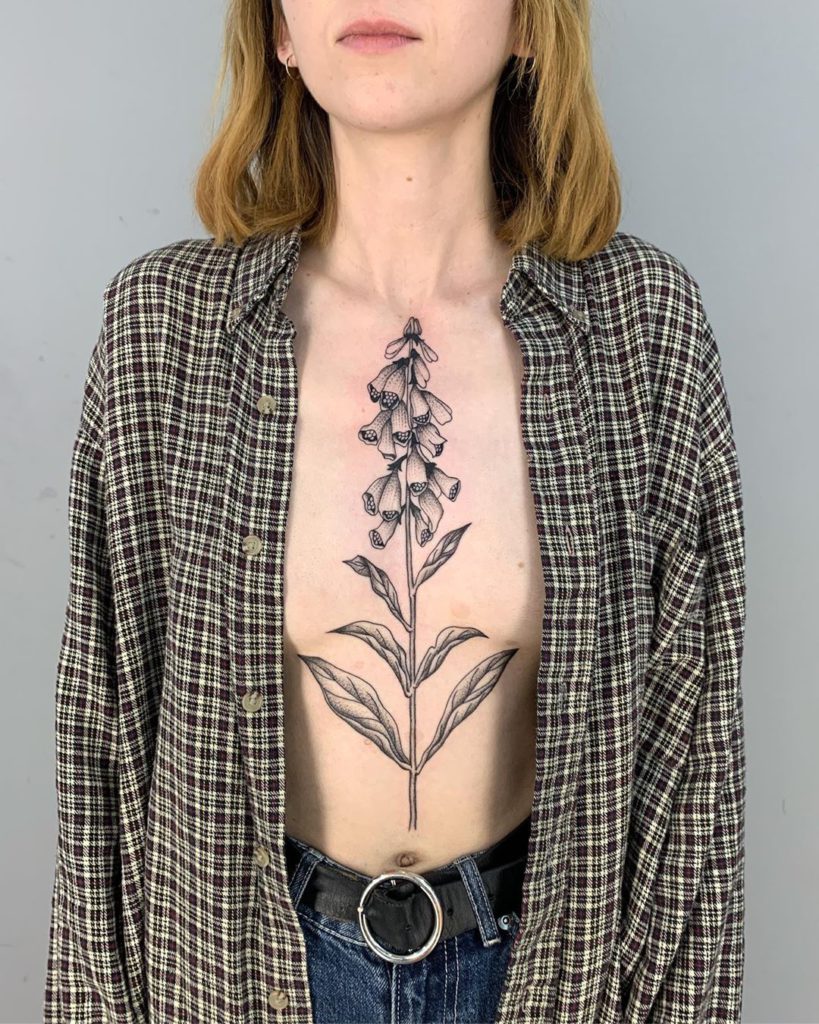 Meaning
Foxgloves hold a diverse number of meanings, some of which are negative. According to different folklore, foxglove is said to be a mischievous plant associated with infidelity. That said, they're also believed to cure past ills.
Baby's Breath Tattoos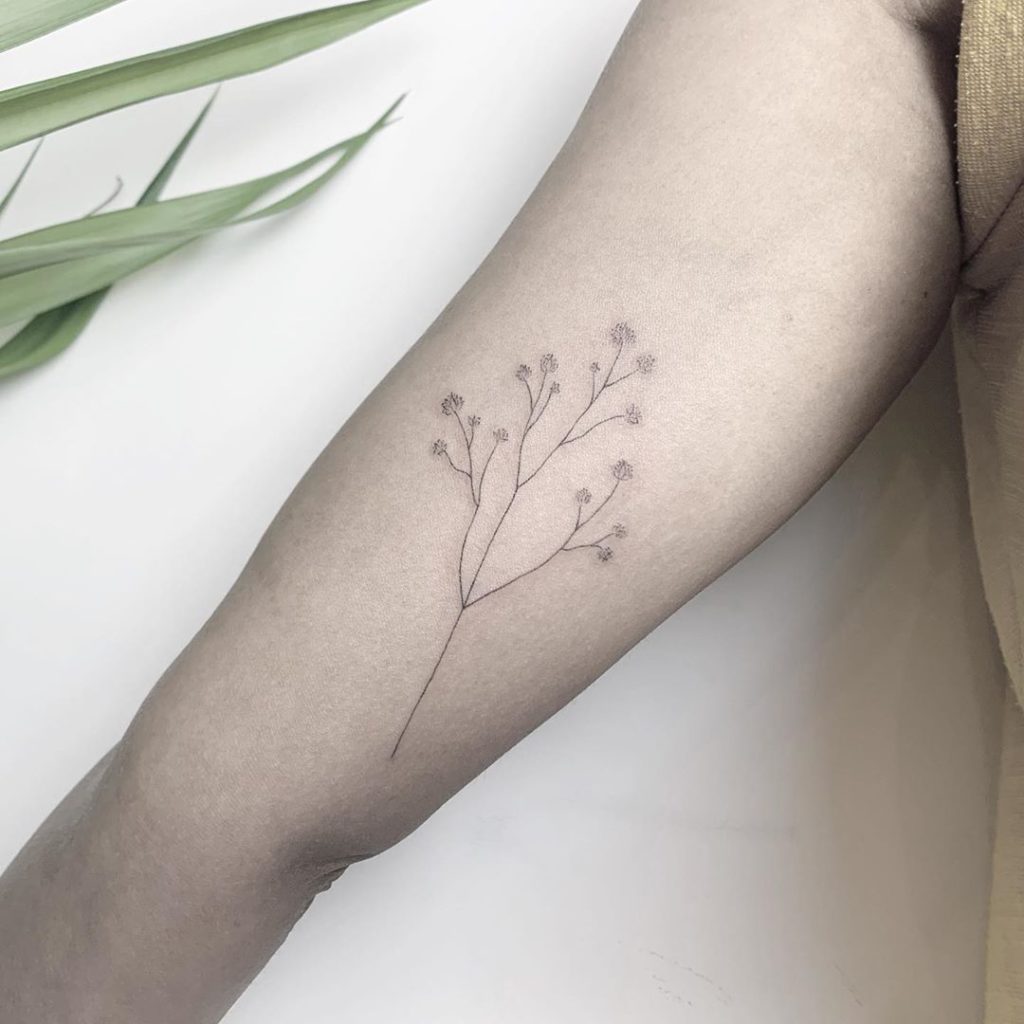 Meaning
Like the name suggests, Baby's Breath are some of the most delicate and pure white flowers that you can find. Often used as a filler material in wedding flower arrangements, Baby's Breath is symbolic of everlasting love, joy, and lost loved ones.
Freesia Flower Tattoos
Meaning
Freesia refers to a small flower with a refreshing citrus scent, bearing the meaning of innocence, friendship, and perseverance through difficult situations. Arguably, freesia flowers are best rendered in full color on more delicate parts of the body.
Orchid Tattoos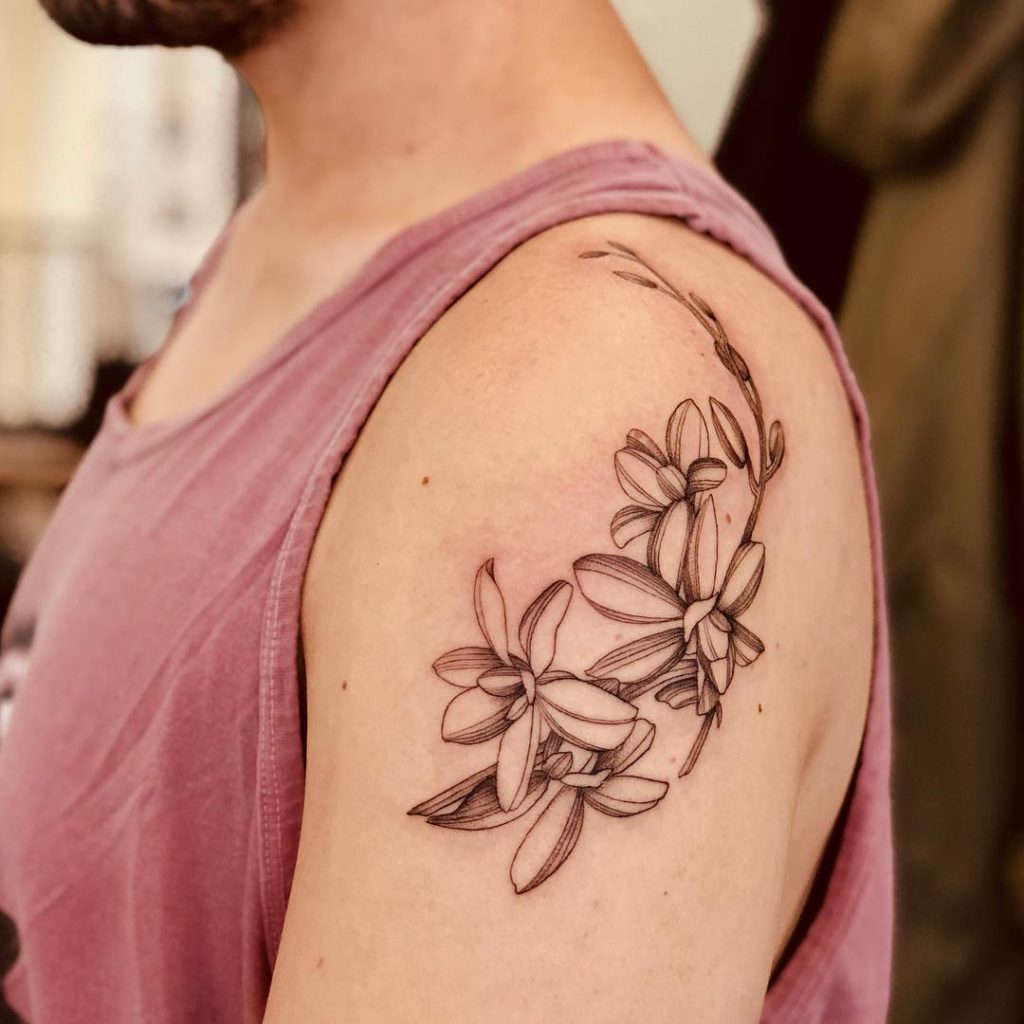 Meaning
Orchids are often meant to convey confidence, elegance, and strength. Since orchids can survive and bloom in unpredictable weather conditions, these flowers are used to represent perseverance. Vibrant orchid tattoos have a striking effect when placed on the ribs, upper back, or along the arm.