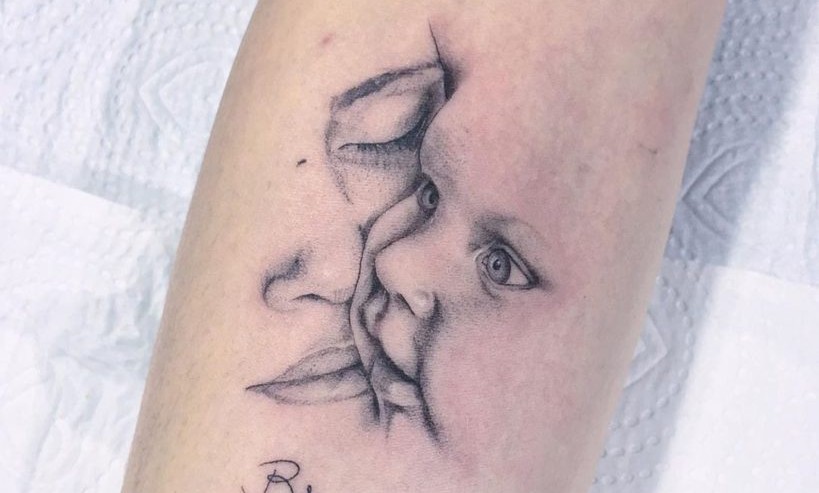 Over the past decade, more and more Americans have opted in to inking their skin; now, more than 36 percent of those under 29 have at least one tattoo. As a growing percentage of women have joined the movement, it should be no surprise that moms have hopped on the trend too.
For many moms, sacrificing skin real estate for a tattoo provides a novel way to demonstrate love for their child. Whether it's names, faces, or other sentimental symbols, all mother and child tattoos express something unique about a parent's bond with their child.
Below, we'll discuss some of the most popular and enduring styles of mother-child tattoos. With just a little bit of inspiration, there are plenty of interesting ways to honor the duty of motherhood.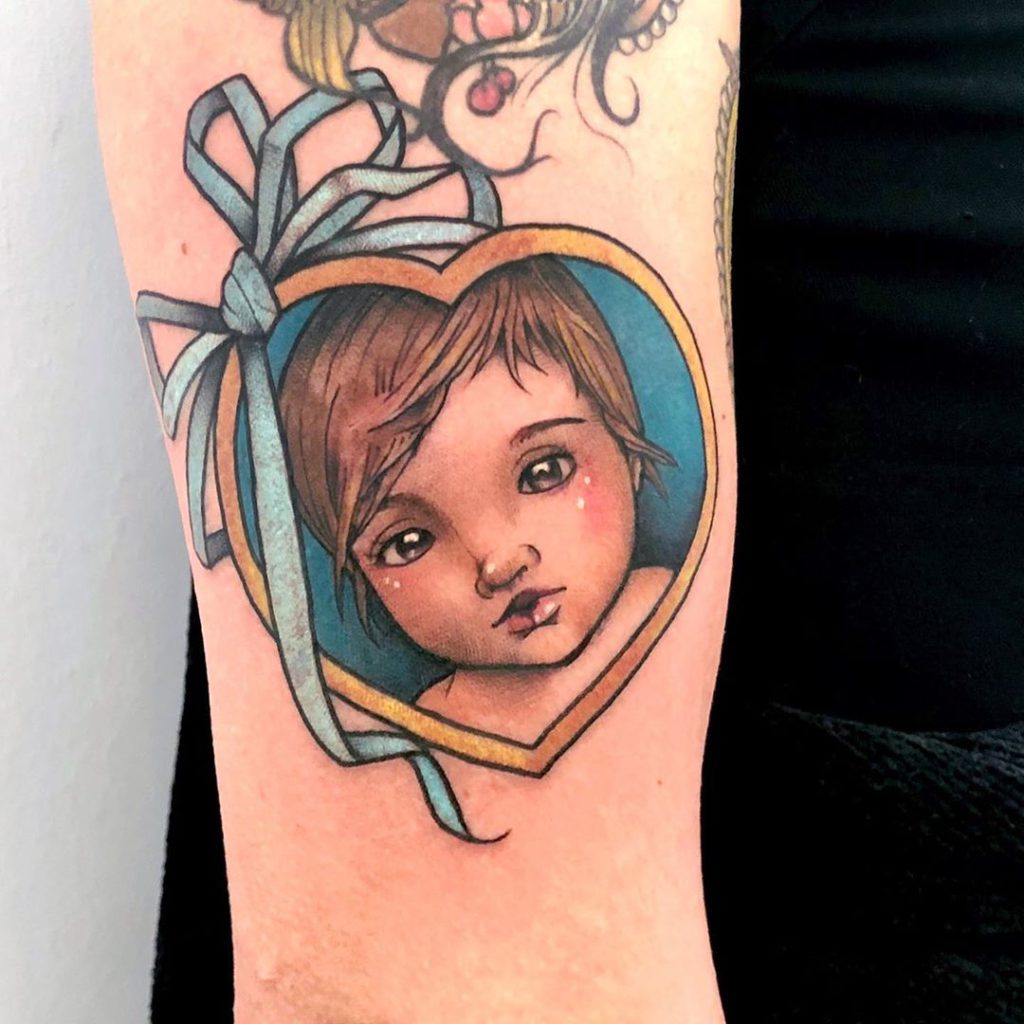 Different Styles of Mom & Child Tattoos
Mom Holding Baby
There's something special about the way a mother holds her child, especially in the first few months after birth. The mom's tender expression, steady gaze, and strong grip contrast with the infant's gentle or sleepy smile.
That single moment in time shows the way that a mom continues to support her baby even after they're all grown up.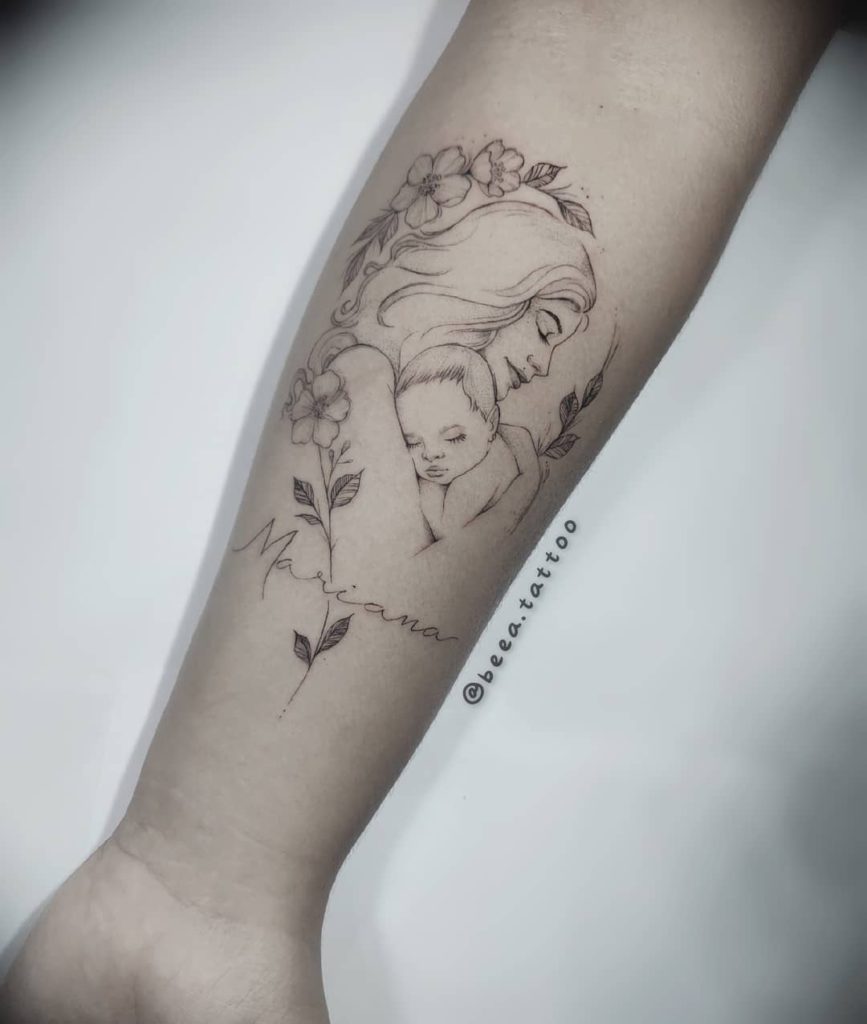 For a more detailed style, we suggest full rendering of the mother's and child's expressions. We love that the tattoo is surrounded by floral elements, suggesting both growth and deep affection. The shape is somewhat reminiscent of a heart, which makes it ideal for placement on the wider part of the forearm.
Want even more detail? It's hard to deny just how stunning the baby's expression looks pressed up against mom's face. This timeless tattoo expresses the infant's inquisitiveness with so much attentive, yet not overwhelming, detail.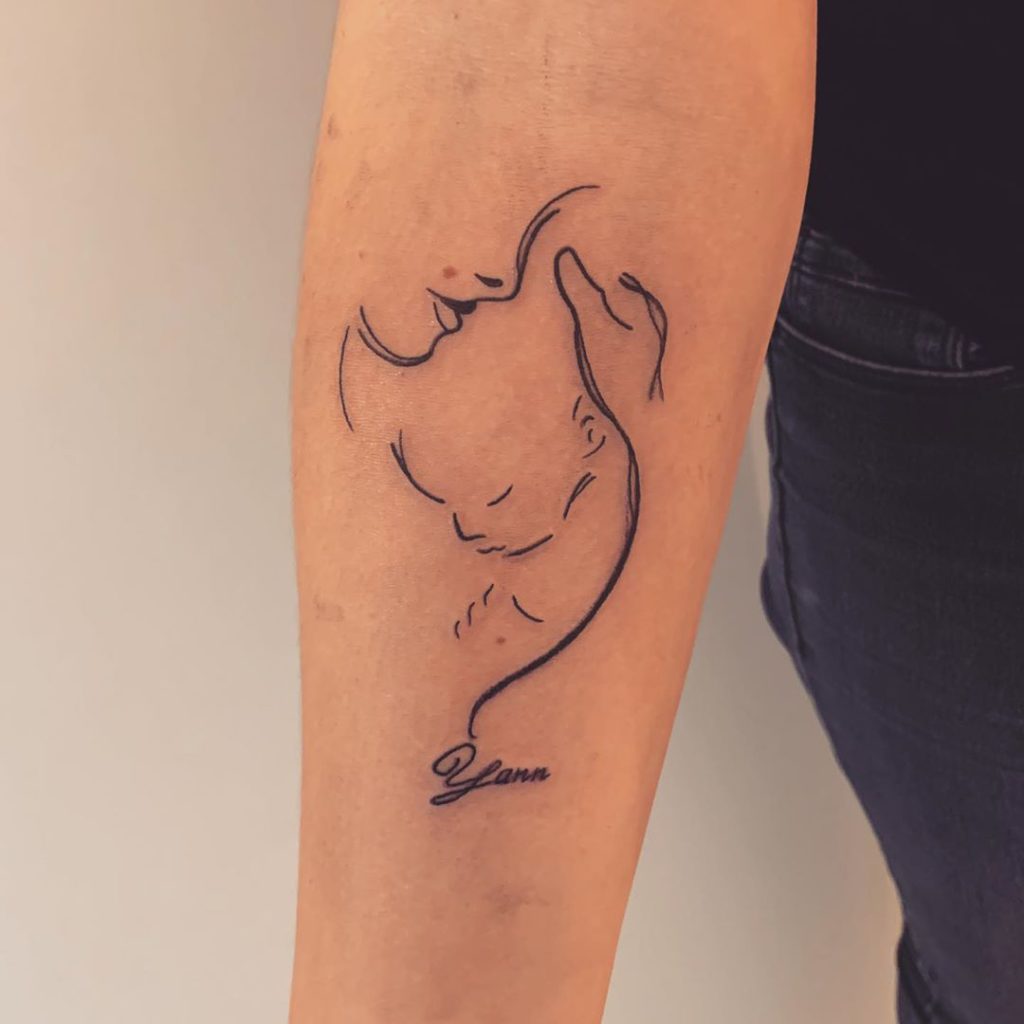 Alternatively, a more abstract style gets the message across without being visually overbearing. With just a few subtle hints, the viewer gets the immediate image of a mom carefully caressing an infant. We get the impression that the artist really thought about the overall form of the ink, which is perfectly suited for the compressed area of the forearm.
Some mothers prefer an even more illustrative style, capturing an even greater range of emotional expressivity through selective proportioning. The incorporation of a glinting highlight on the mother's face and hair, paired with deep shadows in the drapery, make this tattoo very distinctive.
Baby Portraits
If you want to capture your child at a specific moment in time, a detailed rendering of their face or other features provides a unique keepsake. No matter where you are, your child's bright smile or glistening eyes is right there on your body – just make sure it's a portrait you can be proud to show others.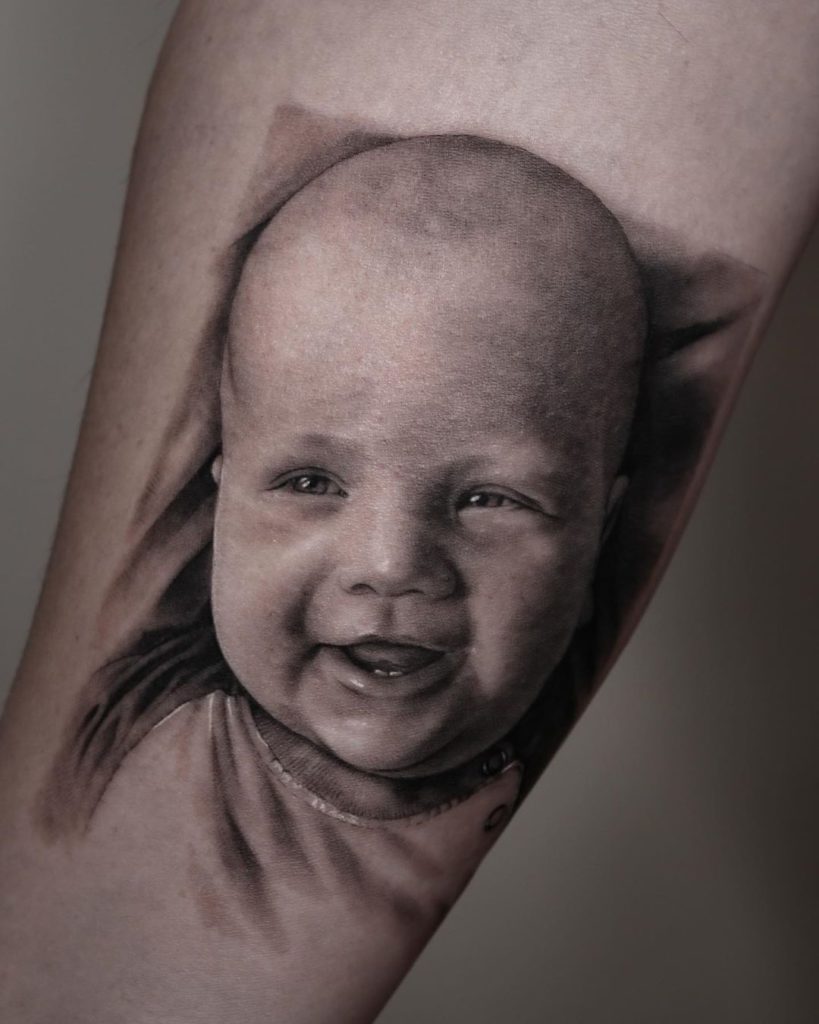 Most opt for a hyperrealistic profile view, showing off all the quirky details of their child's appearance without a hint of painterly quality. We love the stunning use of shadow, deep saturation, and just the slightest white for highlighting in this portrait.
Recently, some have turned away from strict photorealism for a more illustrative quality that show's off the artist's style. Illustration provides a way for a child's personality or emotion to shine through the portrait. In this example, the artist has used microscopic stippling to render softer shadows paired with a bold, dark line outline under the chin to give the ink a more self-contained appearance. This type of tattoo is ideal for small, flat areas on the body, like the upper arm or forearm.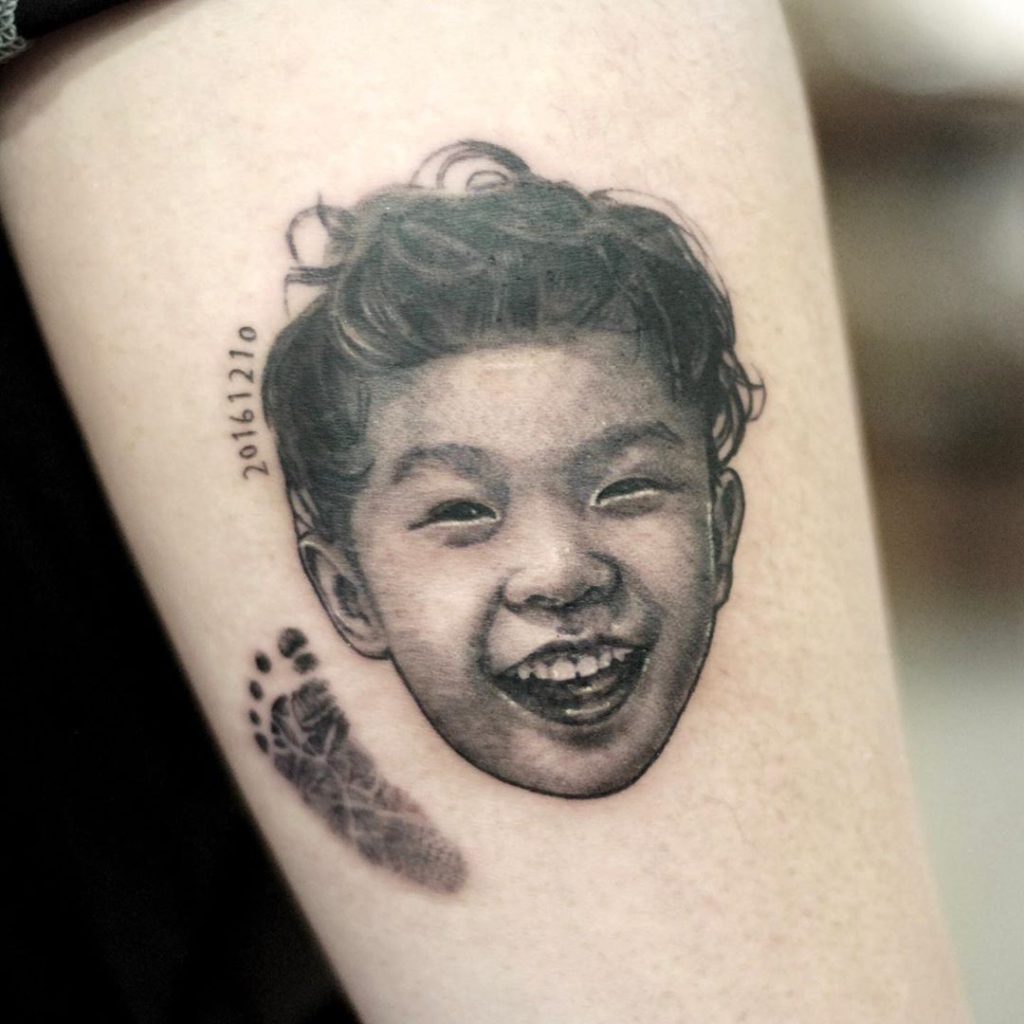 No matter what style you choose, it's vital (and most difficult) for the artist to really nail the eyes. Deep, dark pupils and irises are made incredibly lifelike with an added highlight. The artist has reserved the darkest parts of the portrait for the eyes, crease of the lips, and background.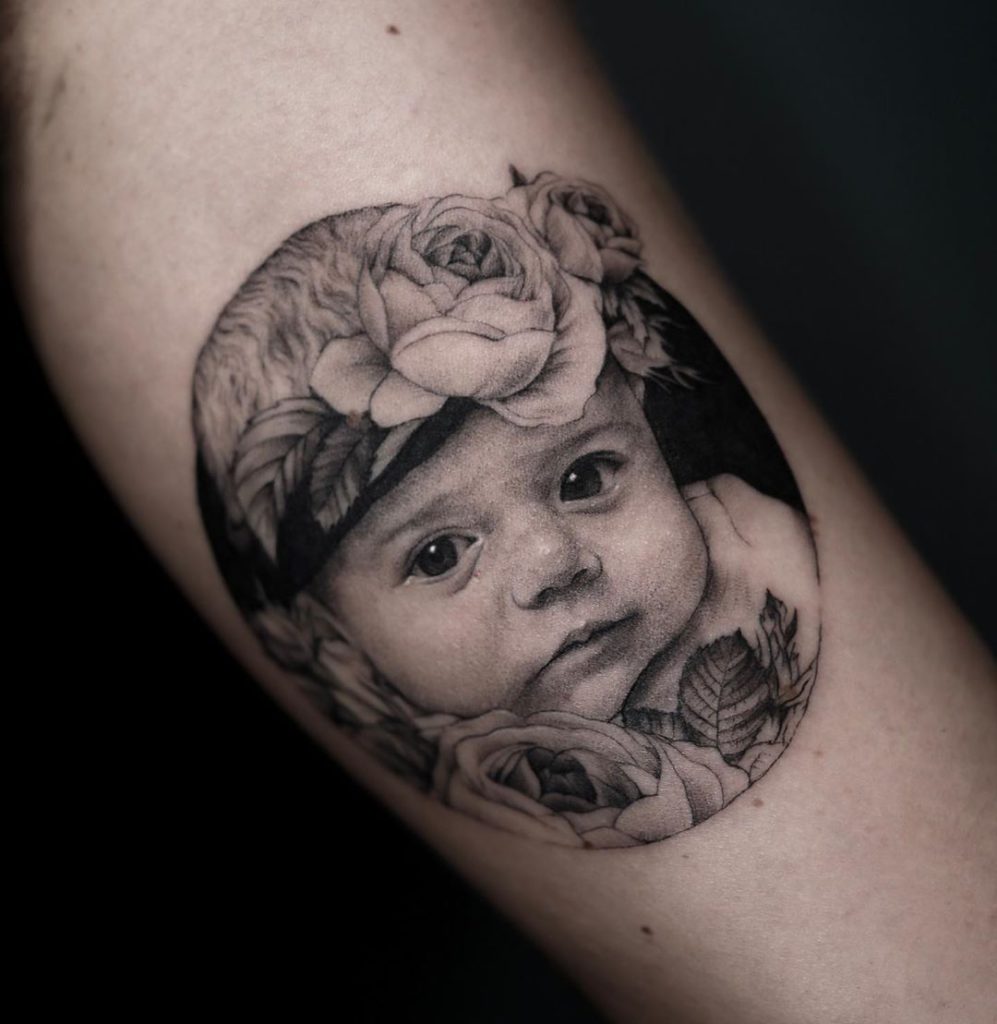 Micro-Realism Baby Portraits
In recent years, the micro-realism style has surged in popularity. In contrast with photorealism, micro-realism makes it possible to render a fully realistic portrait on a smaller area of the body. When competently done, these portraits aren't as subject the to blurring or loss of detail that plagues other small tattoos.
We love the micro-realism style paired with a hint of illustrative flair in this tattoo by Kimta, a Korean artist specialized in micro-realism portraits. The deep, black outline around the portrait helps to offset the baby from the mom's natural skin tone, which helps keep the tattoo as compact as possible. This tattoo would look great on the widening part of the forearm or that flatter expanse on the back of the upper arm.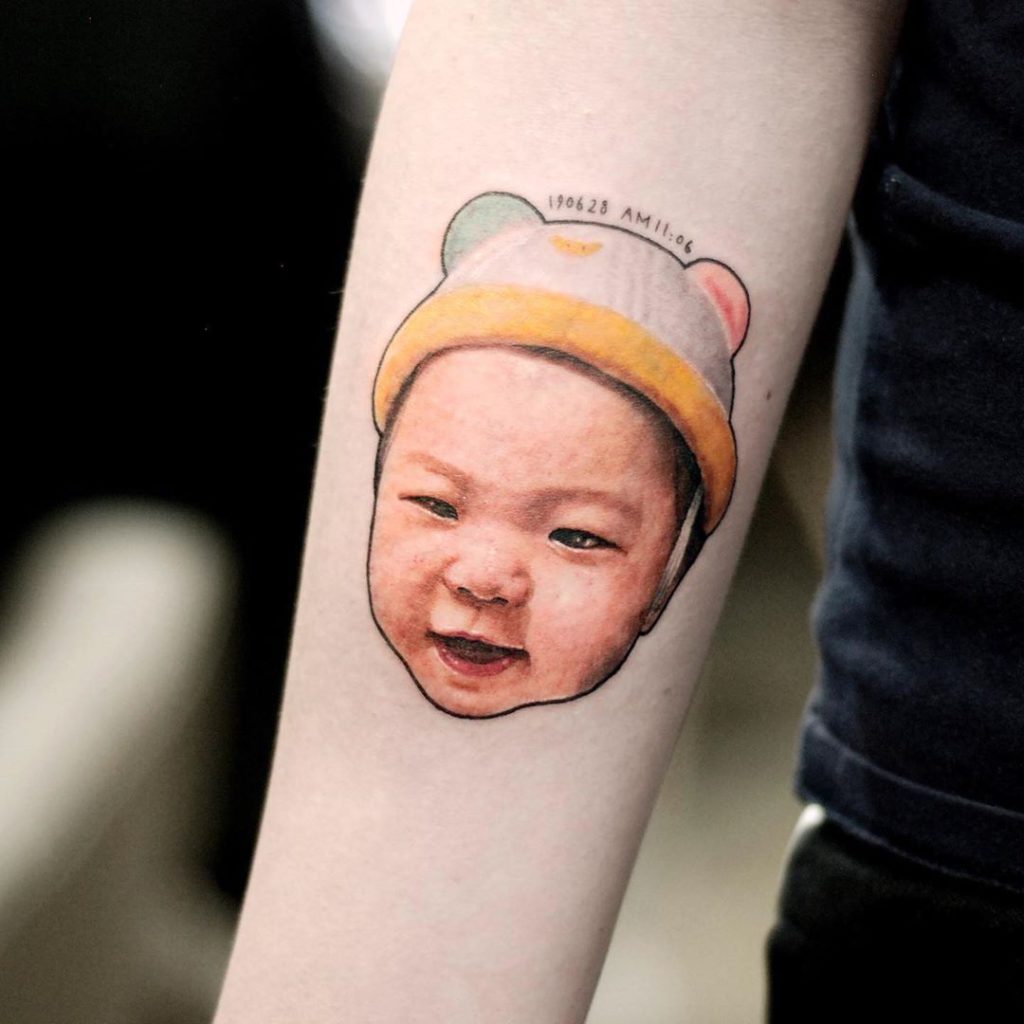 Alternatively, a talented tattoo artist can achieve the micro-realistic style without any comic book outlining purely by using the natural shadow under the chin and the dark tufts of hair as contrast against the skin, again by Kimta. Like other small portraits, the artist is careful to establish deep darks in the eyes, nostrils, and mouth in order to keep the portrait visually striking.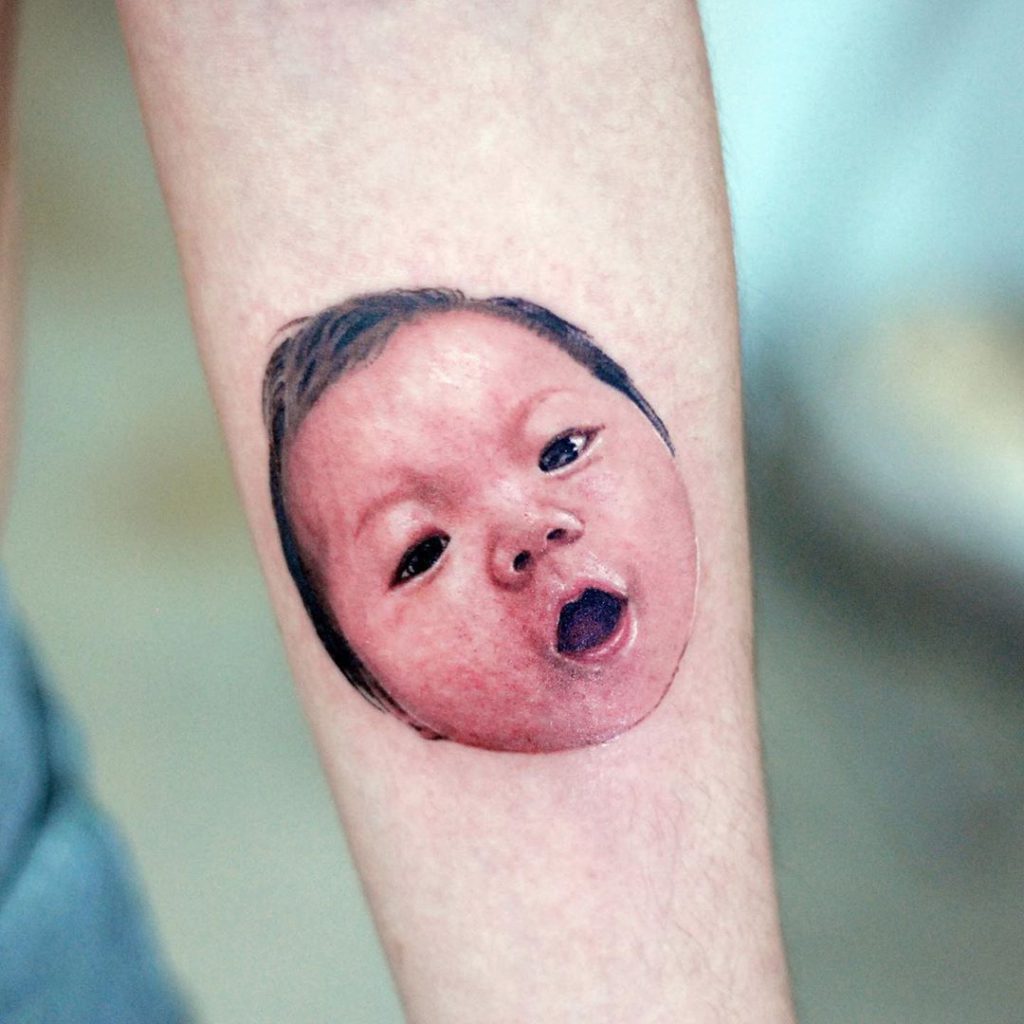 Baby Feet Tattoos
Footprint tattoos rose to popularity in the early aughts, providing a one-of-a-kind way for a mom to represent their child.
Without the skill of a competent artist, it can be exceedingly difficult to render a good looking footprint. Footprint portraits often come off looking too dark, smudgy, blurred, and could fade poorly in the absence of proper treatment.
To combat this, some women and their artists have opted for footprint outlines to show off different details about their child, like in this lovely piece by Green. Depicting the child's measurements, birth date, and star sign can demonstrate your unique connection.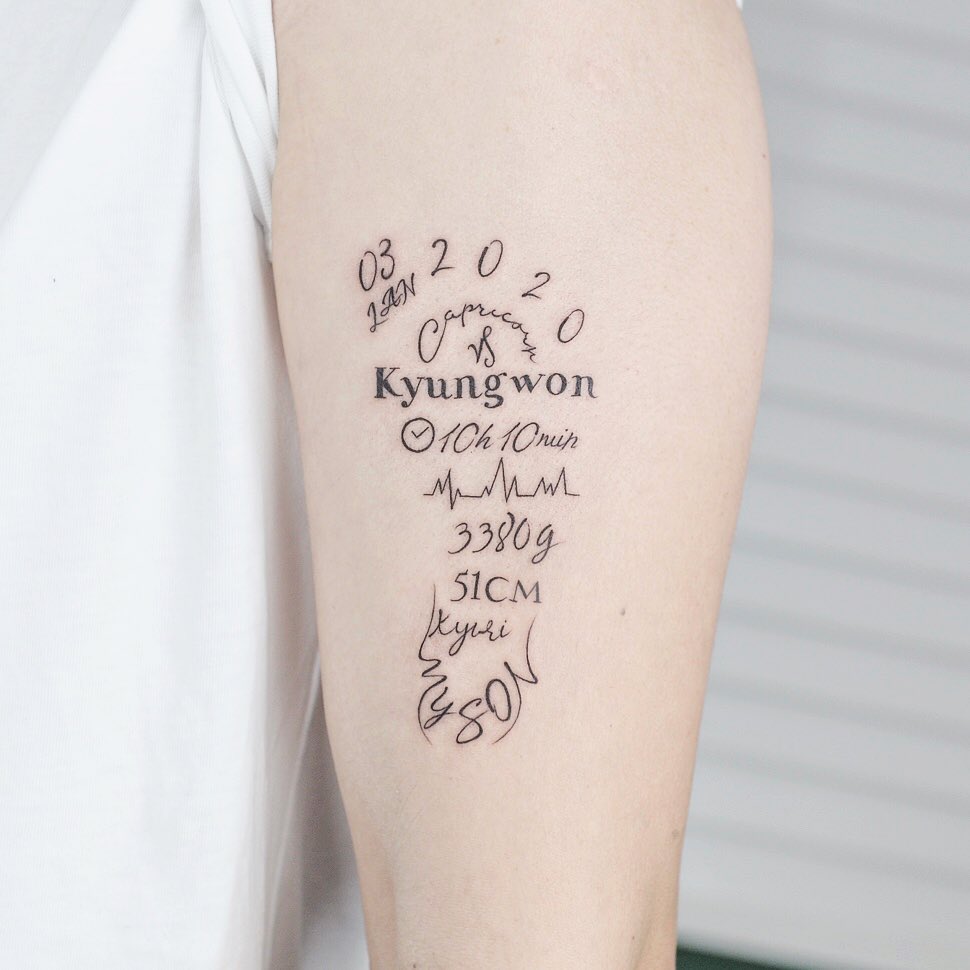 Depending on the size, footprint tattoos can work well on virtually every part of the body. Some prefer to place them on flat, small areas of the body, like the back of the arm, while others use the natural curvature of the foot to horizontally align with curved areas of the body. Footprints are ideal for small areas with at least two to three inches of clearance.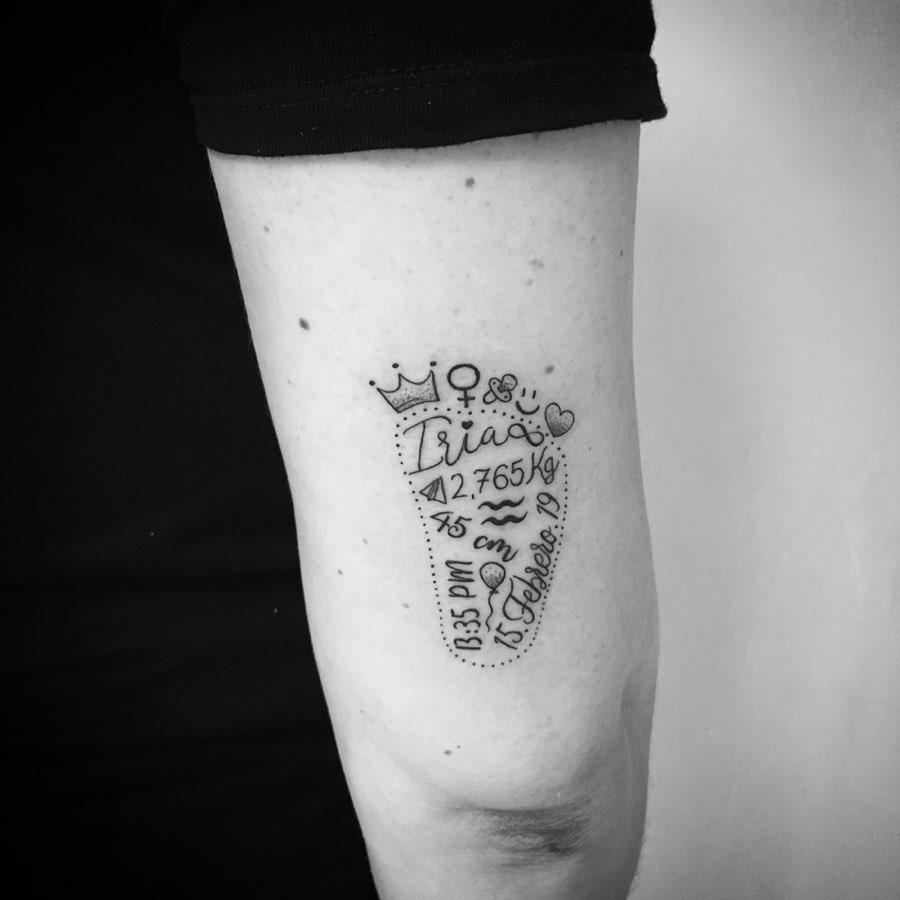 Baby's Name Tattoos
Not too keen on shelling out for a portrait tattoo of your child? No worries, there are still plenty of opportunities for you to commemorate your kid, without the potential pitfalls of a portrait tattoos.
In particular, we recommend depicting the name and birthdate of your child. Not only are these tattoos comparatively less expensive, it's much easier to get the fine-line work done competently. We love how delicately the line work has been done on this tattoo; its size is ideal for the forearm or other compact areas on the body.
For an even more personal touch, depict your child's name, birthdate, and unique heart beat signature on the side of your forearm (31). This tattoo shows that it's possible to show off your kid's details in a thin and visually pleasing line.
Text doesn't have been plain or boring. In fact, there are plenty of beautiful and illustrative ways to represent your child's name. When paired with visual elements like dots and flowers, the tattoo can be both immediately recognizable and pleasing to look at. For inspiration, look at this delicate piece by Haridian.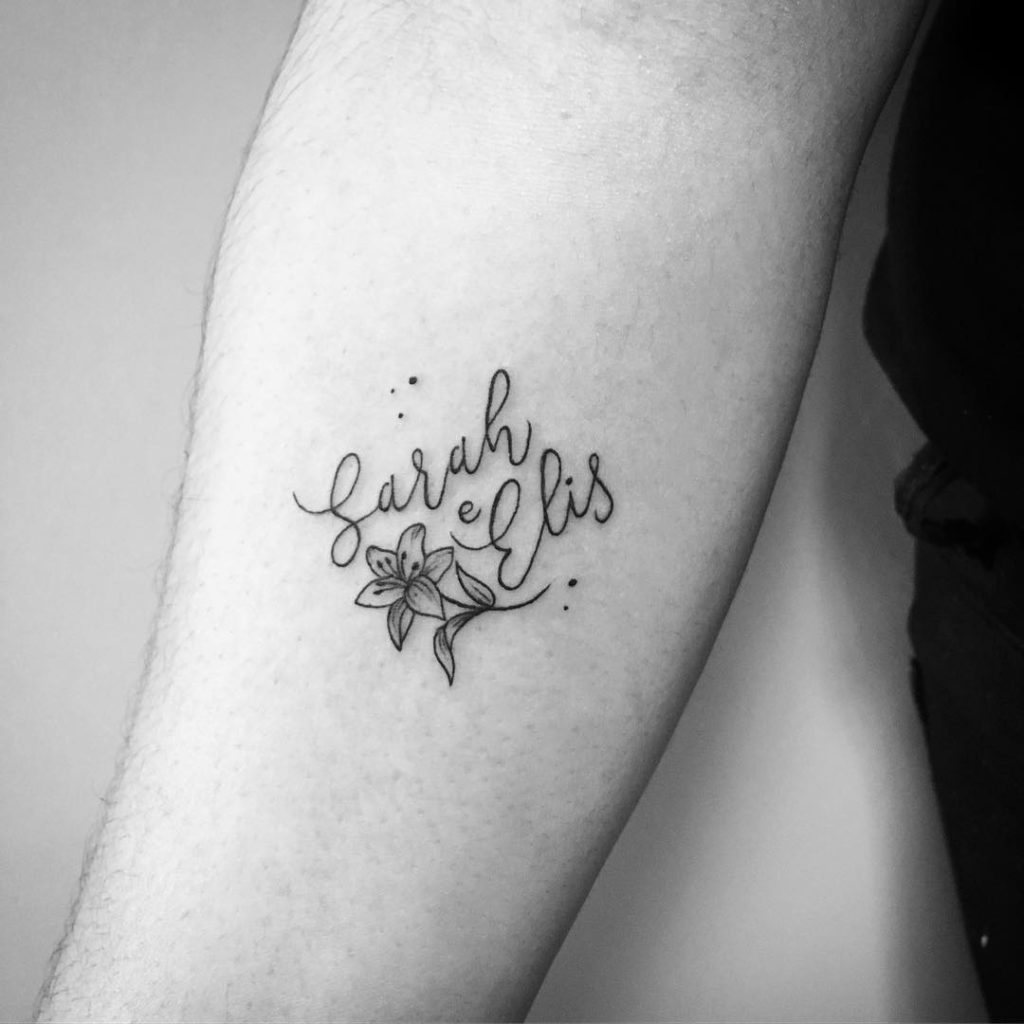 The Importance of Choosing the Right Artist
It's no secret that there are many, frankly, frightening baby portrait tattoos out there. Before choosing any artist, you should get yourself familiar with their work and style – especially if you want a realistic portrait. We recommend you select an artist with proof of extensive portraiture experience and a far-ranging portfolio with realistic pieces.
Proper portraits usually employ full saturation, deep contrast, and consistently crisp line work. Make sure the portfolio contains a wide range of color, black, and traditional pieces for the best indicator of artist quality. You must be aware of the fact that not every tattoo artists is equally gifted or versatile in different styles.
Most very talented artists could cost anywhere from $110 to $180 per hour, an a realistic portrait tattoo, depending on size and complexity, will take from 4 (palm sized) to 8 hours to make.

Although price isn't the only indicator of experience, you should always be suspicious of excessively cheap tattoos, as they say "A good tattoo ain't cheap, and a cheap tattoo ain't good". Check out our archive for more baby tattoos, and hopefully get inspired by different style and designs.