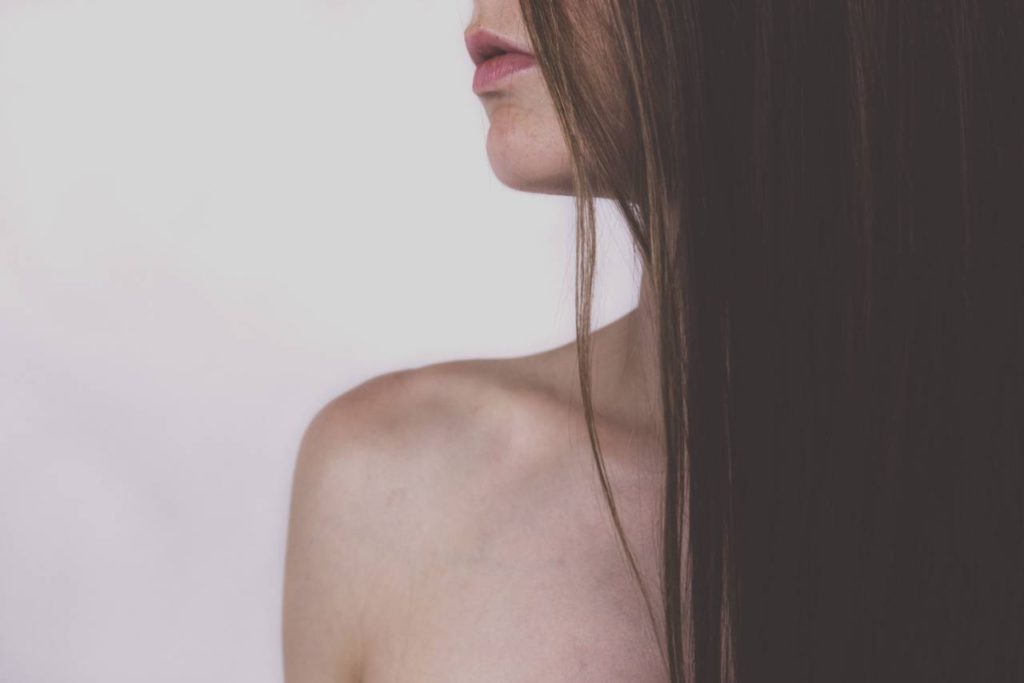 Breast cancer survivors, even after winning the battle for their lives still face many challenges. For those who underwent mastectomy, a major challenge remains – looking in the mirror. Reconstructive tattoos offer a way to be whole again.
"My reconstructive surgery left me without nipples and I thought I was fine with that, but one day I caught myself in the mirror and had an overwhelming feeling that I wanted to have tattooed nipples."
For Amy Webster, the decision to get restorative tattoos was just the begging of a process that many women in the world have to face to feel complete and move on.
Life-Changing Procedure
Restorative tattoos are not often talked about when body art and modifications are the subject of the conversation. We see tattoos mainly as decoration, consider them fun to get, trivial even, but tattoos can be and often are so much more than just a decoration. Sometimes, tattoos bring back something that's missing from someone's life and their personal identity, something that will help them feel whole again.
Lisa Ford had undergone a double mastectomy when she was just 21, back in 1976, and over a period of more than 40 years she underwent multiple attempts at breast reconstruction. "I hated the way my breasts looked, I hated the way I felt. All I wanted was to look and feel normal, beautiful, and somewhat feminine again", Lisa recollects. After 30 operations she got an acceptable result, but still felt she could do more. Reconstructive tattoo brought back something she lost more than 40 years ago, "I felt pure joy, my artist made me the happiest woman on the planet," Linda's decades long quest was finally over, and she felt complete. Lisa's life changing moment came after an hour-long session with her restorative tattoo artist, Jeni Brown, one of a rising number of specialist in restorative tattooing.
Restorative tattoos, also refereed to as paramedical tattoos, have many uses – some get them to hide scars or discolorations, or to get something back, like their hairline or eyebrows after chemotherapy, areolas and nipples after a mastectomy, or fingernails after an accident.
Tattoos You Want People to Forger They Have
Restorative tattooing is not about creating body art through inking of the skin, it's about recreating a missing part of someones body. Many are not aware that this option exists, some fear it because they expect them to be painful or unpleasant, or worry that they are expensive.
"When I first started, about six years ago, not many knew about areola or mastectomy tattooing," says Jeni Brown, a tattoo and permanent makeup specialist from Florida. She is an artist that replaced her studio for a medical office and is often working with women looking for restorative tattooing. We spoke to a few of her clients, and they are unanimously full of praise for Jeni and her work that, as they said, changed their lives.
"All I wanted was to look and feel normal, beautiful, and somewhat feminine again."

Amy Webster
"Some women only see the scars after their reconstruction, but once we have finished the tattooing, they look in the mirror and see themselves again as a whole, no longer focusing on their scars at all. I've had patients tell me my tattoos have made a huge impact regarding their confidence sexually, they no longer feel shy or that they need to cover themselves during intimate encounters. They feel as they used to," says Jeni.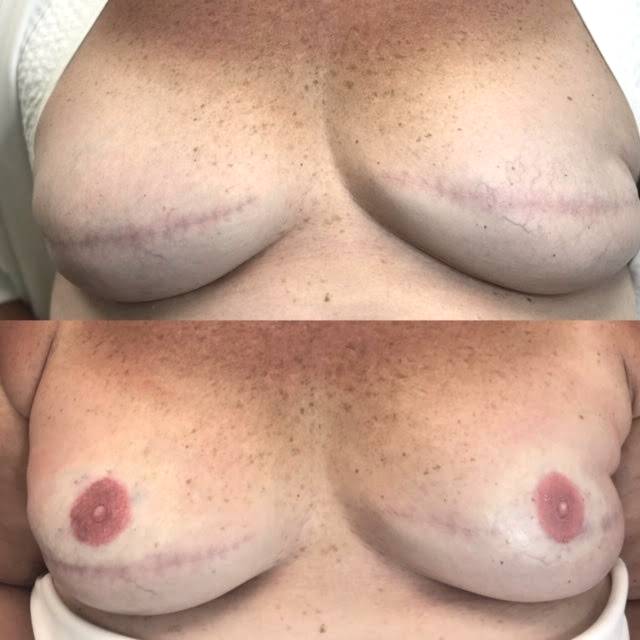 This is the greatest compliment to the artist, but also the reason why more women in the same situation should be aware of this procedure. It's probably the simplest and least invasive procedure they will have to endure in their fight for their health, and it has an extremely positive effect on the quality of their lives.
Finding The Right Restorative Artist
"I don't feel the service we provide is something that is nearly as much known about as it should be, and yet, it can make a huge difference to someone who needs it," says Eric Eye, Seattle based tattoo artist, with 30 years of experience in tattooing . Restorative tattoos are often on his schedule as he uses "artistry to take you beyond surgery", as the tagline on his website says.
Amy, Lisa and many women in their situation, feel that lack of information remains a big issue. If you think finding an artist to do a simple tattoo is challenging, and it can be, just imagine what difficulty face people who are looking for an artist to help them get a part of their life and body back.
"Your mind just needs to see those two small features on the chest, and when they are missing it is all you can see."

Eric Eye
Amy initially wanted just to get decorative tattoos to cover the scars, but after much research, decided to get both the decorative tattoos and to tattoo back the missing nipples. She thinks more women in her position should know about restorative tattoos, and she shares with us how she went about finding the right artist. "It's an unusual procedure, one that forces you to be very vulnerable," says Amy, so finding the right artist, someone you feel comfortable with is very important.
"Clients contact me months after the work was done to tell me what a difference it has made for them. From not feeling awkward at places like the gym, to feeling confident enough to start dating again. But the main thing I usually hear is that when they look in the mirror they see breasts and not surgically created bumps." The tattoos he want's his clients to forget that they have, as Eric Eye refers to his restorative work, make a big change. "Your mind just needs to see those two small features on the chest, and when they are missing it is all you can see."
Amy, one of Eric's clients, shares tips on what to find an artist. Make sure to check out the artist's Instagram profile or their web page. Look at their restorative work, the before and after shots, is the work provided realistic, does the color matches the person's color tone, is it discreet and natural-looking. This is not a tattoo you're getting, this should never look like a tattoo. "At first, I wanted the artist to be a woman, I thought that would be most comfortable for me after all I had gone through". Amy soon realized that finding an experienced artist, and someone who will make you feel comfortable is far more important than having a female artist do the procedure.
Feeling Whole
We spoke to artists and their clients when researching this subject, and asked them most of the same questions. The one phrase that we heard in every testimonial is 'feeling whole'.
"Many of the women that I have the pleasure of working with are warriors. They have battled cancer and won, however something very important was taken from them., and it's a very hard pill to swallow. It can be a constant reminder of the fight and hard times. They no longer feel like themselves," says Shay Danielle, Canadian artist that specializes in restorative tattoos.
Although restorative tattoos are a relatively simple, it's not always an easy decision to get them. "It can take some time until the clients are ready. I find the medical areola tattoos can be very healing for the soul. They can help bring closure to that chapter of these warriors lives. It is a very personal decision," says Shay.
Linda had a bilateral mastectomy 25 years ago. "I had been looking for a tattoo artist to redo the areola for quite a few years. Then a friend of mine recommended Jeni. I set up an appointment and had them re-tattooed. I have never been more pleased in my entire life", shares Linda, one of Jeni Brown's happy clients.
"The restorative artwork has made a world of difference for me. Even though it's something that is private and not typically seen by others, for me, it's been very important in helping to make me feel whole again," Amy puts it perfectly. Reconstructive tattoos are very intimate, hardly ever seen, but so important, so life changing.
---
Questions and Answers
What does the procedure of getting a restorative tattoo looks like?
First, there will be a consultation with the artist, preferably in person or over the phone. On the day, you'll define the desired shape and size of the areola and the nipples. The artist will make recommendations, the goal being having the result looking natural. The client can go for the original shape, but also go for a different look. The color will also be discussed, and the artist will mix the colors based on the client's skin tone and personal preference.

The whole session, from the consultation to the end should last about an hour. The session will always take place in a private room. For you as a client, this should be a comfortable, relaxed and calm experience, and it's up to your artist to help you feel good.
How much does it cost to get a restorative nipple tattoo?
Pricing greatly depends on your location, or how far you're willing to travel. Different artists will have different prices, as pricing in these cases can be quite subjective. make sure to ask the artist for an estimate during your consultation.
Are restorative tattoos covered by insurance?
Although in most cases you'll be reimbursed for your restorative tattoo, discuss it with your insurance company, your MD and your restorative tattoo artist. An experienced artist will often be able to help with the correct documentation. Make sure to discuss and check everything beforehand.
Are nipple tattoos painful?
If you never had a tattoo done, you probably heard a lot of stories about how much it hurts to get one, and it does. The level of pain greatly depends on the placement of the tattoo. When it comes to restorative nipple tattoos, the area is usually not very sensitive, and a local anesthetic will often be used by the artist to help make the client feel more comfortable.
Have any questions about restorative tattoos? Let us know: