If you love Billie Eilish and are looking for some tattoo inspiration, why not get body art that's inspired by the famous, talented, and eclectic singer. There are a range of types of designs and colors that you can get, including black-ink body art and neo traditional designs that hearken back to earlier styles of American tattoos except with a twist that's current and perfect for the modern day.
Check out some of the best Billie Eilish-inspired artwork and what you should think about when deciding on placement.
Does Billie Eilish Even Have a Tattoo?
Bilie once posted a picture of the word "Bad" tatted on her neck and in anothe ocasion, she posted what seemed like a tattoo of a spider on her neck. These were only temporary tattoos that Eilish likes to play around with sometimes. So, as far as we know, Bilie Elish doesn't have a tattoo, even though she sometimes posts images of temporary tattoos on her neck, foot or even face tattoos.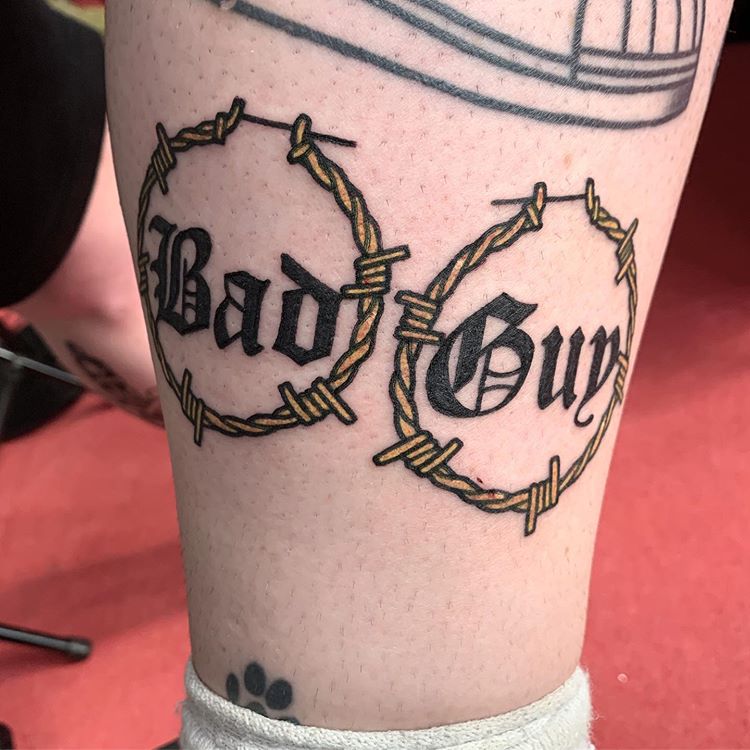 When you're searching for inspiration, you might decide to get Billie's face on part of your body. Her eyes alone are instantly recognizable, but if you want something that's more specific to a particular photo or an album cover, her entire face might be exactly what you want.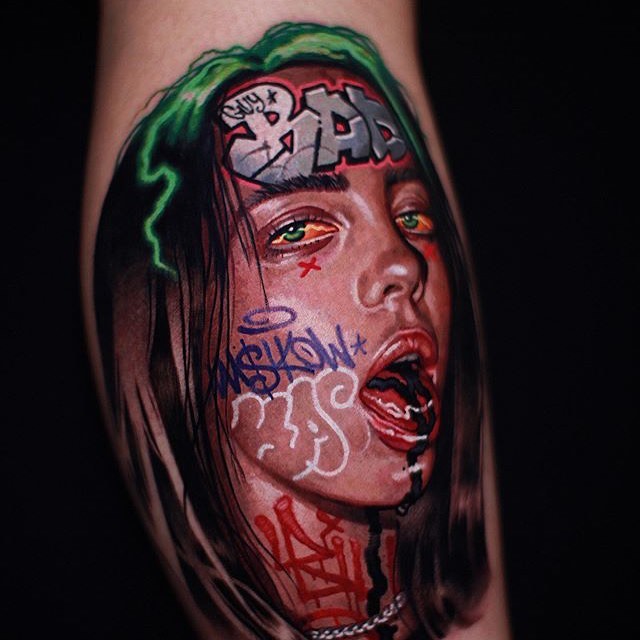 Billie's face with black tears streaming down her cheeks will place the inspiration of the body art in her early years even decades later when she has a dozen album covers under her belt. If you get body art of Billie's face, make sure that you look at similar work from artists to make sure you're getting artwork from someone who knows how to realistically replicate faces.
Get Inspired by Her Art
Another option is to have the lyrics of one of her songs tattooed on your arm, chest, or ribcage. This type of artwork is a great option if you find something particularly meaningful in some of her lyrics or just really love the song.
If you're a big Billie fan, you might choose to have your artwork placed on an area of your arm where it will be highly visible. Whenever you're choosing a placement of body art, you should choose an area that will hold up well through the years. This is one of the reasons that arms and backs tend to be popular areas to get body art.
You can also incorporate a Billie Eilish-inspired artwork into a sleeve that you currently have or want to build over time. If you think that you want a sleeve, you can choose to plan out your sleeve in advance so that you know that everything will fit well. But one of the interesting things about sleeves is using it to show a progression of your tastes throughout a long period of time, so you might also choose to have a less structured process of building your sleeve.
When you're looking through artwork, one of the biggest things that you'll need to decide is whether you want to get artwork that uses primarily black ink or if you want to add in color. There are a few ways that you can think about this choice. One thing to consider is that black ink tends to stand up better over a longer period of time.
Tattoos Inspired by The Lyrics
Since it's Eilish, though, you might really want to incorporate some of her signature colors into your artwork. Billie is known for her use of vibrant colors in her clothing, hair, and nails, but the great thing about using the colors of her clothes to help guide you in your decisions is that she also incorporates a lot of black. One of techniques that artists use to create body art with color that will last is to use a lot of heavy black lining so that the artwork doesn't fade.
Finally, you might also think about the overall aesthetic that you want if you plan on incorporating your Billie Eilish tattoo with other tattoos. If you have entirely black and grey tattoos, just know that the color in your Eilish tattoo will make it pop out from the rest of your body artwork.
Choosing your tattoo design and tattoo style can be a personal process, but when you talk to your artist, tell them about the overall aesthetic that you're trying to create. Also, look at a lot of designs to find something that you truly love.
All Billie Eilish Inspired Tattoos